5 questions Ranking #1 with Dave Naylor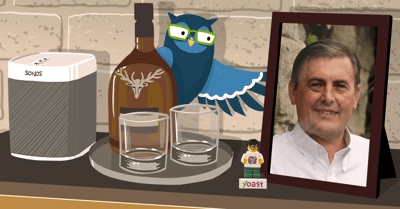 He's been active in the SEO industry for over 14 years, and founded one of the UK's most wanted Digital Marketing agencies, Bronco. With a proven ability to achieve great results, even in the most competitive of fields, Dave Naylor can rightly call himself an SEO genius. So it goes without saying that we're thrilled to announce that Dave will be at YoastCon this November, to join us for an exciting panel discussion! To give you all a sneak peek, we asked him about SEO challenges, ranking number one, and online success.
Dave, you've been in the SEO industry for a long time now. You founded your company, Bronco, 14 years ago. In your bio, you mention that the search engines sometimes call you to teach their personnel about how they work. What was the last question someone from a search engine asked you?
LOL – As much as I'd love to answer that, I'm pretty sure that the non-disclosure agreements we all sign up to would stop me from being able to. A lot of the most common questions are actually available in open forums. So if you're really dedicated to finding out the answer to the vast majority of search engine structure questions, you'll be rewarded!
SEO has matured. It is a serious business, and most brands invest a lot of time and effort into it. In working with clients, what is the first thing you ask them when they want to achieve online success?
Working with any client is a two-way street, so what I'm looking to find out straight away is how much time and effort they are willing to put into a successful campaign. Of course, we're not going to find clients as passionate about SEO as we are. We're not asking for that, but they need to show they're keen and willing – that's what makes a truly great SEO campaign and a really productive agency-client relationship. There's not just the issue of what they will do, it's also about what they can do. For example, if the client has no way of improving the technical side of SEO on their site, that can become a game changer real quick
You often said that it's no use to have a site when it doesn't rank number one. That, however, is quite the challenge for most site owners. Is it still possible to rank number one and which steps should you follow if you want to stand a chance?
That's a tough one. The SERP landscape is constantly changing, with Local listing and OneBoxes popping up everywhere. Ranking number one has obviously never been a walk in the park. But now we're dealing with a much more complex environment.
I think that ranking number one these days, is more about market share and visibility than just ranking number one for an industry term. If you've got the appetite needed to gain market share and visibility, you should pick up a few number one positions along the way.
There are quite a few challenges ahead for SEOs, like the mobile-first index and the rise of voice search. What do you think will be the number one focal point for the next year?
I think the focus will still be on mobile-first. That's something I see Google pushing hard for the foreseeable future – until the world catches up.
That said, I would love to see them revisiting the idea of discounting inbound links signals again, but we will have to wait and see!
These days, there's a lot of focus on creating great content. Understandable, because that's what makes you rank. The technical aspects of SEO, however, are still incredibly important. In your regard, which technical parts should always get a lot of attention?
Site speed is an essential element of any campaign and for good reasons. You've also got to prioritize index and site structure when reviewing your technical SEO – obvious choices but absolutely paramount.
Also with regards to content, from a technical perspective, you need to watch out for duplicated, thin and badly structured content!
We assume this interview has convinced people to go see your discussion panel at YoastCon on November 2! In the unlikely case someone is still in doubt, what's the main reason they shouldn't miss the panel?
Personally, I'm looking forward to a really interesting discussion, and I will make sure I answer any question honestly and openly!
Read more: YoastCon 2017: Practical SEO »
Coming up next!
Event

October 04, 2023

Team Yoast is at Attending, Organizing Yoast Contributor day 2023 - October edition! Click through to see who will be there, what we will do, and more!

See where you can find us next »

SEO webinar

12 October 2023

Stay ahead of the curve in the fast-evolving world of e-commerce & explore key trends & emerging opportunities. Register for "E-commerce Trends 2023" now!️

All Yoast SEO webinars »