Yoast SEO Redirects settings
In this article, we'll explain the redirects settings in Yoast SEO. This tab contains settings for the redirect manager in Yoast SEO Premium. You'll see a video explanation and we'll discuss the settings below.
Video: Yoast SEO Redirect settings
Would you like to watch this video in your own language? Follow these steps to auto-translate the subtitles.
Redirect settings tab
You can find the redirect settings tab by going to your WordPress backend, clicking "Yoast SEO" and then "Redirects" in the menu on the left-hand side. Here, click the "Settings" tab.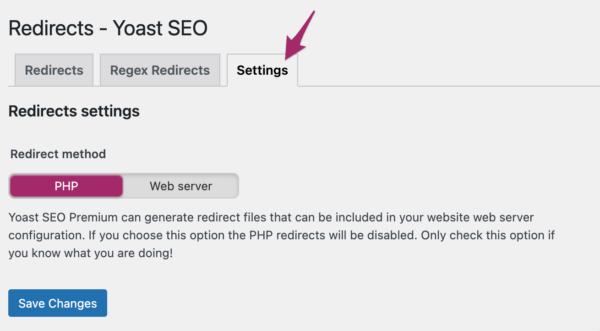 Redirects settings
In the redirects settings, you can choose your redirect method. By default, we enable PHP. For those that have the skills to do it, you can also write the redirects to a separate file to include in your Apache or NGINX server config.
Related articles