Why am I not getting rich results for my content?
If you use Google, you must have noticed that some content gets displayed as rich results. So, instead of the regular snippet with a blue title and some text underneath, you see more exciting results.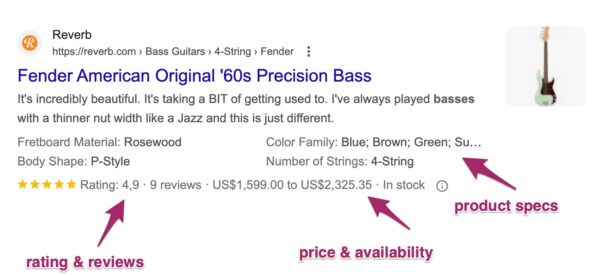 So how can you get such rich results for your content? One way to increase your chances is by adding structured data to your site. You might have already done that, but you still do not get any rich results. In that case, there are a few issues you need to consider.
Why are my results not shown as rich results?
Structured data is code, and, like any code, it may contain some undetected errors. That is why it is worthwhile to check the code and make sure you did everything right.
Sometimes, it takes time for Google to crawls and index your pages. Consequently, your pages don't show up properly in the search engine.
Note: Even if you add the correct structured data markup, it is not a guarantee for rich results. Google decides how to display the results. In some cases, it may decide not to display rich results for your content.
How to check your structured data markup
Check if you have the right type of markup for your content.

Google provides an extensive list of the types of content you can add structured data to. Read the Google guidelines and make sure that you have the right type of markup with the right type of content. 

Use the Google Structured Data Testing Tool.

After you've added the structured data markup to your pages, use Google's Structured Data Testing Tool. You can check the code in two ways. Either enter the URL of the page you have added structured data markup to. Or, paste a piece of code you want to inspect. Google will validate it, detect any errors, and recommend improvements. For some types of content, you can also preview what the search result will look like once it appears in Google. 

Use the Google Rich Results Test.

Another tool you can use to check if your site is eligible for rich results is Google's Rich Results Test. To be able to use this tool to its full potential, you will need to have a Google Search Console account. With it, you can get detailed reports with warnings and troubleshooting tips.
Make sure Google crawled and indexed your pages
Another issue that may be preventing your content from appearing in a rich result format is crawling and indexing. Use the URL inspection tool in Google Search Console to check for crawling issues.

You can find more information on structured data and how to use it properly on Google's developers page.
Related articles