How to get Pinterest Rich Pins for your site
As of Yoast SEO 20.0, the settings interface inside our plugins has received a major overhaul. Please update to the latest version of Yoast SEO if your plugin does not look like the screenshots you encounter in our Help center.
Pinterest Rich Pins show more information directly on a pin, like the price and availability of a product, the ingredients and cooking time of a recipe, and the headline and author of an article. In this article, we'll show you how to get Pinterest Rich Pins for your site through the Yoast SEO plugin.
Table of contents
Confirm your site in Pinterest
Before you do anything else, please make sure you have confirmed your site on Pinterest. Log in to your WordPress Dashboard, go to the Yoast SEO menu item, and click 'Social'. Then, go to the Pinterest tab of the Social settings. There, you can fill out a confirmation code to confirm your site with Pinterest. Read more about how to get the Pinterest confirmation code here.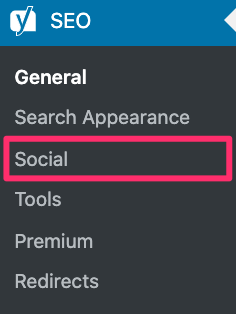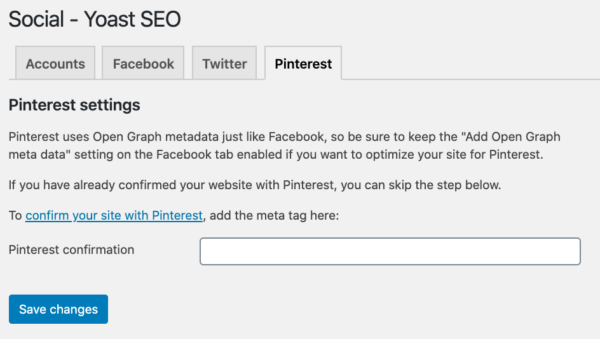 How to get Rich Pins for your site
To get Rich Pins for your site, Pinterest must authorize your site for rich pins. Validate and apply for rich pins by following these steps:

Enable Open Graph in our plugin.
Enter a URL to a page or post that contains rich pin data.

Choose 'HTML tags' and click 'Apply Now'.

The validator will run and you will see a validation confirmation and apply now link. Verify the domain name is correct. Choose HTML Tags and click "Apply Now".

You will see a confirmation that your application was processed.

Pinterest will contact you after reviewing your site.
Hint: If you scroll down, you will see a sample of the information available for Rich Pins.
Rich Pins for my homepage
On your homepage, Yoast will output the following OpenGraph tags: meta property="og:type" content="website". In order to make Pinterest validate Rich Pins for the homepage, you will need to develop the ability to output "article" only on the homepage and place it, most likely, in your theme's functions.php file.
To do this, you need to use the Change Yoast SEO OpenGraph Type code here: Develop Filters to Set Custom OpenGraph Tags. Please know that you may need to develop the ability.
Prior to any changes on your site, we recommend making a backup of your site or performing the work first on a staging site. If you need to create a staging site or need to backup your site, we suggest speaking to your host provider for more information. Please also know, that any changes made to your theme may be overridden in the next theme update.
It is highly suggested to use a child theme. If you are not sure how to use a child theme, please speak with your theme developer.
Additional information
Pinterest no longer supports price variations or ranges unless you are using a feed partner like Shopify.
WooCommerce SEO supports Price, Availability, and Currency as Pinterest Rich Pins, described in this guide.
Related articles