How to fix a blank screen when logging into MyYoast
MyYoast is the portal that lets you manage your Yoast products. Sometimes when you log into your MyYoast account, you may see a blank or a white screen (as shown in the image below). Usually, this is not a cause for major concern, as it can be fixed in a few steps.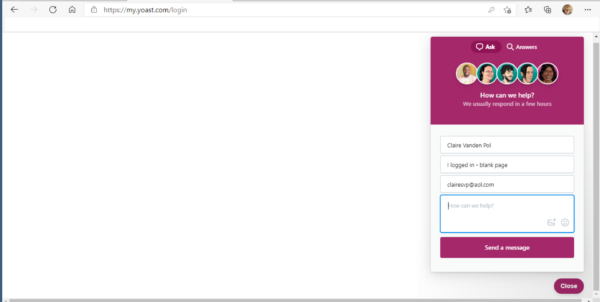 Fixing the blanks screen when logging into MyYoast
These are the steps that can help you solve the white or blank screen you got when you logged into your My Yoast account:
Clear you cookies and your cache.

If you are not sure how to do that, the How to clear your cache guide can help you.

Make sure your browser is updated.

Below, you'll find guides to updating the most commonly used browsers. Click on the appropriate link and update your browser according to the guidelines.
Chrome
Firefox
Opera
Safari

If the issue persists, switch to a different browser and see if the issue is present there as well.
If the issue is still present in a different browser, disable any browser plugins or add-ons, such as Adblock, for example.
Related posts
If you want to read more about using MyYoast, read:
Related articles