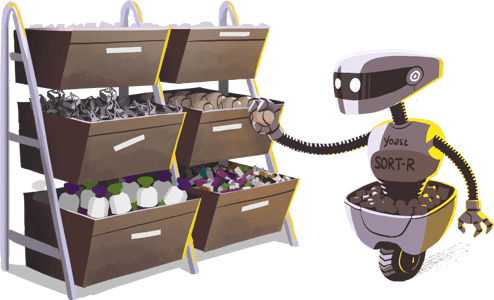 Full control over categories in breadcrumbs
Always have the wrong category showing in your breadcrumbs? Yoast SEO has a very easy solution for you: simply set a primary category!
Pick a primary category with a single click
Decide which category shows in your breadcumb path
Control your URLs
Works for WooCommerce product pages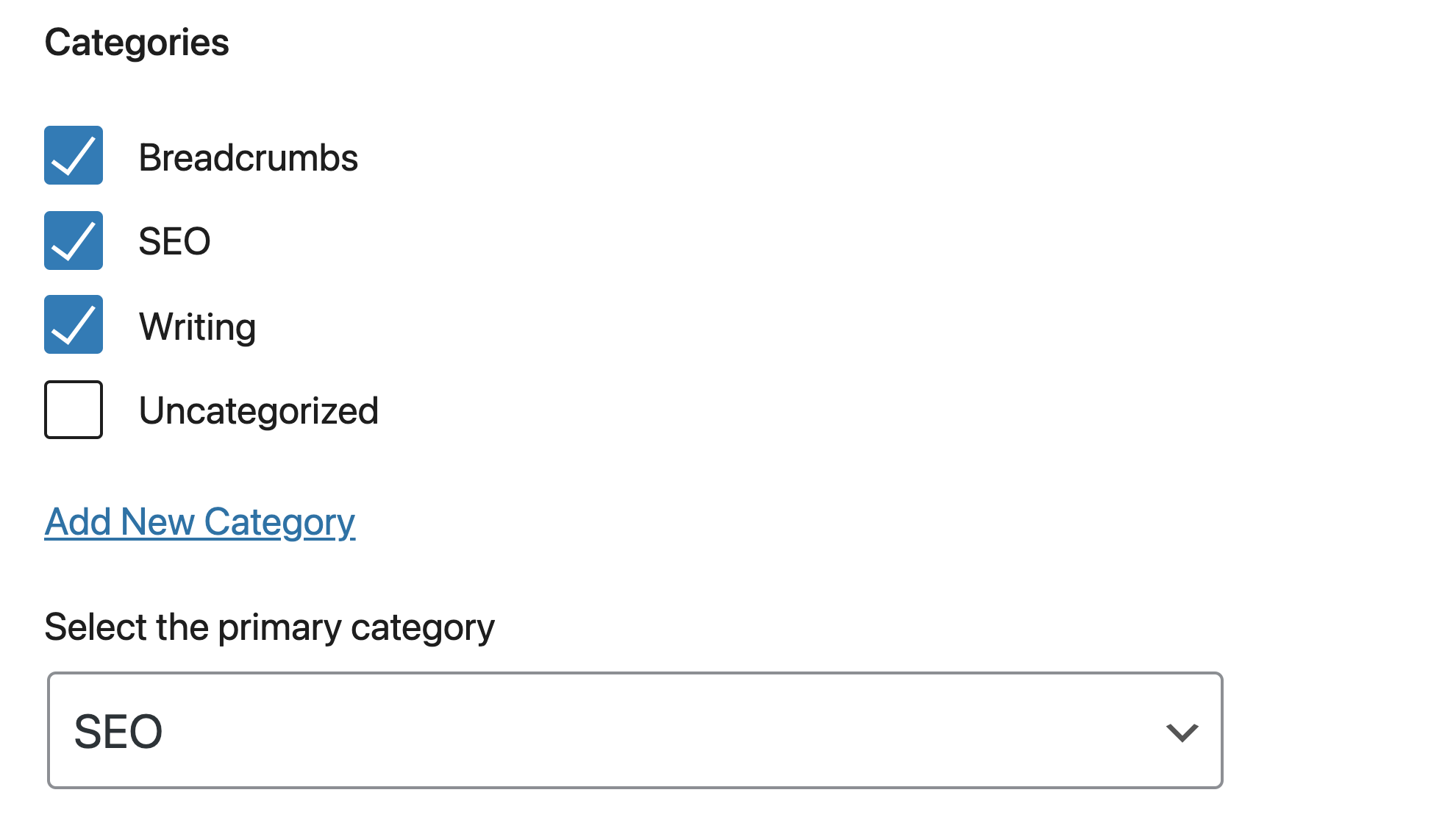 Sometimes, you will need to select multiple categories for some posts and pages. There's nothing wrong with that. Only, if you ever used a few categories for a single page, you might have run into some issues. For example, you chose the categories, but then saw only a single random one appear in your URLs and breadcrumb trails. Sounds familiar?

The solution is quite simple, and it is available in Yoast SEO! The plugin allows you to select a primary category. That way, you determine which category is most important and should show in the breadcrumbs, and the URLs. With one click, you help both your users and search engines. It's an easy win!
Why do I need to select a primary category?
Site structure is the backbone of your site, and categories are an essential section of that backbone. Categories can appear in URLs and breadcrumbs. To provide the best user experience, and to help search engines understand the hierarchy of your site, you need optimized breadcrumbs and permalinks. Yoast SEO makes that easy for you!
Decide what category shows up in the breadcrumbs
Breadcrumbs guide users through your site. For example, a breadcrumb path for the Local SEO plugin on yoast.com looks like this Home » WordPress plugins » Local SEO. That is a clickable path that makes it easy for users to navigate the website, and for crawlers to figure out your site structure.
Now, let's say this plugin belonged to several categories. Without selecting a primary category, the theme would pick one of those categories at random and display it in the breadcrumbs. We don't want that, and you shouldn't either. Luckily, with Yoast SEO, you can gain back control and decide which category shows up.
Be in control of your URLs
If you have a permalink structure that includes your categories and you use several of them for a page, you may run into a problem. Just like with breadcrumbs, you will see only one random category displayed in the URL. What if you think another one is better suited for the URL? Just use the primary category setting in Yoast SEO, and the problem is solved!
Works for your WooCommerce product pages
The primary category feature also works on WooCommerce product pages, but you'll need the WooCommerce SEO plugin. Do you want to ensure that both your content and your online shop are optimized to their fullest extent? Combine the power of the Yoast WooCommerce SEO plugin and the Yoast SEO Premium plugin in the Yoast WooCommerce Premium bundle. Bundle these plugins and save over 20%!
How does selecting a primary category work?
To find the Yoast SEO primary category feature in WordPress, go to the Document tab in the sidebar and then to the Categories tab. Select your categories and use the dropdown menu below them to se the primary category. Done!
---
Let Yoast SEO help you win the search rankings
Discover all the features of the Yoast SEO for WordPress plugin.