An introduction to user research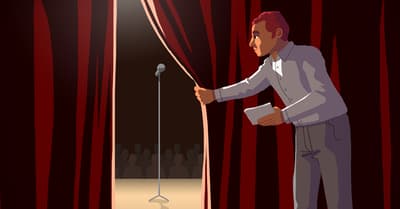 When you want to make some considerable improvements to your website, what's the best place to start? At Yoast, we feel that research is always one of the most important things to do. It'll help you find out what needs work, why it needs work, and of course, what you have to do to make things better.
Looking at our website data in Google Analytics, Google Search Console, and other SEO tools, is already part of our weekly activities. But, in order to dive deeper than just having a look at the plain data, we love to do user research. This is the part where you truly get to know your customers and where you'll discover your blind spots when it comes to your own website. Within this introduction, we'll show you what types of user research could be valuable for your own website or company.
Table of contents
The top task survey
What kind of user research fits and complements the existing data always depends on the type of project you run. However, we believe that running a so-called 'top task survey' should always be the first step when you start doing user research. As you'll able to use the outcomes of a top task survey within all future projects.
So, what is a top task survey exactly? To get to know why your customers visit your website, you'll need to talk to your customers. And, how do you get to talk to your customers without actually having conversations with lots of customers? You could set up an online top task survey, which pops up on your visitor's screen as soon as you like, either immediately after entering the website or after a couple of minutes.
Questions in a top task survey
The popup is set up for one simple reason: to find out the purpose of their visit to your website.
To make sure you'll get valuable data out of your top task survey, it's important to ask the right question. We recommend asking one open question: 'What is the purpose of your visit to this website? Please be as specific as possible.'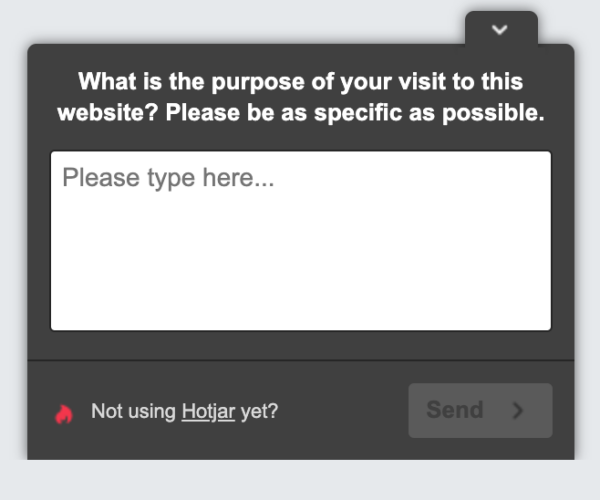 With this open question, you give your customers the chance to truly say what they think. Closed questions make this harder, as you've already drawn up certain answers and then you risk missing other important thoughts or opinions your may customers have. And we know, analyzing the answers will take a lot more time, but when you do this right you'll get the most valuable results.
Next to this one open question, it is possible to add one or two closed questions to take a closer look at your respondents. You might want to know the age or you want to know the type of customer it is. This data can be valuable to combine with the outcomes of the open question answers. In the top task surveys of Yoast, the second question is: 'Do you have the Yoast SEO plugin?'. This is valuable information for us because we can see the difference between what free users are looking for on our website and what Premium users are looking for on our website.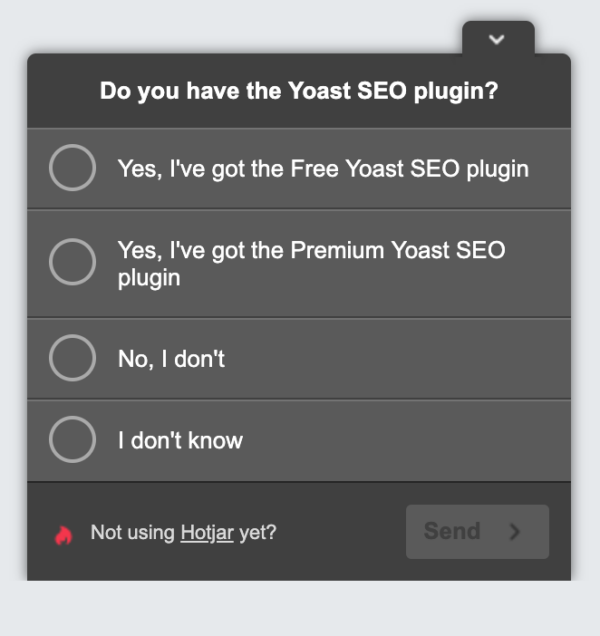 How often should you do a top task survey?
We recommend running your top task survey once a year. If you have a small website, you can choose to run the survey once every two years. The market you work in is always changing and customers always change, so every time you'll run the survey, you'll receive new, valuable information to work with and to improve on.
The exit survey
The following two types of research we'll discuss are more specific. And, which one you should perform at what time depends on the type of project you're about to run.
For example, you've noticed in your Google Analytics data that your most visited page has a very high bounce rate. This means that you need to know why visitors are leaving this fast. Couldn't they find what they were looking for? Or did they find what they were looking for and are they already satisfied? You can get answers to these questions by running an exit survey on a specific page.
What is an exit survey?
An exit survey pops up when a visitor is about to leave the page. When a visitor moves their mouse cursor towards their browser bar, they are usually about to leave your website. So, this is the right moment to ask your visitor one or more questions.
Questions in an exit survey
So, your visitor is about to leave, what do you want to know before they're gone? We recommend keeping the survey short and simple: people are already leaving, so if you want them to fill out your survey, it needs to be short.
The question you ask depends on the page and the problem you want to solve. When you have a specific blog post with a high bounce rate, you might want to know if visitors have found the information they were looking for. The simple open question you could ask: 'What information were you looking for today on our website?'. You could add a second closed question to see if the page fulfills your visitor's needs: 'Have you found what you've been looking for?'. A simple 'yes' or 'no' is enough to get this overview.
Within our post 'What is an exit survey and why should you use it?' we've added some more examples of questions you could ask depending on the page that needs attention.
User testing
The third type of research is 'user testing'. User testing is the type of research in which you get 'live' feedback from your clients because you actually see people using your website or product. At the beginning of this guide, we already mentioned 'blind spots' and user testing is the best way to find these blind spots. For example, you know exactly where to find what information or what product on your website, but visitors might not. Seeing testers struggle with finding the right page on your website can be embarrassing, but the good news is, when you know, you can improve!
Why should you do user testing?
User testing can give you very valuable insights during every stage of your process. When you're creating a new product, it's valuable to see what potential customers think of it, but it's just as valuable to see what your customers think of your product that has already existed for over three years. Every test will give you new insights to work with!
User testing also guarantees that the test results are 'real'. You can see for yourself how your customers use your website or product. The customer can't 'lie' about things. And, that's a big difference with survey respondents: they can say different things compared to what they really experience.
How to get started
There are three main types of user testing which you could use for your own website or product:
Live, moderated user testing: your testers will test with a moderator in the same room.
Remote, moderated user testing: your testers will test with a moderator while they're in contact through a video call.
Remote user testing without a moderator: your testers will test without a moderator in their own time and space. They will record the test so you can watch it later.
Within our specific post 'What is user testing and why should you do it?', we explain more thoroughly what type should be used in what situation.
After picking the method you want to use, it's important to set up a clear plan with goals and a test scenario. Hereby you make sure the testers will follow the right path and will give you the insights you need. After that, it's time to recruit your testers. Decide on what types of testers you'll need to get the best test results. We recommend recruiting different types: young people, older people, experienced people, inexperienced people, etc. Think of all the types of people that might use your website or product now and in the future.
Then it's time to get started! Create a plan and start testing with your recruited people. Make sure you record all tests, making it easier to analyze the results. As it's nearly impossible to remember everything that happened during the tests.
Analyzing user research results
There is some difference in analyzing the results of surveys, such as the top task survey and the exit survey compared to the user testing results.
When analyzing an online survey, we recommend to export all data to a sheet and to create categories for all answers. Place every answer into a specific category to get a clear overview of what the biggest problems are. After that, you can easily see what problems need to be prioritized and you can start thinking of improvements. Set up an action plan and start improving!
For the user tests, it can more difficult to create a couple of categories that fit the test results. Here, it's easier to write a summary for every user test and to combine those at the end. Can you discover similarities? Can you combine some issues to improve more at once? It's important to look at the bigger picture so you can make improvements that will have a big impact on the future user experience of your website or product!
User research tools
There are several tools in which you can create a top task survey or an exit survey (or other surveys!). We're currently using Hotjar, but we're planning to create our own design and implementing it with Google Tag Manager. Tools we know for setting up online surveys are:
Hotjar
SurveyMonkey
Mopinion
On their sites, they have a clear explanation of how to use these tools to perform an exit survey.
For user testing, your needs are different. Testing a website or a product, you'll need a testing environment for your testers or a test product they are allowed to use. Besides, you'll need recording material: for testing a website, you can easily record a screen session, but for testing a product, you'll need to think of a recording set up. Do you have a good camera and a tripod, for example? Then you can get started! When you're doing user tests more often, you can use an eye tracker as well to get more insights on how people are looking at your website or product, but it's not necessary!
Are you already doing user research as well? Or have we convinced you to start doing user research? Let us know in the comments below!
Read more: Panel research for your business: Benefits and tips »
Coming up next!
Event

December 09, 2023

Team Yoast is at Attending, Organizing, Sponsoring WordCamp Ahmedabad 2023! Click through to see who will be there, what we will do, and more!

See where you can find us next »

SEO webinar

12 December 2023

Learn how to start your SEO journey the right way with our free webinar. Get practical tips and answers to all your questions in the live Q&A!

All Yoast SEO webinars »