Yoast Contributor day
September 14, 2022, 10:00 - 16:30 - (UTC +02:00)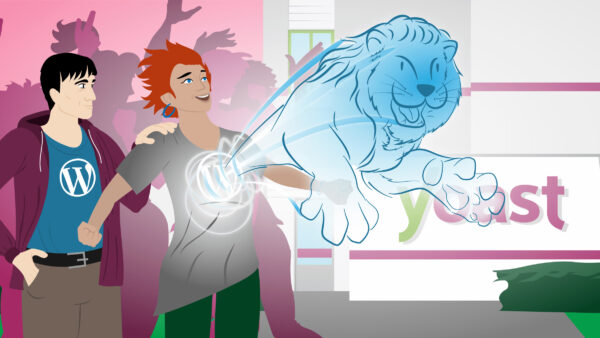 Release your inner WordPress lion!
Yoast Contributor day is an event where everyone interested in contributing to WordPress joins to work on a specific task or project to improve the WordPress software and community even more. We welcome our external guests to join both online and in our HQ.
Theme this September: Release your inner WordPress lion! Lions are the symbol of courage, strength, and wisdom. Many of us tend to keep those traits hidden. We're afraid of showing our strengths and passions, primarily out of fear of rejection. Contributing to WordPress helps people build skills and self-confidence. Also, people joining the WordPress community often come as strangers and leave as friends! Did we convince you to join already?
⏰ When and where?
September 14, from 10:00 AM till 4:30 PM (UTC+2). You're free to join for the whole day or only for a couple of hours – that's up to you!
You can either join online or live at the Yoast HQ:
Online - all of us will be working in Zoom breakout rooms (download Zoom here)
Joining from the Yoast headquarters? The address is: Don Emanuelstraat 3, 6602 GX, Wijchen in The Netherlands. We'll provide a working space for you. Bring your laptop and headphones, and you're good to go!
📆 The program
| | | |
| --- | --- | --- |
| When? | What? | Where? |
| 10:00 AM - 10:30 AM | Introduction by Yvette | Building #2, Bar & Online |
| 10:30 AM – 10:45 AM | Introduction at the tables | Online |
| 10:45 AM – xx:xx | Onboarding at the tables (for the first-timers and beginners) | Online |
| 10:45 AM – 3:00 PM | Contributing (for everyone) | Online |
| 12:00 PM - 1:00 PM | Lunch for those working from the office | Building #3 |
| 3:00 PM - 3:30 PM | Recap by table leads | Building #2, Bar & Online |
| 3:30 PM - 4:30 PM | Borrel 🥳 | Building #2, Bar |
❓ What tables can I choose from?
The working groups that you can choose from are:
🤔 Hmm, but I still don't know how I can contribute…
Don't worry; we've got you covered! We've got a help desk you can join at any time - we will be there to help you figure out how you can contribute, tell you more about what Contributor day is and answer other questions.
🙌 Okay, I'm in! What should I do now?
To register, fill in the form below. As we'll use Slack to communicate about this event, please share an email address that is also connected to your Slack account. Don't use Slack? Then you can email us at community@yoast.com.