5 questions for Yoast's community hero Taco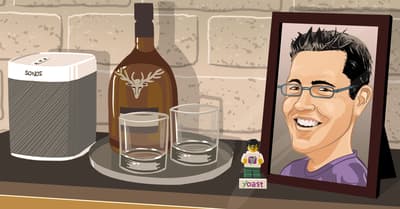 Five years ago, I met Taco Verdonschot for the first time. He applied for a job at Yoast. He brought a cake to his job interview. So smart! He was the first developer we ever hired and probably the worst one we had. And although Taco wasn't much of a developer, I knew right from the start that he was right for Yoast.
Taco is a perfect fit for Yoast. He understands Yoast. He's a vital part of Yoast. This week, Taco is one of the co-organizers at WordCamp Europe. He has grown so much in the past five years, and I am so proud of him. Earlier this week, I asked him about his experience as an organizer of WordCamps. What are his dearest memories? Why does he like WordCamps so much? Read on and get to know Taco a bit better!
How did you get sucked into organizing WordCamps?
Only a few weeks after I started working at Yoast (almost five years ago), I was sent to WordCamp Europe in Leiden. That was my first WordCamp. I met a lot of people there. Soon afterward, I began organizing WordPress Meetups (thanks to Barry Kooij of Never5).
Right, I remember that. And after that? You started volunteering and then?
I was a speaker at WordCamp Netherlands in 2015 and applied as a co-organizer for WordCamp Netherlands in 2016. Marcel Bootsman made me responsible for organizing the volunteers, which I believe is the most fun part of organizing a WordCamp.
What is your best memory of a WordCamp?
I liked WordCamp Europe in Sofia best, the second WordCamp Europe. The city of Sofia was marvelous, and the audience pretty much knew what to expect. They all wanted to enjoy a great, laid-back event. I especially enjoyed the afterparty in which we danced the night away. Our CEO Joost de Valk and Danny van Kooten even did a limbo competition!
Really? I've never heard about that before. Curious.
The best thing about WordCamps is meeting 'friends I've never met before'. I love the WordPress community, which is tight-knit but also very welcoming to new people. People want to help each other. That atmosphere is awesome and that's something you feel at WordCamps. That's the best thing for sure.
What's so unique about this WordCamp Europe in Belgrade?
It's the first WordCamp Europe outside of the European Union. That causes some logistic challenges for both the organizing team as well as sponsors.
Tell me about it. We couldn't get our stroopwafels to Belgrade. It was terrible.
At the same time, Belgrade is a perfect choice. It is central and it is rather cheap. Lots of people can travel for relatively low costs and hotels are affordable. That'll make the event accessible to people from all over Europe. And that's kind of the idea.
Is there anything about WordCamps you don't like? Except for missing your wife and daughter that is…
Well, I don't like that there are still WordCamps without contributor days. During a contributor day, we all work on the WordPress project together. And whether you're a translator, developer, marketer or a Matt Mullenweg, everybody can join and contribute to the project. On a contributor day, you'll learn just how to do that and that enables more people to participate. Every WordCamp should have a contributor day.
Anything to add, Taco?
I talk to a lot of organizers of WordCamps from all over the world, and they all face the same problem; It's hard to find speakers for our conferences. That's why I would like to invite everybody to go and speak on a local WordPress Meetup or a WordCamp. Tell your story, share your thoughts on a project you're currently working on and which challenges you're facing. It's so cool — and exciting — to share your experiences on stage!
Thank you so much, Taco, for your time to do this interview. And thank you for the (almost) five years you're working for Yoast. You're making a difference in the WordPress Community and at WordCamp Europe. More importantly, you're a crucial part of Team Yoast and an indispensable part of my personal life as well. Thank you for five amazing years! Have an awesome WordCamp Europe!
Coming up next!
Event

December 09, 2023

Team Yoast is at Attending, Organizing, Sponsoring WordCamp Ahmedabad 2023! Click through to see who will be there, what we will do, and more!

See where you can find us next »

SEO webinar

12 December 2023

Learn how to start your SEO journey the right way with our free webinar. Get practical tips and answers to all your questions in the live Q&A!

All Yoast SEO webinars »