Yoast SEO: Enhanced support for Google Site Names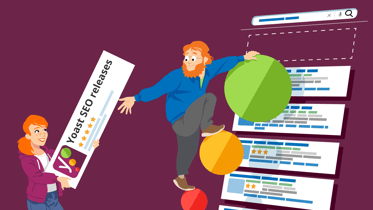 Yoast SEO 19.9 and Yoast SEO Premium 19.4 are out now. In these releases, we've enhanced support for Google's new Site Names in the mobile search results. Yoast SEO for Shopify also has this expanded support for site names. We've also improved our Premium analysis and did many fixes and enhancements — including some provided by community members. Find out more!
Yoast SEO already supports Google's new Site Names
Last week, Google introduced an updated way of presenting Site Names in mobile search results. This update makes it easier to identify the website that belongs to each search result. One of the things Google looks for to find out what to show is WebSite structured data, with a name property. This has been available in Yoast SEO for quite some time, so you are ready for this update. Yoast SEO outputs this value correctly using the WordPress site name, but we are going one step beyond with Yoast SEO 19.9. Yoast SEO for Shopify also has this expanded support for site names immediately!
In this release, we're giving you, as site owners, more control over this value. For this, we've added input fields to overwrite the site name and an extra input field for a (potentially shorter) alternate name, which we output as alternateName. This is what the fields look like: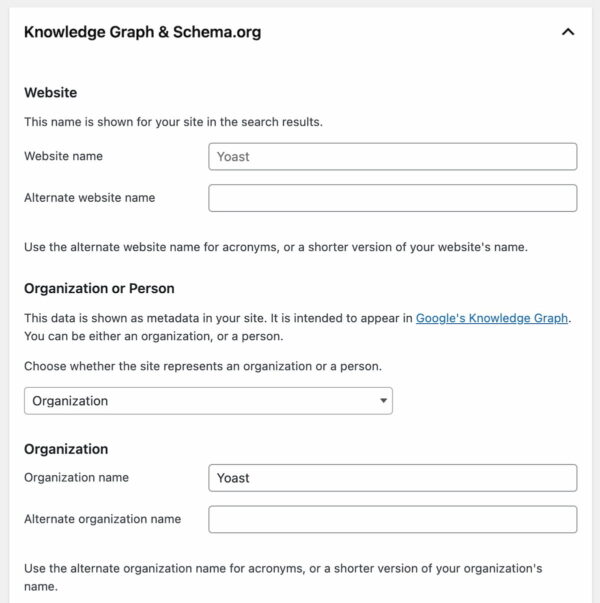 New in Yoast SEO Premium
Yoast SEO Premium helps you write more naturally. It has many intelligent features and additional feedback to help you write better copy for your audience and search engines. One of the most incredible things about the Yoast SEO Premium analysis is that it can recognize different grammatical forms of your keyphrase words, making optimizing your content more seamless.
We're continually improving the Premium analysis with better algorithms, new features, and assessments. For instance, in Yoast SEO Premium 19.4, we've added a new assessment that checks if you've added a title to the post. Having a good title is essential as it can do wonders for your SEO, but sometimes people forget to add one while rushing to get their posts published. This check is a helpful reminder for them. While at it, learn how to create great titles for your content.
A new addition to the crawl cleanup settings
A new addition to the crawl settings in Yoast SEO Premium is the option to redirect 'pretty' search URLs to their 'raw' equivalent. Managing how search engines access and crawl your internal site search URLs can significantly impact your site's SEO. But WordPress supports two different formats of site search URLs, which means twice the number of things that Google has to crawl. We provide an option to turn off one of these formats. That's good for your SEO and good for the environment.
WordPress supports two formats for site search queries. The raw one looks like this: example.com/?s=example, while a pretty one appears once you activate pretty permalinks: example.com/search/example/. Supporting the 'raw' as opposed to the 'pretty' version may seem unintuitive, but there's a reason we made this choice. The raw version is relatively universal and language/territory-agnostic in a way that 'search' isn't, even though WordPress doesn't support translating that string. Plus, the raw version is more natively interoperable with most analytics and tracking systems, whereas 'search' requires customization, which can be a lot of work.
With this new addition to the crawl settings, we give you even more control over which URLs you want to have crawled.
Community improvements
In Yoast SEO 19.9, we're adding a list of improvements suggested by our developer community. For instance, Sven von Arx suggested an improved way to filter the term crumbs in a breadcrumb with wpseo_breadcrumb_links, so we've added taxonomy information to breadcrumbs.
Sergey Svetlichnyy from the SEO data platform Ahrefs asked us to add a wpseo_primary_category_admin_pages filter to use the primary category in the post URL of additional admin pages besides the default ones. Thanks to Saša Todorović, we've fixed a bug where social or canonical URLs containing @ would lead to encoding issues. And Fedir Kudinov from Ukraine fixed a Schema bug where the number of words in a text written in Cyrillic (Russian and Ukrainian) was incorrectly calculated.
Other fixes and enhancements
In the last release, we deprecated the old Twitter card format but deleted a filter that should have stayed in place. In this release, we're reinstating the wpseo_twitter_card_type filter that was wrongly deprecated in Yoast SEO 19.8. We've also added an option to track keyphrases once you connect to Wincher immediately. And we no longer output an empty array if no social profiles have been added for an Organization.
Update now to Yoast SEO
As you can see, there's a lot of exciting stuff happening in this release. We're enhancing support for Google's new site name update, adding a new assessment to and improving the Premium analysis, having some help from our developer community, and adding some more enhancements.
Happy updating!
Coming up next!
Event

December 09, 2023

Team Yoast is at Attending, Organizing, Sponsoring WordCamp Ahmedabad 2023! Click through to see who will be there, what we will do, and more!

See where you can find us next »

SEO webinar

12 December 2023

Learn how to start your SEO journey the right way with our free webinar. Get practical tips and answers to all your questions in the live Q&A!

All Yoast SEO webinars »