Yoast SEO 20.0: A brand-new settings interface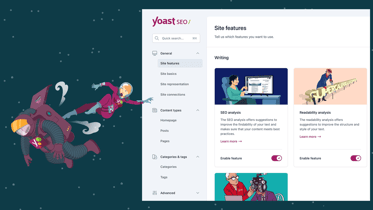 We are thrilled to announce the release of Yoast SEO 20.0. This release features a brand-new, state-of-the-art settings interface that takes your SEO work to the next level. We took great care to design an interface that's logical and easy while simultaneously fully featured. This user interface brings Yoast SEO ahead of the curve and prepares us for a bright future!
Meet your new SEO best friend
With Yoast SEO, we've always focused on building the best WordPress SEO plugin out there. We worked on the features first while forgetting the experience for a bit. So a new interface for Yoast SEO was a long time coming.
It's not hard to give an interface a new coat of paint, but thoroughly rebuilding it from the ground up is a lot of work. It means rethinking what goes where, what we want to be able to do in the future, and what this all should look like. Luckily, we pulled it off!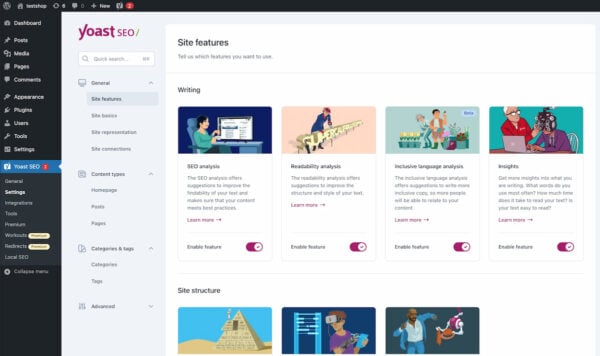 A better interface for you and us
We've worked hard to bring you this great new setting UI for Yoast SEO. For us, it's the end of an era and the beginning of a beautiful future. This new interface makes it much easier for us to incorporate new features and improve Yoast SEO while giving you a modern experience that is a joy to use.
Joost de Valk, the founder of Yoast, explains: "We felt that the default WordPress admin design no longer suited us. Our product team was itching to take our experience to the next level. WordPress's interface was holding us back a bit, as the admin interface outside Gutenberg hasn't progressed for years."
"I'm proud of what the team has built in the Yoast SEO 20.0 release," says Thijs de Valk, CEO of Yoast. "Our team wanted to do this, and they delivered. It is a technically outstanding change and proves we are constantly improving and optimizing. Our new user interface shows we'll keep delivering the best possible experience to our users. A very exciting first step in 2023!"
A logical structure for settings in Yoast SEO 20.0
The first thing you'll notice about the new interface is its sleek, modern look and streamlined navigation. The new sidebar lets you quickly and easily access all essential settings and features without navigating multiple pages or menus. We've even added a search feature to find everything you need in a jiffy.
In our help documentation, you can find a guide on navigating the new settings interface in Yoast SEO 20.0 and what moved where. Or, check out the video above to get a walkthrough of the new settings.
Four main sections
We reshuffled the contents of the old settings and divided them into four main sections:
General:

Site features: here, you can easily switch specific features on and off, from the different analyses to IndexNow and the XML sitemaps.
Site basics: in this section, you can find the basic information about your site, like the name and tagline of the website, plus force rewrite options and the like.
Site representation: this section contains information about your site that helps search engines understand it better through Schema structured data, like if the site represents a person or an organization and which names, logos, and social media accounts are associated.
Site connections: here, you can connect the different search engine tools to your site, like Google Search Console and Bing Webmaster Tools.

Content types:

Here, you'll find your site's settings for each content type. You can determine how each should appear in search, what it should look like on social media, and what types of Schema structured data describe this content best.

Categories and tags:

Same as the content types, except this is for your taxonomies.

Advanced:

Here, you'll find features like the Crawl optimization settings in Yoast SEO Premium. Plus breadcrumbs options, plus settings for various archives and special pages.
Individual feature settings pages
One of the most significant changes in Yoast SEO 20.0 is the new, intuitive layout of all the individual settings pages. Each setting now has a clear and concise explanation, making it easy to understand what it does and how to use it. The new interface also includes insightful links to give you more context on optimizing your website for search engines. This makes it much more user-friendly for those who are new to SEO.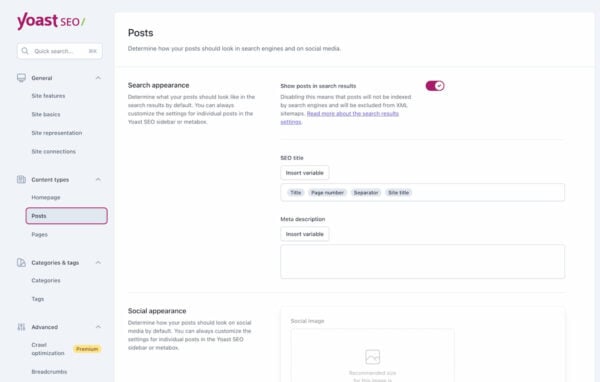 Yoast SEO 20.0 is a game changer
Overall, Yoast SEO 20.0 is a major step forward in developing the plugin, and we are confident that it will help you achieve your SEO goals more easily. The new interface is cleaner, more intuitive, and user-friendly. It's now easier than ever for you to optimize your website for search engines. We are excited for you to start using the new interface and see it for yourself.
Thank you for choosing Yoast SEO. We look forward to helping you improve your website's rankings with our new, super-modern settings interface. And remember, this is only the beginning!
Do tell us what you think in the comments below!
Coming up next!
Event

December 09, 2023

Team Yoast is at Attending, Organizing, Sponsoring WordCamp Ahmedabad 2023! Click through to see who will be there, what we will do, and more!

See where you can find us next »

SEO webinar

12 December 2023

Learn how to start your SEO journey the right way with our free webinar. Get practical tips and answers to all your questions in the live Q&A!

All Yoast SEO webinars »