Yoast SEO 6.3: Giving you more context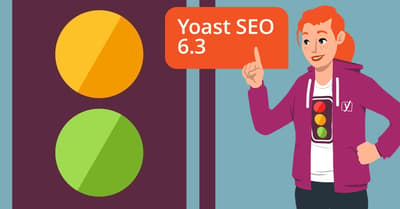 Something's brewing at Yoast HQ. There's no sign of spring yet, but we feel the need for a spring clean-up. Over the past few weeks, we've been looking critically at the Yoast SEO WordPress plugin and its many features and thinking: what's this doing here? And should we get rid of that thing? Some of the results of that process are collected here, in Yoast SEO 6.3. But this is only the beginning.
We've removed the meta keywords box
Meta keywords haven't had any use for ages. In 2009, Google officially confirmed that they didn't use them. We, however, kept the box since some of you clamored at the slightest hint that we were even thinking about deleting it. But now, after all these years, it is the time to say goodbye to the old meta keywords box. It was fun while it lasted, but it should have been gone years ago. Read why we don't use meta keywords and why you shouldn't either.
The "noindex subpages" feature is also gone
Since Google has gotten much better at working with paginated series, we've removed the feature that allows noindexing subpages of archives. According to Joost de Valk, the reasoning behind this is simple: "rel="next" and rel="prev" make sure Google sends people to the first page in a paginated series. There is one catch: sometimes it will send people to a specific page in the series, but that's when that page is the best match for their query. This, therefore, should be better for the searcher. Noindexing all these pages leads to a lower amount of crawls for them (source), which subsequently leads to lower amounts of crawls for older articles, which is not a good idea on most sites."
Enhancements: more context, fewer settings
In Yoast SEO 6.3, you'll not only find loads of new enhancements that'll improve how the plugin works, but we've also provided more context within the plugin so you can find out immediately what a particular toggle or feature does. By deleting a couple of features, we even said goodbye to a tab in the advanced settings. To help you find these settings, we've added a step in the configuration wizard for enabling (or disabling) the advanced settings. Also, we've improved the Open Graph copy for Facebook and Twitter in the Social settings to explain better what it does.
To help you transfer data from other WordPress SEO plugins we've added an importer for the SEO Ultimate plugin and the SEOpressor plugin. We already supported several other SEO plugins, like HeadSpace2, All in One SEO, JetPack SEO, WooThemes SEO Framework, and wpSEO.
In Yoast SEO Premium, we've also made several improvements that make it more apparent what a particular feature does. We've added a piece of text to the Internal Linking analyzer after completing a full site scan. This gives you more insight into what the effects are of running the analyzer. What's more, we've added an explanation on entries on the features tab and links to explanatory articles on the features tab.
Doing housekeeping
In addition to all these enhancements and the deletion of some superfluous features, we've been busy fixing bugs and getting things ready for the next release. You can find every bug fix and feature enhancement in the changelog on WordPress.org. As I said, we're busy as bees at the moment and cannot wait to show you what we've come up with.
Update now!
Yoast SEO 6.3 and its various add-ons all received nice updates today. We're cleaning up the plugins as part of our quest for keeping our interfaces and features as easy as possible. In the coming weeks, we hope to show you more of what we've been up to. For now, update your plugins and stay tuned!
Read more: Why every website needs Yoast SEO »
Coming up next!
Event

October 04, 2023

Team Yoast is at Attending, Organizing Yoast Contributor day 2023 - October edition! Click through to see who will be there, what we will do, and more!

See where you can find us next »

SEO webinar

12 October 2023

Stay ahead of the curve in the fast-evolving world of e-commerce & explore key trends & emerging opportunities. Register for "E-commerce Trends 2023" now!️

All Yoast SEO webinars »