Yoast SEO 15.7: Helping you write better content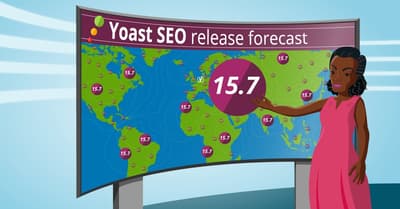 Today, we'd like to welcome Yoast SEO 15.7. For this release, we thought we'd remind you of some cool stuff Yoast SEO does to help you write awesome content. For Premium users, we've added a new language with full readability and word form support: Turkish!
Yoast SEO is your SEO expert and content editor
It's easy to forget how useful a tool is when you use it daily. It somehow slips from your mind, and you simply accept the fact that something is silently helping you to improve your site. Well, not always that silently, as we do tend to remind you to fix stuff that has a red bullet — but, we'll never yell. We use these nudges to encourage you to improve your work. We're especially mindful when it comes to content SEO.
High-quality content needs to be topically on target, but it also needs to be readable and easy to understand. No one will read your content if it is sloppy, shallow, rambling or simply plain bad. But, not everyone is a gifted writer — or can hire one. We've made it our mission, therefore, to help everyone improve their content. Well, everyone with a WordPress site running Yoast SEO that is. We built several tools that can analyse a piece of text and suggest improvements to make that content more readable. We can't write it for you, but we can steer you in the right direction.
One of those analysis is the readability analysis. This analysis is powered by an algorithm that checks how readable your article is based on insights from research and best practices. For instance, we check for the use of transition words to improve the flow of text. The plugin checks to see if your sentences aren't too long. Or, you tend to use passive voice a lot instead of active voice.
We gather all these insights and present them as feedback in the sidebar — or meta box. Use these insights to your advantage! But, don't go chasing the green bullets. It's not a rule — it's simply a tool.
Combined with the SEO analysis, the readability analysis helps you make your work the best possible content for readers and search engines alike.
The Yoast SEO Premium analysis turns it up a notch
While the free version of Yoast SEO works perfectly fine, we have additional features in Yoast SEO Premium that will improve your workflow. It will also genuinely improve your enjoyment. The Premium analysis is quite a bit smarter, and it makes for a much more natural writing and editing experience.
One of the most important features in Yoast SEO Premium is what we call word form support for your focus keyphrases. A word form is a grammatical form of your keywords. So, if your keyphrase is 'baby', 'babies' is a grammatical form of that word. With Yoast SEO Premium, we take those word forms into account. This means that we're excellent at discovering not only the keyphrase as you have typed it, but also all word variations of that. What's more, they don't even have to be in the same order in a sentence. We'll recognize them anyway.
Unlock this feature in Yoast SEO Premium
Get this feature and much more for your WordPress site with the Yoast SEO Premium plugin!
What does that mean?
That's all well and good, of course, but what does that mean for you, dear reader? Having a smarter analysis at your disposal, makes the process of writing a perfectly readable text much more natural. While you are writing, you naturally use various forms of your keyphrase. In the free version, we could only pick up the keyphrase exactly as you've entered it into the focus keyphrase box. With Premium, we take all the grammatical forms into account as well. This means you won't have to awkwardly fit in keyphrases to satisfy the plugin, as to plugin is probably already satisfied by your natural writing.
Of course, this is not all. In Yoast SEO Premium, you'll also get the chance to add related keyphrases and synonyms to expand the possibilities of the analysis even more. These tools help you write a piece of content that reads effortlessly, without overusing your focus keyphrase.
In Yoast SEO 15.7: Full Turkish language support
Most of the checks in Yoast SEO work independent of language, but some we finetune for specific languages. We have a long list of languages we support, and we can add a new one today: Turkish. Turkish is the sixteenth language to receive full language support with word forms. As of today, Turkish users can make use of all this cool stuff.
That's Yoast SEO for you!
Today, we've launched Yoast SEO 15.7. Premium users from Turkey will enjoy the brand-new readability and word form support for their language. We have many more languages coming, so keep an eye out for yours!
Coming up next!
Event

October 04, 2023

Team Yoast is at Attending, Organizing Yoast Contributor day 2023 - October edition! Click through to see who will be there, what we will do, and more!

See where you can find us next »

SEO webinar

12 October 2023

Stay ahead of the curve in the fast-evolving world of e-commerce & explore key trends & emerging opportunities. Register for "E-commerce Trends 2023" now!️

All Yoast SEO webinars »