WordPress Debug Theme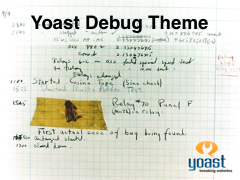 Warning: major geekery ahead! Sometimes you need to see what's wrong with a WordPress install, and you need to see it fast. I've had a set of hacks around for a while to do that, but finally started combining it into a WordPress Debug Theme. This theme is quite simple for now, as it only does a few things, but does them quite effectively.
The first thing it does, on the homepage of the blog you've activated it on, is show the most important constants for that blog (see this screenshot). It shows you the important URL's, editor and memory settings etc.
On subpages it will show you something else: the page type, all the query vars that are set and the SQL query for that page. I've found that just doing a print_r or var_dump of $wp_query is hard to read, this theme tries to be a bit smarter about that, see these examples.
This theme also works in the preview, so that might be enough in a lot of cases. It also works great together with Donncha's Theme Tester, as Alex Leonard mentioned in the comments. Be warned that you might want to remove this theme from live sites though!
So all you have to do to use this is download it, upload it to your server and activate it.
If you're a developer this theme might come in handy sometimes, I'd love to know if you use it and what you'd add, maybe we can turn this into something super useful together.