WordPress at 20: The CMS that revolutionized the web!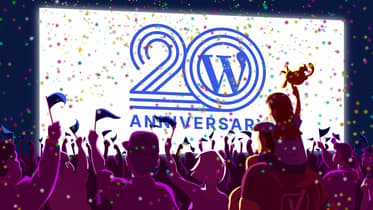 WordPress is turning 20 years old, and we can't help but reminisce on all the years so far. Our favorite CMS has come a long way since its beginning, celebrating its 20th anniversary on May 27, 2023. A content management system (CMS) can help its users create a great website, and WordPress is the one we keep returning to. This blog post offers a brief history of WordPress and describes Yoast's significant role in the WordPress project and community.
History of WordPress
Matt Mullenweg and Mike Little started and announced WordPress on May 27, 2003. In those days, it was a simple blogging platform built on the b2/cafelog software. Its popularity grew due to its user-friendly interface, customizability, and flexibility, letting users easily create custom themes and plugins. This made it a top choice for bloggers, freelancers, and small businesses. This was when competitors like Joomla and Drupal were doing pretty well.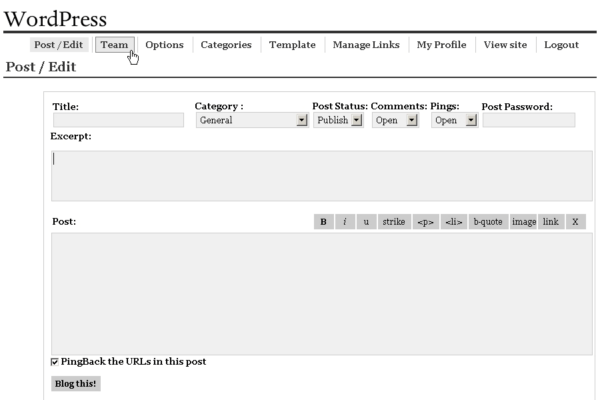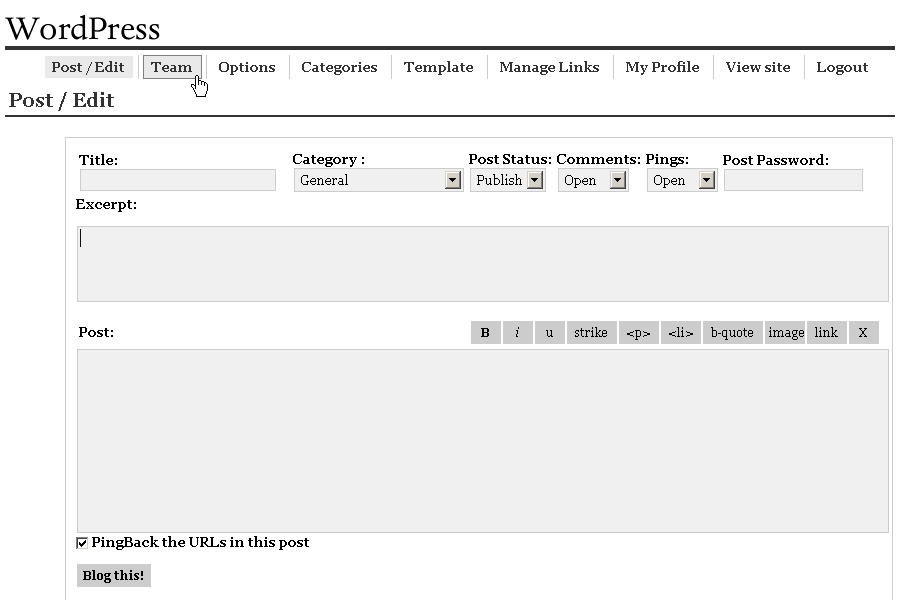 WordPress 1.5 was launched in 2005. In this release, users could change the design of their blogs without needing to know HTML or CSS. Over time, WordPress further grew in versatility. The 2010 release of WordPress 3.0 added custom post types. Users created various content types beyond posts and pages thanks to custom post types. The feature enabled SEO experts to design custom landing pages and product pages. They could also optimize URLs for better search engine visibility. Additionally, WordPress 3.0 allowed site owners to create multiple sites using a single installation with its multi-site feature.
In 2018, the Gutenberg editor debuted with the release of WordPress 5.0. This new editor has improved the user experience by introducing drag-and-drop blocks. Thanks to these blocks, users create visually appealing and engaging content that gets more website traffic and engages visitors. Today, the block editor powers the full site editing feature slowly rolling out in WordPress.
The importance of open source
We can partly explain WordPress's success due to its open-source license, which is core to its development philosophy. The license allows users, designers, and developers to access, modify, and improve WordPress's source code. As a result, it created a vibrant and inclusive community that propels its growth and accessibility.
Thousands of developers worldwide contribute to WordPress, creating plugins and themes that enhance the platform's functionality. This approach has made WordPress the preferred platform for businesses of all sizes. It also helped stimulate best practices among its users and developers.
The open-source model has become the foundation of WordPress's success as a leading content management system. The community working together to create a powerful, easy-to-use, and adaptable platform for everyone has made it one of the most recognizable open-source projects in the world. The philosophy of openness and inclusivity will continue to drive WordPress's growth and development into the future.
Key moments in the history of WordPress
Let's take a closer look at some of the significant moments in the history of WordPress.
The initial launch of WordPress (2003)
WordPress launched in 2003, marking a pivotal moment in the history of the web. It also started a new era of sites. Matt Mullenweg and Mike Little co-founded it as a fork of the b2/cafelog blogging system. They wanted to offer something more user-friendly and flexible than what was already out there.
Designed to be modular and adaptable, WordPress gained popularity as a CMS for bloggers of all skill levels. Developers were attracted to it to create custom themes and plugins. Its simplicity set it apart. The intuitive interface and basic features made publishing and managing content online easy, even for users lacking technical skills.
Although it had its initial issues, the efforts of Mullenweg and Little paid off. The WordPress community grew, improving the platform's flexibility and refining updates to fix bugs. Developing plugins and themes further enhanced its capabilities and drove its popularity.
The launch of WordPress 1.5 (2005)
2005 saw the release of WordPress 1.5. This significant update introduced themes, revolutionizing how users could personalize their WordPress sites. Before themes, altering a site's appearance required creating CSS stylesheets, a time-consuming and elaborate process only feasible for expert users.
Themes introduced an accessible and practical way for WordPress users to modify their sites' designs without learning HTML or CSS. The update marked a turning point in WordPress's history, further boosting its popularity and user-friendliness.
The update came with a default theme, Kubrick, by Michael Heilemann. This became the go-to choice for users due to its groundbreaking design and easy customization. Additionally, WordPress 1.5 had a new database structure that offered better performance and scalability. This allowed faster, more efficient handling of more extensive data storage.
With the introduction of static pages, users could create pages beyond the prior limit of posts in chronological order. Now, we see the addition of standard pages like About us, Contact us, and more. Themes empowered non-developers to personalize their sites, making WordPress 1.5 more accessible than ever.
Launch of the WordPress plugin repository (2005)
The concept of plugins was introduced in WordPress 1.2. The launch of the WordPress plugin repository in 2005 marked a turning point for the platform. The repository vastly expanded its capabilities and popularity. Before the repository, WordPress users were limited in customization options, relying on built-in functions alone.
The plugin repository changed everything. It enabled developers to create and share their plugins with the WordPress community. This opened up limitless possibilities for expanding and personalizing functionality. The library now offers users a broad range of plugins, from social media integration to eCommerce, to enhance their WordPress sites.
The plugin repository streamlined the installation process. It replaced the considerable effort of downloading files and transferring them through FTP with a single-click installation from the WordPress dashboard.
One plugin that greatly impacted site owners was WordPress SEO, later called Yoast SEO. After all these years, our plugin is still the most important tool for optimizing on-page content and doing SEO. This plugin provides features like content analysis, XML sitemaps, and social integration to enhance visibility and increase website traffic.
The plugin repository also fostered and strengthened the WordPress community by encouraging sharing, communication, and collaboration between enthusiasts. Today, it is a vital cornerstone of the WordPress ecosystem. It has a broad selection of over 60,000 plugins, continuing to enrich WordPress's capabilities and development community.
The first ever WordCamp is held (2006)
The WordPress community is very active online but also loves to come together offline. Instrumental in this was the introduction of WordCamps, which are events that focus on everything related to WordPress. WordCamps are informal conferences that are organized all over the world, by people from the community. And this is still very much happening to this day.
During these events, WordPress enthusiasts come together to meet like-minded people, share ideas and work together on improving WordPress. And one of the reasons for its ongoing popularity is that everyone's welcome, from developers to casual users. Every contribution is welcome and everyone can contribute!
WordPress 3.0 (2010)
WordPress 3.0 was a significant moment in the platform's history. This release featured many new tools that gave users greater website control and flexibility. Custom post types were among the most critical introductions, removing the previous post and page limitations. This made creating product pages, event listings, and the like easier. It reduced the complexity or requirement of hacking the platform.
Multi-site functionality was another significant update, allowing users to create multiple sites with a single WordPress installation. This made site management more accessible and more centralized for owners. Additionally, WordPress 3.0 offered an improved menu system. A more sophisticated site design is now possible, giving users greater control over arranging individual menus. The update enhanced performance and security, providing better caching, response time, and security features.
The WordPress Foundation was founded (2010)
In 2010, Matt Mullenweg founded the WordPress Foundation, a charitable organization to further WordPress' mission. Which is to democratize publishing through open source. The goal was (and is) to keep ensuring free access to the software projects that WordPress supports. To create a stable platform for future generations and to make sure the source code doesn't disappear when the current contributor base changes.
This means that the foundation is responsible for the protection of the WordPress and WordCamp trademark (and related trademarks). But it also focuses on educating the public on WordPress and the importance of open-source software.
Five for the Future is launched (2014)
The Five for the Future project is an initiative that promotes contributions to the WordPress platform. It encourages organizations to contribute five percent of their resources to WordPress development. Being the open-source project that it is, WordPress benefits from and relies on people all over the world contributing to it. Five for the Future helps make this happen, with participation more than quadrupling since its launch in 2014.
As is often (if not always) the case with WordPress, everyone can contribute. There is always a way to get involved, regardless of your experience level. This gives people the opportunity to learn alongside other, more experienced contributors who enjoy sharing their knowledge. It's possible to contribute to Five for the Future as an individual or with your organization.
The Gutenberg/block editor (2018)
In 2018, WordPress 5.0 brought the revolutionary Gutenberg editor. Gutenberg introduced a block-based system to replace the traditional WYSIWYG editor, improving accessibility and democratizing website creation.
The block editor broke down content creation into blocks, allowing better template design and layout precision, separate from content styling. This enabled customization options like images, heading, and shortcode blocks to easily create complex content like charts, forms, and call-to-actions.
Initially, the rollout met some resistance due to significant change, but people slowly learned to accept it due to its superior user experience and versatility. It has since become a staple feature with the release of custom block-building capabilities. The block editor provides limitless design possibilities and improves website designs.
The platform has undergone further development with the release of reusable blocks, block patterns, and full-site editing, expanding customization options. Reusable blocks allowed the saving of frequently used blocks, while block patterns provided a selection of pre-designed blocks with customization options. Finally, full-site editing allowed users to create site designs using the block editor seamlessly.
The transformative addition of Gutenberg brought unprecedented ease, customization, and adaptability to WordPress, making it an essential tool for website creation and evolution. With its current state and potential for updates, Gutenberg will continue to play a crucial role in WordPress's future growth and success.
All-women & nonbinary release squad (2020)
Every new release of WordPress comes with its own release squad. In 2020, the squad for the WordPress 5.6 release only consisted of people who identify as women or nonbinary. This was done to increase the number of women and nonbinary people who have experience on a release squad and also return as a contributor to WordPress. The WordPress 5.6 release, named "Simone", was the first ever to have an all-women & nonbinary release squad and this was quite a success!
It's also good to mention that right now, the community is preparing for the next women & nonbinary release squad. So if you're interested, make sure to sign up!
Full site editing and the future of WordPress (2022 and beyond)
The main focus of the WordPress project is to build a full-site editing feature. With this, users create sites visually using the block editor. Full site editing debuted in WordPress 5.9. Users could choose visual options such as font combinations and image filters through the adaptive navigation block.
WordPress 6.0 followed and improved the user experience by introducing a block-locking UI and improved export theme functionality. Meanwhile, WordPress 6.1 brought improvements to the full-site editing functionalities. The latest release, WordPress 6.2, introduced a new Site Editor and additional functionality.
While ongoing concerns over stalling adoption rates, the legacy codebase, and UX issues, among others, exist, the WordPress project remains optimistic about the future. Performance has also become a new focus, making WordPress faster, with support from Google. Despite challenges, the WordPress community remains committed to enhancing the platform, cementing its position as a leading CMS.
Yoast and WordPress
Yoast and WordPress have a deep-rooted history, and their future is interdependent. Without WordPress, the Yoast SEO plugin and Yoast, the company, may not have existed. Joost de Valk, Yoast's founder and ex-CEO, created the SEO plugin for WordPress. He actively contributed to the WordPress project and community from early on. Today, Yoast has a team of dedicated WordPress developers who have been prolific contributors to WordPress, closely following Automattic's contributions.
We do everything we can to improve WordPress. For instance, we formed the WordPress Performance team with a team from Google. The team identified and addressed common performance issues to put performance front and center. The goal is to keep WordPress from falling behind competitors in performance. Making WordPress faster benefits everyone, from website owners to visitors, leading to increased engagement and revenue opportunities.
Of course, Yoast played a critical role in WordPress' success in the SEO industry. Today, our plugin has over 14 million active downloads. It provides technical improvements, on-page optimization, content analysis, XML sitemaps, social media integration, and much more, simplifying SEO processes and enhancing online visibility. By sponsoring numerous WordCamps and meetups, we demonstrate our commitment to the WordPress community.
WordPress's open-source platform allows us to create user-friendly products that meet the community's needs. The dependency on the WordPress project and Yoast continue to shape our futures, evident in our commitment to the ecosystem. Yoast and WordPress are intertwined in history and remain pivotal to each other's future. Together, we'll continue to drive innovation, and growth, and develop the community.
Thanks for 20 good years, WordPress, and here's to the next 20!
WordPress has evolved incredibly since its inception. It's now a dependable CMS that powers over 43% of the internet. Regular updates and new features continue to make it the best tool for publishing and optimizing content for search engines.
As WordPress celebrates its 20th birthday, we'd like to congratulate everyone who has participated in this success — whether as a contributor, a developer, or a user. At Yoast, we are particularly proud of our contributions to the success of WordPress and its community. WordPress has significantly impacted the internet by simplifying the process of developing, publishing, and promoting online content. We can only hope that the future is just as bright!
Read more: Yoast & WordPress »
Coming up next!
Event

December 09, 2023

Team Yoast is at Attending, Organizing, Sponsoring WordCamp Ahmedabad 2023! Click through to see who will be there, what we will do, and more!

See where you can find us next »

SEO webinar

12 December 2023

Learn how to start your SEO journey the right way with our free webinar. Get practical tips and answers to all your questions in the live Q&A!

All Yoast SEO webinars »