Most people find it difficult to go from reporting the basic stuff in Google Analytics, like pageviews and sessions, to analyzing data. Drawing valuable and actionable conclusions based on data is even more challenging. Everyone searches for ways to do this, and learns while doing so. Here, I want to discuss a metric in Google Analytics that can help you with putting data into actions. It's called: Page Value.
What is Page Value
Page Value is a metric you'll find in the All Pages report in the Behavior section. This metric tells you if the page has contributed to a conversion or not. Google's definition is:
Page Value is the average value for a page that a user visited before landing on the goal page or completing an Ecommerce transaction (or both).
You can only see a true value in the Page Value column if you have implemented enhanced eCommerce tracking and/or if you've set up goals and assigned goal value to them.
If you have none of the former, the Page Value of your pages will be $0.00. As you can see in the screenshot below: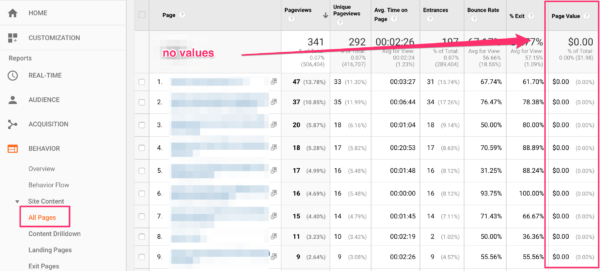 Goals and goal value
The Digital Marketing Evangelist Avinash Kaushik is pretty clear when it comes to goals.
If you don't have goals, you are not doing digital analytics. You are doing I am wasting earth's precious oxygenalytics.
And he has a similar opinion when it comes down to assigning a value to your goals.
Without goals and goal values you are not doing web analytics, you are doing web I am wasting your life and minelytics.
I tend to listen to Avinash Kaushik and I'd recommend you do the same ;-). If you have a clear goal for your website, which means that you know what you want your visitors to do on your site, then translate that into goals. And assign a value to your goals. This means that every website should have goals, for I hope that every website has a goal to exist.
Start with reading this awesome post about goal values on Kaushik's website. It's about how to add economic value to goal conversions that don't directly lead to revenue for your website. Because these conversions probably lead to indirect revenue for your business. Once you've set up goals with a Goal Value, the Page Value metric in Google Analytics gets more and more interesting.
Page Value for eCommerce sites
If you've implemented eCommerce tracking in Google Analytics, Page Value will be added automatically. Please don't add Goal Value to the eCommerce goals you're creating. The eCommerce tracking will take care of that for you.
How Page Value is calculated
Like a lot of things, Page Value is best explained with an example. In this case, I'm going to use the example Google gives: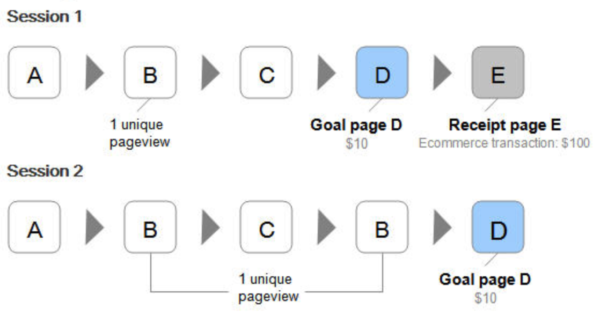 In this example we're going to calculate the Page Value of Page B. The formula is:
(eCommerce Revenue + Total Goal Value) / Number of Unique Pageviews for Page B
We see two sessions in which page B was viewed. Each session had a unique pageview so the number of unique pageviews for Page B is 2. We also see that the Goal of Page D is completed two times and Goal page D has a goal value of $10. Which adds up to $20. Then in Session one, an eCommerce transaction of $100 has taken place. This will result in the following formula:
($100 + $20)/2
This means that the page value of Page B is $60.
What does the Page Value of a page tell you
Your pages should have a purpose. Some pages sell stuff / convert and some merely inform readers about a certain topic. Others assist in making a conversion. If pages that are meant to sell or convert have a low page value, something is going wrong. And if you see that pages you're not actively using in your strategy have a high Page Value, you might want to consider adding that page to your strategy.
It also works the other way around. If you notice that some pages have a lower than expected Page Value, then these pages are driving people away from a conversion. The same goes for pages with high traffic but low Page Value, and pages with low traffic but high Page Value. As you might've guessed, looking at page value is insightful and useful to optimize your conversions!
Blog and Page Value
It all depends on the goals and goal values you have. Let's say you have a blog and one of the goals of your blog is to get newsletter subscriptions. So you want to set up that goal and add a certain goal value. By doing so, you can identify which blog posts lead to more newsletter subscribers than others. This gives you information about what kind of interests your audience has. You might even conclude that putting posts of interest in your newsletter will lead to more engaged newsletter subscribers.
Also, if you want to start a campaign or promote something on Facebook, for instance, you can choose to share a post with a high Page Value. This makes sense, because you know that it will lead to more conversions / newsletter subscribers (or whatever the goal is) than a post with a lower Page Value. Think about the information the Page Value metric can give you for your marketing as well as your website optimization strategy!
Online shop and Page Value
You can use this principle if you have an online shop as well. If you've enabled and correctly implemented enhanced eCommerce tracking, you can see those transactions in the page value of your pages. Of course, you want high page values for your product pages. And you want to find out which other pages lead to conversions. Use this information to identify which pages can be used best in your marketing campaigns. And check where these pages are on your website, can people access them easily?
Conclusion
If you're looking for an actionable metric in Google Analytics to optimize your website and your marketing campaigns the Page Value metric is the way to go! It gives you information about what works and what doesn't work for your business. Of course, Page Value doesn't come by itself, you need Goals with Goal Values and/or eCommerce tracking if you have an online shop. But it's worth to set this up. Good luck!
Read more: Perfecting your goals in Google Analytics »
Annelieke's Analytics series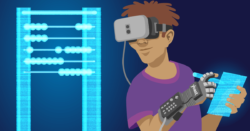 See more from the Annelieke's Analytics series
Annelieke posts about her experiences with Google Analytics and helps you along the way.
Coming up next!
Event

September 27 - 28, 2023

Team Yoast is Sponsoring WordPress Accessibility Day 2023, click through to see if we'll be there, who will be there and more!

See where you can find us next »

SEO webinar

26 September 2023

Get expert analysis on the latest SEO and WordPress news with Carolyn Shelby and Alex Moss. Join our upcoming webinar! 📺️

All Yoast SEO webinars »