Test Engineer
Ben jij een sterke communicator? Weet je hoe je het acceptance test plan voor plugins voor WordPress opstelt? Vind je het leuk om deel te nemen aan final go/no-go release meetings? Dan zijn wij op zoek naar jou!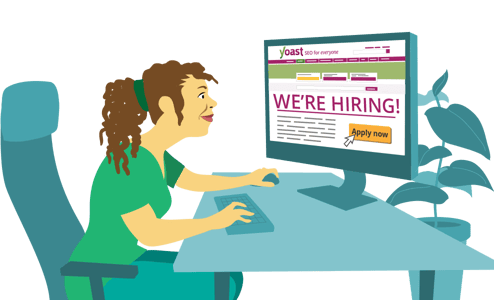 Als test engineer bij Yoast test je de laatste releasekandidaten van Yoast plugins voor de officiële releases. Wijzigingen voor de releases worden voorbereid door development squads die bestaan uit developers, product owner, designer en test engineers. Je voert de laatste integratie- en acceptatietests van de plugins uit. Bij Yoast brengen we elke twee weken een release uit.
Het QA team (tribe) bij Yoast bestaat uit 3 QA engineers en de QA lead. De voorbereiding van onze plugin releases wordt ook gedaan door een aantal acceptance (internal) testers. Communicatie is de sleutel in deze functie. Je vertegenwoordigt de laatste stap van het release process. Je communiceert bijvoorbeeld met alle stakeholders en andere acceptance testers.
Wat ga je doen?
Aansluiten bij het QA-team (tribe).

Deelnemen aan de voorbereiding van het release testplan.

Het uitvoeren van acceptatie- en integratietesten.

Samenwerken met ontwikkelaars en andere acceptatietesters, hen assisteren tijdens het testen.

Problemen rapporteren.

We hebben ook UI geautomatiseerde tests - daar kun je ook aan bijdragen!
Wie ben jij?
Minimaal 3-5 jaar ervaring als UI-tester.

Sterke kennis van regressie en exploratief testen.

Ervaring met Git.

Kennis van principes en processen binnen Scrum teams.

WordPress-ervaring is een must.

Sterk gevoel voor communicatie.

Spreek en schrijf je vloeiend Engels, bij voorkeur met (minimaal) beheersingsniveau C1? Perfect!

Ervaring met geautomatiseerde UI test frameworks is mooi meegenomen.

Je hebt sterke ervaring met User Interface testing (cross browsing testing, cross-platform testing en performance testing van webapplicaties)

Ervaring met CI/CD pipelines is goed om te hebben.

Wonen in de tijdzone UTC -1, UTC, UTC 1, UTC 2 of UTC 3 is vereist.
Wat wij bieden
Een uitdagende baan bij een snelgroeiend, dynamisch, ambitieus en internationaal bedrijf dat impact maakt op het web.

Een salaris van €3500 - 4500 (op basis van 40 uur per week) afhankelijk van je werkervaring.

25 vakantiedagen (op basis van 40 uur). Daarnaast krijg je vijf vrijwilligersdagen die je bijvoorbeeld kunt besteden aan het helpen bij de plaatselijke voetbalclub. Of om een schoolreisje van een van je kinderen te begeleiden.

Je krijgt 10% van je jaarsalaris als opleidingsbudget.

Een bonusregeling.

We hebben een geweldige pensioenregeling, die volledig door Yoast wordt betaald.

Bewegen en fit blijven! We hebben een eigen sportschool en een personal trainer!

We hebben een erg leuke (lichtelijk gekke) bedrijfscultuur met heel veel teambuilding activiteiten. De ken-je-collega's-quiz, veel feesten en LEGO bouwdagen.

De kans om in korte tijd veel te leren bij een van de leading SEO bedrijven.
Procedure
Ben je geïnteresseerd? De sollicitatieprocedure bestaat uit drie gesprekken. Heb je vragen? We beantwoorden ze graag. Stuur een e-mail naar jobs@yoast.com. Let op: alleen sollicitaties met een motivatiebrief worden in behandeling genomen.
(Onze sollicitatiecode is van toepassing op alle sollicitaties)
Niet wat je zocht? Kijk eens naar onze andere vacatures:
---
---