How to use the new video indexing report in Google Search Console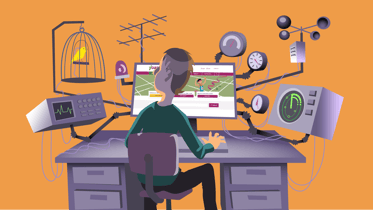 In July 2022, Google launched a new video indexing report in Google Search Console. This report will allow you to see how many pages Google has found, crawled, and indexed a video on, and much more. It's incredibly useful because it helps you understand the foundation of your video SEO performance. Plus, the report also identifies possible fixes for any videos that don't seem to be appearing in the search results.
So where can you find the report? Easy! Under the index heading in the sidebar of Google Search Console.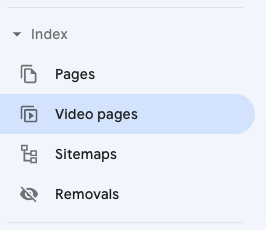 At the top, it provides a snapshot of how many videos are indexed and how many pages have video data. If Google hasn't located and indexed a video, it is marked as "No video indexed".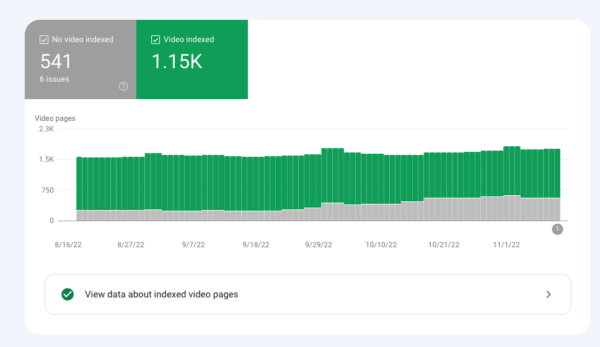 Ideally, every video on your site will be indexed and included in the green tab. In reality, however, there may be issues on some pages that prevent indexation.
In this post, we'll run through some of the major uses of this report for managing your video SEO.
1. Discover which pages have videos indexed
To find out which of your pages Google has indexed a video on, click on the "Video data about indexed video pages" link just below the main bar chart.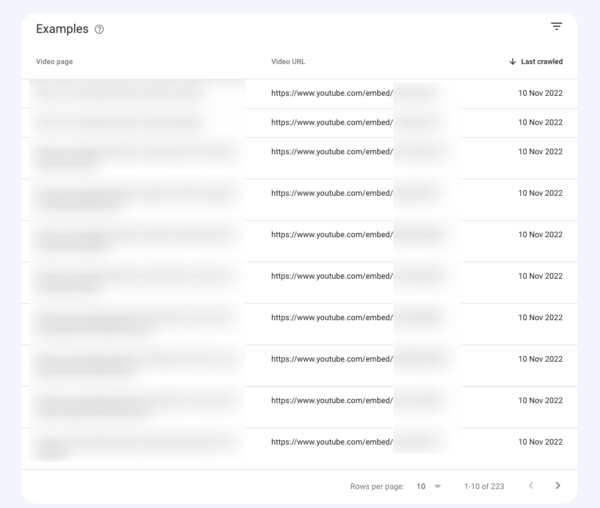 You'll receive a table that lists the pages where a video has been found, and the URL of the video player or file which has been indexed and associated with that page (usually a link to a page on your video hosting platform). You'll also see the date the video was last crawled. This is really handy because it'll tell you how up-to-date the information in Google's index is. 
2. Understand which data Google is using to inform display in Video Search
If you click on any of the results within the table, you can see a granular, page-level report that tells you which discovered URLs Googlebot believes are video files. The method used for each URL is indicated in the report. Usually, though, it's determined through HTML tags, Open Graph data, or Schema.org markup.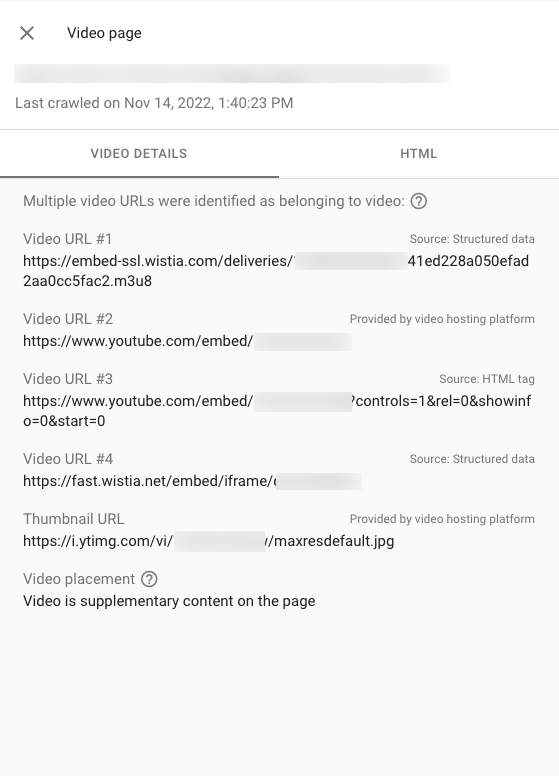 You'll also see the source of the thumbnail Google chose to associate with each video. This is typically through Open Graph or Schema.org data (labeled as "structured data").
Lastly, the report indicates "Video Placement". This can mean two things: Google considers the video to be the core page asset or supplementary content. But don't worry too much about this identification. Unless you have a page with just an isolated video embed and a title, Google will typically consider your videos to be "supplementary content".
In many cases, the report will show multiple video URLs for a single video. This can be due to fallbacks and multiple methods of video delivery. As long as each URL indicates the same video, this isn't a problem, but if there are inconsistencies here, this can be an indicator of why a video is failing to consistently appear in search results.
3. Identify duplication in video indexation
If you export the data from the indexed videos report, you can quickly pull it into excel or Google sheets. You can then perform an analysis to identify any pages being indexed with the same video. It's easiest to look at the "Video URL" column. Good to note: Video duplication across multiple pages is not necessarily a problem. There are many examples where the same video serves a good purpose in several locations. For example, in a blog post, on a product page, and also within a video gallery page.
However, keep in mind that you lose control of which page Google will decide to rank for any given query where the video is a relevant result. This might cause issues. For example, if you end up sending users to a video gallery page for a query where a product page would be more appropriate.
This investigative work can also illuminate canonical issues, for example with tracking parameters that Google fails to interpret as duplicated content.
4. Assess video indexation problems
Below the core report is a table titled "Why videos in pages aren't indexed". This table shows a list of issues Google has encountered while trying to index videos on your website. And it's quite detailed too. You can find information on each of the pages where this issue was discovered.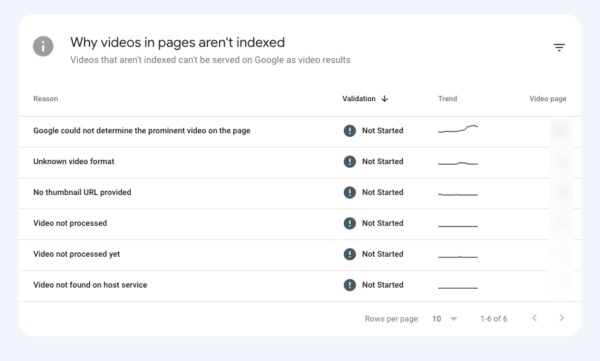 Most common problems
Let's look at the most common problems you can encounter, and how you can fix them.
Google could not determine the prominent video on the page
This is by far the most common issue you're likely to run into with video indexation. Unfortunately, it covers a multitude of different scenarios rather than simply "prominence".
Sometimes it can simply mean that Google found a video on the page, but assessed it was too far down. Or that the video was too insignificant in regards to the page to be included in the video search results. If this is the case, a simple fix is to change the position and size of the video to something more significant. For example, near the top of the page. If your video is already in a prime location but hidden on first paint with some CSS, then amending this may also be a sufficient fix.
In other instances, it can be a rendering problem. If the video requires JavaScript to load, then Googlebot will often determine the video insufficiently "prominent". Why? Because on a basic page load, the crawler cannot find an embedded video player. This sort of issue frequently occurs when videos are included in carousels or other dynamic page elements.
Cannot determine video position and size
This typically occurs when using a lightbox or other "click to load" feature that rely on JavaScript. Sometimes plugins or tools decide to delay loading a video player until a user presses play. After all, this can save bandwidth and reduce page load times. Unfortunately, the side effect is that Google cannot find or render the videos.
If you're concerned about site speed and video, the best solution is to load the video player asynchronously. Good news: You can easily do this with the Yoast Video SEO Plugin!
Unknown Video Format
This error means there is a problem with the URL indicating the video file or player in your Schema.org or OpenGraph markup. A common example: OpenGraph sometimes creates a self-referencing URL marked as "video". In doing so, they create a reference for a video file, which now points to the URL of the page rather than the media asset.
Video Not Found on Host Service
This issue is normally found with YouTube embeds where the video has been deleted or marked as private. If you see this error, the video you're referencing has probably been removed. The fix? Update the embed to prevent users from receiving an error too.
In conclusion
The new video indexing report in Google Search Console is incredibly useful. You'll be able to gain invaluable insights into your video SEO performance. Just be aware of some of the problems you can encounter. And have fun clicking through the new reports! If you have any questions, feel free to leave them in the comments.
Read more: On-page video SEO: how to optimize your video pages »
Coming up next!
Event

December 09, 2023

Team Yoast is at Attending, Organizing, Sponsoring WordCamp Ahmedabad 2023! Click through to see who will be there, what we will do, and more!

See where you can find us next »

SEO webinar

12 December 2023

Learn how to start your SEO journey the right way with our free webinar. Get practical tips and answers to all your questions in the live Q&A!

All Yoast SEO webinars »