The basics of email marketing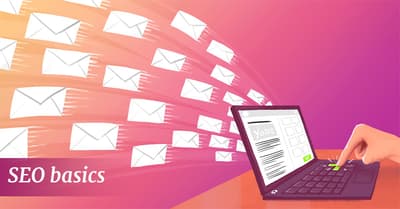 Email marketing is a great tool to bind your audience to your website. It's relatively easy to set up an email newsletter and send it to your audience. In this post, I'll explain the basics of email marketing. Why is email marketing an important element of your growth and marketing strategy? Moreover, I'll also give practical tips on how to set up an awesome newsletter.
The benefits of email marketing
People who sign up for a newsletter expect and want to receive your information. So this part of your audience is very committed. That's the reason email marketing pays off. The people you're sending your newsletters to actually want to read your stuff! As the costs of email marketing are very low, email marketing has a relatively high return-on-investment.
Email is a great way to increase your customers' retention. What this means is that it will increase the amount of customers that purchase repeatedly, instead of just once. So this would help turn your clients into return customers. By emailing your customers on a regular basis, your brand will stay top of mind and they'll return more quickly to buy something again. Of course, your emails would have to be interesting, enticing and engaging for this to really work.
A newsletter is relatively easy to set up through a service like MailChimp or TinyLetter. It's also easy to target specific subgroups within your entire audience with a newsletter. It's a great way to inform your readers that you have written new blogs and that they should come and visit your blog.
Pitfalls of email marketing
Creating content for a newsletter can be a lot of work. Work on top of writing those posts for your blog. And if you want to send out a newsletter on a regular basis, you'll have to fill it with content that's useful to your audience. That can be a challenge.
People won't open your email or will unsubscribe from your newsletter if they don't like your content. It's important not to annoy people with content they don't want, or have already seen.
How to set up a newsletter?
1 Start with something important
Most people won't read your entire newsletter. That's why it's crucial to start with the thing you really want people to know about. You could also choose something that people would like to read, something that will draw their attention and make them read the rest of your newsletter.
2 Make sure to choose a good subject line
Whether people actually open your newsletter depends on the subject of your newsletter. MailChimp makes it really easy to test open rates of newsletters with different subject lines and it really pays off to think about and test which subject lines work for your audience.
3 Clarity and focus
Make sure the layout of your newsletter is good and looks appealing, and that people are able to read your newsletter on mobile devices. Make sure you have clear calls-to-action, things you want people to do after they've read (part of) your newsletter. Give them enough opportunities to click through to your website (and buy your stuff or read your posts).
4 Tone of voice
The people who have signed up to receive your newsletter like your products, your blog or your company. So your tone of voice should be friendly and enthusiastic, not too aggressive or salesy. Your newsletter should make your audience even more fond of you and your products. You're telling them something other people won't hear. Make them feel special.
5 Make it visual
If a newsletter is just a wall of text it could become a bit boring. Illustrations and pictures can make the newsletter look much more attractive and pleasant to read.
Tips on making your newsletter that much more awesome!
1 MailChimp
There are a number of helpful tools that make sending out emails that much easier. At Yoast, we love MailChimp. MailChimp allows you to send out emails to 2,000 subscribers for free and has a great interface to write content and manage your subscriptions.
2 Test!
You should test which topics convert best into sales or new readers. To do this you have to make sure that when people sign up for your newsletter, the thank-you page is hosted on your own site and has your Google Analytics code. Otherwise tracking the sign up is going to be hard. You should also look into the time and day of the week you're sending your newsletter. For some blogs, the weekend could be a time to draw people to your site while for other (more company related or professional blogs) a weekday and an office hour would be most profitable.
Read more: A/B testing your newsletters »
3 Getting people to subscribe
In order to send people your newsletter, you have to convince them to subscribe to this newsletter first. Make sure you offer a subscribe field beneath your posts and on other visible places on your website. You can also use a pop-up to invite people to subscribe. At Yoast, we used to use OptinMonster for this.
4 Make sure your newsletter is mobile friendly
Many people check their email on their phone. You should really make sure your newsletter is as mobile-friendly as possible. A lot of the mailing services offer default templates that are mobile friendly and will scale down nicely. If you don't want to spend too much time or money on your newsletter, this is a good option.
Another thing to consider for mobile is your subject line. Since mobile screens are obviously not as wide as desktop screens, your subject lines might not fit the screen. Perhaps this won't be a problem at all, but it's a good one to keep in mind, or even test.
Conclusion about email marketing
Email marketing is a great way to reach your audience. You can communicate with those clients that really want to be informed about your products, your website or your company. It's relatively cheap and contributes to keep your audience coming back to your site. So get those subscriptions and make sure you create a newsletter with interesting content and an appealing design that works on mobile as well!
Keep reading: Social Media Strategy: where to begin »
Coming up next!
Event

December 09, 2023

Team Yoast is at Attending, Organizing, Sponsoring WordCamp Ahmedabad 2023! Click through to see who will be there, what we will do, and more!

See where you can find us next »

SEO webinar

12 December 2023

Learn how to start your SEO journey the right way with our free webinar. Get practical tips and answers to all your questions in the live Q&A!

All Yoast SEO webinars »