How do I optimize videos for various platforms and screen sizes?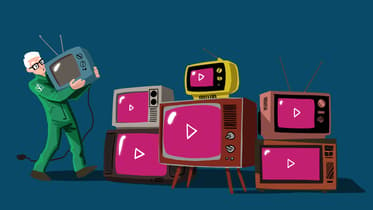 One of the challenges with video marketing today is optimizing your content for distribution across multiple platforms, all presenting content in very different ways. What works well on YouTube will not automatically translate to TikTok. Even within platforms, there are different format options, e.g., YouTube shorts vs videos, Instagram posts vs stories. At least for some of your videos, you must consider how to transpose from one platform and format to another. Always consider the types of screens on which your audience will watch the videos.
Website
You can present videos on your website in any aspect ratio or size. Your audience will watch these on various desktop and mobile devices.
However, if you want the videos indexed and visible in a Google search, it's best to stick to the typical 16×9 widescreen aspect ratio. Using the Yoast Video SEO for WordPress plugin, you can stipulate a thumbnail and additional structured data to ensure your videos generate traffic.
In addition, it's vital to ensure videos on your website are responsive so that they scale with the rest of the page and present nicely on phones and tablets without half the thumbnail moving off-screen. If you use a paid hosting platform like Wistia, it handles this automatically, but you need to do some extra work for YouTube embeds to make them responsive.
YouTube
YouTube videos are in a 16×9 widescreen format, with YouTube shorts in a vertical 9×16 format. This makes YouTube shorts feel "mobile first." The broader video format has a more filmic and televisual format.
Keep this in mind when creating videos for both formats. Shoot the video with the focal point very much in the center of the frame. This way, you can crop it effectively without losing the essential content or quality of the image. If it's a talking head, give lots of space to the sides if shooting horizontally and above and below it if shooting vertically.
If you have created a vertical video and wish to adapt it for a widescreen format, there are lots of creative ways in which you can "pillarbox" the video with graphic elements to the left and right of the moving image. Tools such as clipchamp and wave.video allows you to do this very simply. Adobe Premiere and Premiere Rush can similarly scale this process with template projects.
The same goes for adapting a widescreen video for YouTube shorts. You can "letterbox" the video with some bars featuring supporting text or imagery. This is a reasonable alternative to cropping the video entirely. Especially if the content doesn't look very good in a different aspect ratio. For example, when the video features a single wide shot of two people. 
Facebook
Facebook allows for a wider variety of aspect ratios than YouTube, and videos presented in the feed can fit all shapes and sizes.
You can post videos in 16×9 (standard widescreen landscape), 4:5 (old-style TV format, but vertical), 1:1 (square), and 6×19 (vertical phone) formats. For Facebook Stories, videos are in the 9×16 vertical format.
Therefore, Facebook can accept most video formats created initially for other distribution platforms without adaptation. Sometimes, letterboxing 16×9 videos to turn them into 4×5 and adding supporting text that adds context when the video is viewed silently can help, so it's worth testing different formats for your particular videos and seeing which gets the best engagement.
The tools for optimizing presentation with the different YouTube formats also apply to Facebook.
Instagram
Instagram works like Facebook. It supports multiple formats but it presents the videos slightly differently.
Instagram reels in the feed will show as 4×5 vertical. When clicked through, present as 9×16 vertical, so a taller image. You must create and post videos that work creatively in both formats. Make sure you can crop them from 9×16 to 4×5 and comprehensively contain the core work.
For assets that start as 16×9 widescreen videos, this generally means letterboxing them with supporting text. For videos that start as 9×16 mobile videos, this means just ensuring any overlays or animated elements on top are within that core 4×5 frame of the video so they don't get cropped off by the platform automatically.
Instragram Stories are ostensibly the same as Facebook Stories. Videos are only available as 9×16 vertical pieces. Reposting Reels/Feed videos with some supporting text above and below the videos is a common way of repurposing them for Stories.
LinkedIn
In theory, LinkedIn supports a wide variety of aspect ratios. But in practice, you're better off sticking to landscape widescreen 16×9, or 1:1 square videos. 9×16 vertical videos get automatically pillarboxed.
Stick to 16×9 for those videos with wider shots with landscapes, multiple people, and a more filmic style. For simple talking heads or animations, use 1:1 videos because they take up a bit more screen real estate in the feed.
If you're shooting vertical videos for Instagram stories or TikTok, etc., and wish to give them further life on LinkedIn, just leave enough space at the top and the bottom of the video without too much going on to look good when cropped.
TikTok
TikTok videos are 9×16 vertical and designed to be shot with a phone. There's often enough space for a whole body, e.g., the initial use case of dancing videos. You must adapt 16×9 widescreen videos considerably for TikTok. They tend not to perform well when only superficially changed with letterboxing. 
Accordingly, you must create videos for TikTok exclusively with the platform in mind. Although videos used in Instagram Stories and YouTube shorts are naturally well formatted for TikTok.
Best practice principles for optimizing video on different platforms
You must consider where the video will live for the plethora of social media and video platforms available today. Do this before shooting it so you can plan to edit and optimize the content for the device and format it will be presented.
Generally speaking, videos will be one of two types of creations.
They can be primarily filmic, i.e., 16×9 horizontal creations made horizontally with a camera or phone. These will feature wider shots, probably different levels of zoom, and relatively small camera movement. This is the type of thing you'll typically make for your website or YouTube
Alternatively, they can be mobile videos, i.e., 9×16 creations, shot vertically on a phone. They tend to be closer, focusing on a single subject matter, often with large amounts of camera movement. This is the type of thing you'll typically make for TikTok, YouTube shorts, and Instagram Stories.
Optimize video for different platforms and screens
To optimize video for different platforms and screen sizes, you must adapt each type of video differently to make them work within the platforms you haven't shot explicitly for. Generally, you need to crop the video or add additional graphical elements in a pillarbox or letterbox to fit them in. 
Coming up next!
Event

December 09, 2023

Team Yoast is at Attending, Organizing, Sponsoring WordCamp Ahmedabad 2023! Click through to see who will be there, what we will do, and more!

See where you can find us next »

SEO webinar

12 December 2023

Learn how to start your SEO journey the right way with our free webinar. Get practical tips and answers to all your questions in the live Q&A!

All Yoast SEO webinars »