Optimizing a single page: One page website SEO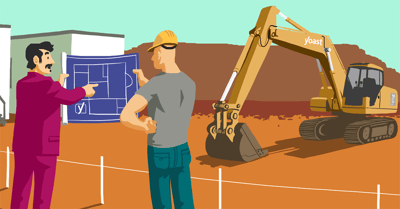 One page websites have been popular for some time now. Basically, it's your entire website on your homepage. It's fancy, it's streamlined. By dividing your homepage into multiple sections, and adding a menu that allows visitors to jump to the section they want to visit, you create an entire website experience on that one single page. Having just one single page also means that you probably need to rank that page for multiple keywords. And that's where one page website SEO differs from regular website SEO: there are just fewer things you can optimize.
Why use a one page website?
Truth be told: I don't like one page websites. There are a lot of people that like all their content crammed into one page, but I just can't see the benefit of it. The page loads slower, there is less focus, I detest loading the JavaScript/CSS scripts that make unnecessary visual movements or automatic scrolling possible. Don't get me wrong: there's nothing against having long pages. I love 'em and write 'em. But I'd like to keep these pages focused on one subject.
One page website SEO tips and tricks
Is there anything you can do to optimize your one page website for SEO? Of course, there is. There always is. I'm just not sure you'll enjoy that single page website for your company in the long run. One page website SEO is tough. I think the only reason you'd want a website like that, is when you need to set up a quick promotional site. Say for a particular product or a temporary collaboration with another brand. In that case, you'll be driving traffic from flyers, TV ads and the works, and are less dependent on search engines.
If you insist on using a single page website, you need to pay attention to the way you set things up.
Optimize per section
Before starting to write your content, you need to do some keyword mapping. As you have only one page to tell your story, group related content. Create a <div> or <section> for each keyword and assign a proper ID to it. If a section is about trimming hairy dogs, use trim-hairy-dogs as the ID, as this will be like the slug of that particular section. Your internal links on that page will link to example.com/#trim-hairy-dogs. Choose that slug wisely.
That section needs content and a heading and as we think of all these sections as "pages", you should add an <h1> tag to these sections. That indeed means multiple H1s per page, but hey, you wanted an unfocused website.
If you use images, optimize image file names and ALT tags per section as well.
Optimize page speed
This one is vital for your one page website SEO: optimize page speed. It's even more critical if you have a page like that since you are serving all kinds of different sections with possibly all types of different layouts and design elements, so your page doesn't look like a Word document, right? Most of these elements simply take time to load, and you want to optimize that. Here are some articles that will help you optimize speed.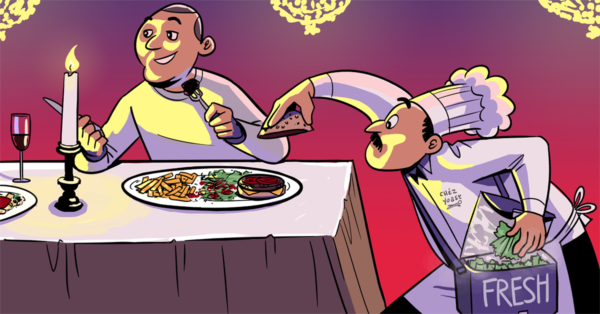 Fresh content for the win
You are probably still not convinced that you'd better create multiple pages on your website. But you will understand single page website SEO is pretty hard and limited. You have one page in search result pages, one canonical link, one page that needs to rank for everything you want to rank for. Fresh content, dynamic content, is always a good idea and it is possible on a one page website. Rewrite your sections now and then to align them with current events, for instance. If your website is set up once, and never changes, you have this one static page that needs to do all the work. Changing its content from time to time will certainly help.
One more thing: Analytics
It is possible to track internal links on that page: track per section. But that's fairly hard for the average Google Analytics user. And Google would rather track per page as well, judging from this article. This is yet another reason why I don't like one page website SEO. It's harder to implement SEO recommendations and harder to analyze your efforts.
Come to think of it; it's probably your PR agency or sales department that likes that one page website so much. So please, please reconsider setting up a page like this. It'll make your SEO so much easier.
Read more: Why every website needs Yoast SEO »
Coming up next!
Event

December 09, 2023

Team Yoast is at Attending, Organizing, Sponsoring WordCamp Ahmedabad 2023! Click through to see who will be there, what we will do, and more!

See where you can find us next »

SEO webinar

12 December 2023

Learn how to start your SEO journey the right way with our free webinar. Get practical tips and answers to all your questions in the live Q&A!

All Yoast SEO webinars »