How to add product identifiers with WooCommerce SEO
As of Yoast SEO 20.0, the settings interface inside our plugins has received a major overhaul. Please update to the latest version of Yoast SEO if your plugin does not look like the screenshots you encounter in our Help center.
Yoast WooCommerce SEO checks and gives you an orange bullet if you are missing a product identifier for your products. In this article, we'll explain what product identifiers are and how you can add them with Yoast WooCommerce SEO!
What are Unique Product Identifiers?
Unique Product Identifiers (UPI) are codes that identify a product. You have probably seen a lot of them in your life, encoded in a barcode. However, if you have a website, you need to distinguish between the different types of UPIs, and learn how to use them.
The most common product identifiers are GTINs and MPN. If you use Yoast WooCommerce SEO, you will see the following identifiers:
Why do you need to add global identifiers?
If your product contains product identifiers, Google will be able to recognize them and distinguish them from other products. That will increase your chances of ranking with that product and getting it displayed as a rich result. So, adding these numbers can positively affect your rankings and impact the visibility of your products in the search results. If you don't add product identifiers, you may get a no global identifier provided (e.g., GTIN, MPN, ISBN) warning in Google Search Console.
The WooCommerce SEO product identifiers check
If you are using Yoast WooCommerce SEO 15.2 or higher, the plugin checks whether a product (or each of its variants if the product has variants) has a product identifier. If you have a simple product, you will see an orange bullet if you haven't entered a product identifier. For variable products, you will see an orange bullet if one or more variants are missing a product identifier.


The product identifier assessment only support product identifiers entered via the standard input fields. Product identifiers provided via third party plugins or other methods are not supported.
How to add product identifiers to simple products
To add the global identifiers to your products and have them automatically described with the correct schema, follow these steps.
Select the product you want to add the global identifiers to from the Products overview screen.

Once you are in the Product editing screen, scroll down to the Product data box.

The Product data box shows the options in the first, General tab by default.

Click on the Yoast SEO tab to open it.

You will see the product identifier settings.

Add the appropriate unique identifier for the product you are editing.

There is one key thing you will have to get right – make sure the numbers you submit are accurate. Google has special (and strict) guidelines on how you should submit GTINs. Make sure to read and follow those guidelines closely. 

It is good practice to submit both GTIN numbers and MPN numbers. Of course, that is if your product contains them. Providing both numbers will give Google more information about the product, which may result in a better presentation in the search results. Just like with GTIN numbers, Google has strict guidelines for MPN numbers. Read the guidelines carefully and make sure to apply them correctly. Failing to comply with the guidelines may lead to Google disapproving your product. 

Once you have filled in all the details, click Update at the top of the Product editing screen.

Your changes will be saved, and Yoast WooCommerce SEO will automatically add the missing schema properties to the product.
How to add product identifiers to variable products
Yoast WooCommerce SEO allows you to add product identifiers to variable products as well. All you need to do is edit the product variations in the Variations tab and insert the global identifiers in the Yoast SEO options settings.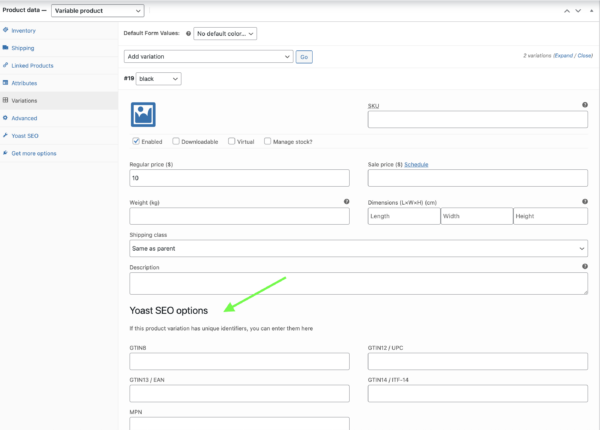 How to fix missing Schema property: no global identifier provided
If you don't add product identifiers, Google Search Console or the Rich Results Test can show the warning No global identifier provided (e.g. gtin, mpn, isbn) (optional). Follow the steps above to add a global identifier to your simple or variable products. The Yoast WooCommerce SEO plugin will output the correct Schema for you automatically!
Google update on enforcement of Unique Product Identifiers
In 2019, Google announced an update on its enforcement of Unique Product Identifiers. According to this update, Google will not disapprove your product if it doesn't contain UPIs. However, it will lower its chances of ranking high in the search results. More importantly, Google allows you to set an attribute to your products when a UPI does not exist. However, this is only for products that really do not contain UPIs. If a product does have a UPI, but you deliberately set its attribute to "false," your product will be disapproved. In addition, if you use the same GTIN for multiple products, Google will disapprove of those too.
In conclusion, when submitting your UPIs, there are two things you need to be very mindful of – accuracy and truthfulness. Yoast WooCommerce SEO will take care of the rest!
Use the WooCommerce SEO plugin to solve these issues
Get best practice technical SEO for ecommerce, automatically! And make your products stand out in the search results.
Related articles