Date appears in search results
In some cases, Google displays date information in their search results. WordPress, along with many themes, automatically add hatom microformats onto your posts and, sometimes your pages.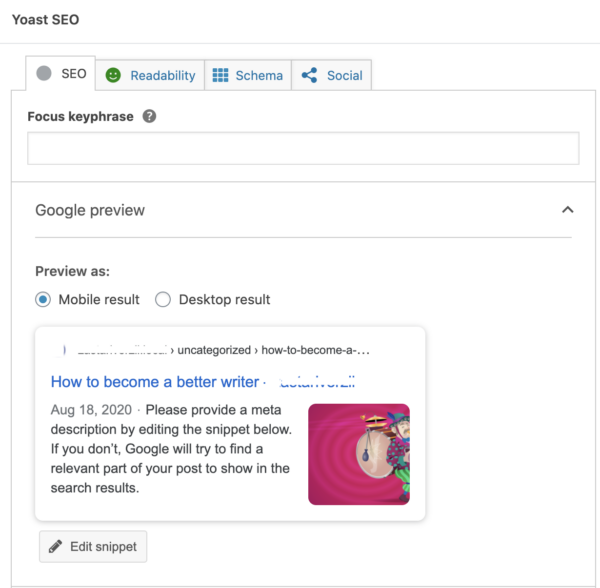 Dates in Yoast SEO Google Preview
In Yoast 14.7, we removed the setting "Date in Google Preview" (Search appearance > Content types > Posts). Now, we always show the date in the snippet preview.
We've removed the setting because it was leading to confusion. Many of our customers felt as if that setting would influence whether or not the date would be shown in the (Google) search results. In reality, it only influenced the snippet preview in Yoast SEO.
Because the date now appears in the snippet preview, it "takes away" a few characters from the max length of your meta description if you had previously disabled this feature.
What if you see article and time meta tags?
Facebook uses these tags. Please refer to this guide: Facebook OpenGraph Meta Tags.
Why is the date is wrong?
There are a number of ways that Google determines the date of your post. Most commonly, a plugin or theme adds a date to the article. Please view the page source of your post to see if the date in invalid inside the code.
If the invalid date is within your source code, there is something inside WordPress or possibly your server that has stored an invalid date. If the date is within the Yoast SEO data, please contact support.
Alternatively, if the invalid date is not within the source code, you are likely embedding a video or other piece of information that Google has used to date your post.
How can I remove the date from the search results?
Yoast SEO outputs the datePublished and dateModified schema.org structured data that Google may use to show the date in the search results. Read the Schema API – Documentation to learn how to remove schema pieces.
You may also try some of the handful of plugins that offer date removal features.
If the plugin directory doesn't offer what you need, you or your developer can manually remove dates from your theme.
Once you get the date removed from your site, if you only have a handle of pages or posts you can use the Inspect any URL tool in Google Search Console on them to encourage Google to update the index.
If you have many pages and posts, you can resubmit your sitemap to Google and have Google re-crawl the site. Eventually, Google will drop off the dates.