SMX Advanced Europe 2021
June 21 - 22, 2021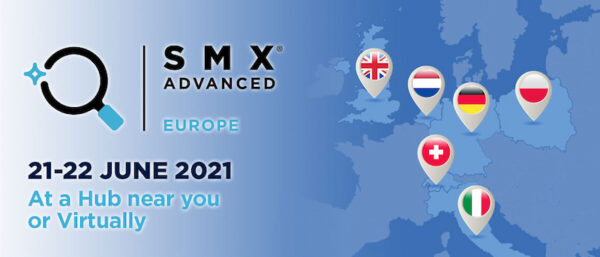 SMX Advanced Europe is one of the most advanced, cutting edge conferences of the year. Look forward to two days of informative sessions with a great variety of SEO experts and PCC tactics. We're also very excited that on Monday, June 21st, Jono Alderson will be speaking about how to build (and maintain) a perfect website, right from our local hub in Wijchen!
Attend our local hub in Wijchen
This year, SMX Advanced is hosted as a hybrid event. That means you can either attend virtually or on site at a local hub. At our hub in Wijchen we will be able to welcome 15 attendees! We're planning to make these days even more interesting and exciting, so stay tuned to discover the full schedule. Check out the Agenda 2021 for a detailed schedule of SMX Advanced Europe 2021.
Collect your SMX Advanced ticket
Tickets for SMX Advanced Europe 2021 are now available. Make sure to collect yours timely by registering below:
Register here ▸
A local hub ticket includes:
Streaming of all SMX Advanced Europe sessions on both days
Attendance at our hub in Wijchen
Coffee and lunch breaks
Session recordings
Session presentations
Please note that the ticket does not include travel and hotel costs. But don't let that stop you, because we are planning on quite an exciting two days at our hub in Wijchen!
In case the Corona situation doesn't allow us to offer a live local hub, the tickets will be automatically converted to virtual tickets and the difference will be refunded by the organization of SMX Advanced.
To the venue / hotels
Our local hub is located at our office in Wijchen:
Don Emanuelstraat 3
6602 GX Wijchen
The Netherlands
There are plenty of free parking spots in the area. Planning on going with public transportation? Most trains stop at Nijmegen Central Station. From here you can take the train to Wijchen station. After you've arrived it's only a 5 minute walk to our venue. Busses and taxis to your hotel / venue can be found at the main entrance of the station. Busses at your left hand, taxis at your right. Some hotels that we could recommend are Mercure Hotel, Hotel Umberto, Logis Hotel Restaurant Hoogeerd or Sanadome Hotel & Spa.
Questions?
Should you have any questions about the event or wish to receive some more information, please send an email to: vip@yoast.com. We are happy to help you out!
Online
Marketing Conference
Come and meet us, we are attending: