7 reasons to come to YoastCon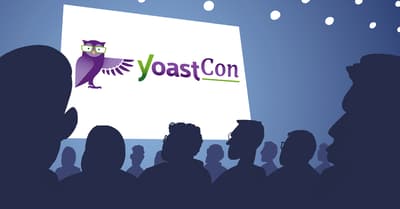 Tickets to YoastCon are selling very quickly! And people from all over the world will be joining us. We've sold tickets to a lot of people from the Netherlands and from the US. But we will also be welcoming people from Belgium, Germany, Poland, Bulgaria, Romania, Albania, Israel, South-Africa and even people from Brazil and Senegal. And for at least 7 good reasons.
1. Google and Bing will be there!
Google's WordPress team will be at YoastCon. They'll fly in both from Silicon Valley and from Switzerland. Bing is also sending search experts. Both companies will present on stage. At Yoast, we communicate and often work together with the largest search engines, making sure our plugin does exactly what it should do to get your site ranking. Want to hear what Google and Bing have to say about SEO?  YoastCon is the place to be!
2. Intimate event
Lots of SEO conference are really large (with over 1000 attendees). We're planning for an intimate event (with about 400 attendees). Most of our speakers will be at the conference for both days. You'll have every chance to ask questions or to even talk to them in person.
3. Hang out with the Yoasters
We would really like to meet our audience. We love to meet people who read our blog and use our plugin. Do you have any questions about our plugin? We have a support booth open the entire conference. You can ask us anything! Please come by and tell us what you like and dislike about our plugin. Or just hang out with us, play some foosball or have a few drinks.
4. Food and drinks will be great
Lunch and drinks are included. As well as coffee and some treats. On both days, we'll end our conference with drinks. Great food, great drinks, and great opportunities to meet new and inspiring people.
5. That awesome line up of speakers
I've written about it before; you do not want to miss our amazing speakers. The line up of YoastCon 2019 is so very awesome. Alberto Medina from Google, Rand Fishkin, Aleyda Solis and Jono Alderson at one conference. And that's only four of them. Unbelievable.
6. Practical workshops
Inspiring keynote talks are great, but if you want some practical help with your SEO, YoastCon is also the place to go. We have some amazing workshops prepared. I just finished preparing 3 workshops on SEO copywriting, site structure and keyword research. In these workshops, we'll really help you get started with a practical aspect of SEO. We'll make sure it is completely applied to your very own unique situation, so you'll go home with actual results!
7. The venue and Nijmegen
Not convinced yet? YoastCon will be in Nijmegen in de Vereeniging, which is one of the most beautiful concert halls of the Netherlands. And Nijmegen, that's where I was born. Very laid back, very welcoming, very awesome. The venue is located in the city center, and there are countless bars and restaurants to get some dinner or to hang out after our conference.
Still not convinced? Check out the after movie of the previous edition of YoastCon! Hope to see you on February 7th!
Coming up next!
Event

December 09, 2023

Team Yoast is at Attending, Organizing, Sponsoring WordCamp Ahmedabad 2023! Click through to see who will be there, what we will do, and more!

See where you can find us next »

SEO webinar

12 December 2023

Learn how to start your SEO journey the right way with our free webinar. Get practical tips and answers to all your questions in the live Q&A!

All Yoast SEO webinars »