Yoast SEO 21.3: Performance and readability improvements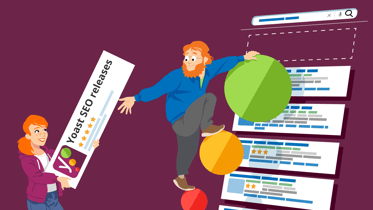 We are happy to announce the release of the latest version of Yoast SEO. This update focuses on enhancing performance, fixing bugs, and improving our features. Don't forget to check out our recently launched generative AI feature! Here's Yoast SEO 21.3.
Performance enhancements
By design, Yoast SEO stores image metadata for every post upon saving, which we use in several features, like schema output. This meant that for larger websites with loads of images, publishing or editing a post could take longer than expected, especially if a post contained a lot of those images.
With Yoast SEO 21.3, we released an improvement for this by taking advantage of each editor's inherent handling of images. This enabled us to stop calls to the database that created these delays in the first place. For the combination of editors and blocks that worked, we noticed considerable decreases in the duration times of post-saving in our benchmark tests. Of course, the improvements heavily rely on the editor used for post creation and the image blocks added to the post content.
Word complexity improvements in Premium
Improving readability is a vital part of creating high-quality content. It's one of the reasons we give you the tools needed to help you write that awesome content. Our in-house linguists always work hard to make these tools as good and helpful as possible. In Yoast SEO 21.3, our team updated the word complexity feature available in Yoast SEO Premium.
The word complexity assessment marks complex words so that you can replace these with simpler alternatives. This will make your text easier to understand.
In Yoast SEO 21.3, we've improved the accuracy of this assessment in English by recognizing more plural forms of non-complex words. For example, the plural form universities is no longer marked as a complex word, just like the singular form university.
Generative AI in Yoast SEO Premium
As a reminder, in Yoast SEO 21.0, we added an innovative AI-powered feature that makes you quickly generate titles and meta descriptions. With this cutting-edge technology, you can optimize your content and metadata more effectively, saving you valuable time and resources.
Update now to Yoast SEO 21.3
Upgrade to the latest version of Yoast SEO now and benefit from better performance, advanced features, and easier SEO optimization. If you go Premium, you can use our AI-enhanced technology to achieve great results quickly. Download today's update and enhance your visibility in the search engines.
Coming up next!
Event

December 09, 2023

Team Yoast is at Attending, Organizing, Sponsoring WordCamp Ahmedabad 2023! Click through to see who will be there, what we will do, and more!

See where you can find us next »

SEO webinar

12 December 2023

Learn how to start your SEO journey the right way with our free webinar. Get practical tips and answers to all your questions in the live Q&A!

All Yoast SEO webinars »