A week with us: Contributor day and WordPress 5.8 beta 3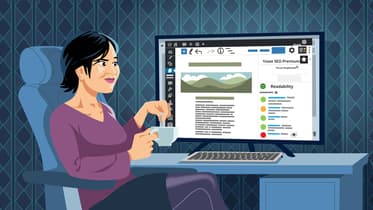 Last week, we had an online contributor day during which Yoast employees could contribute to WordPress. We also had a few special guests joining us on that day. In addition, beta 3 of WordPress 5.8 kept our WordPress Core team busy last week. In this blog post, we'll update you on all these contributions!
Contributor day
On Friday, we organized an online contributor day where Yoast employees contributed to different areas of WordPress. On the last contributor day, we focused our efforts on user testing. This time, contributors choose between Community, Design, Core, Documentation, Polyglots, and WordPress TV. There were over 20 contributors, and each team had its own zoom room to work in. We had three special guests: Mauricio Gelves who helped introduce us to contributing to WordPress.tv. Tammie Lister for the Design table, and Milana Cap who lead the documentation table.

The community team at Yoast has tried different formats for holding online contributor days. Even smaller online contributor days need careful planning. The goal of the Yoast contributor days is for people to learn more about WordPress and contribute back to WordPress. And to find the best format so that we can open the contributor days to contributors outside Yoast. A big part is analyzing feedback to learn what went well and what can be improved. Guests are invited not only for their expertise but also because we want contributor days to be a positive experience for everyone. Feedback from people with different levels of experience is important.
WordPress 5.8 beta 3
Beta 3 of WordPress 5.8 was released on Wednesday. This version has several bug fixes, including fixing a PHP error on the new widget screen. There are plans for having a fourth beta later this week. You can find the release post on WordPress.org.
Our weekly team updates
The team congratulates Sergey on his birthday and for becoming the person who has the second most commits to WordPress! We also want to thank Tim for his time with the team and send him all our well wishes.
Ari
On Friday June 18, we organized a company-wide contributors day. During that day I focused on Gutenberg fixes and helping some colleagues get more familiar with the WordPress editor.
My highlights for this week:
I merged a fix to allow using decimals in paddings and margins. To do that, I introduced some sane default step values for all CSS units (#32692). This should help designers achieve more detailed results, and it's a step towards moving away from pixel-only designs. Designers and theme-authors will now have the tools to achieve what they need more efficiently.
I fixed a bug with the buttons block not using the user's selected "preferred style" (#31089). This one has been annoying me for quite a while, I was glad to see this patch finally get merged.
I updated some older pull requests. It's one of the things that often gets overlooked but is extremely important.: As things get committed all the time in Gutenberg's main branch (called trunk), other patches and pull requests get out of sync and there are conflicts that need resolving. Updating them regularly ensures that other code reviewers will be able to properly review the code and continue working on them if needed.
I started working on a pull request to add a separator control in the post-categories and post-tags blocks (#32812).
Carolina

Contributor day
One thing I have learned is that you need to take the time to prepare for the contributor day well in advance, last minute preparations are not always successful. I know that we need to write detailed user testing instructions, but not lead the tester to reply in a certain way. That we need to have introductions for new contributors that includes how to register on WordPress.org and join the WordPress slack; not only how to set up your WordPress installation.

But you also need to be flexible and be able to make last-minute changes. Like switching to lead a contributor table that you did not plan for. Or when you select WordPress tickets to work on, only to find out that they are already solved when the contributor day starts. During the contributor day, I had a wonderful time with my colleagues and Milana at the documentation table, and we contributed to user documentation for the Site Health screen.
Themes
I have continued working on reducing the requirements for submitting themes to WordPress.org, and have participated in discussions on how we can make the published error messages easier to understand. We have released a new version of the Theme Check plugin.
I am very happy that we were able to do this together with the WordPress.org themes team and meta team. Now that the plugin has been available for a few days, users have reported a bug and some suggestions for improvements. I hope that we can solve the bug soon and I know that Ari has an idea for a solution. I am glad that this step is completed and I am looking forward to making more detailed plans for the next quarter.
WordPress core
We are having a heatwave in Sweden which makes it difficult to work during midday and afternoon. So on Wednesday night when it was cooler, I accidentally participated in the 5.8 beta 3 release party, where I helped test fresh installs and manually upgrading different WordPress versions to 5.8 beta 3.
Francesca
Last week I attended my first in-person event in over sixteen months. Let me tell you, it was scareciting (scary + exciting)! From taking the train to interacting with other human beings not via a video, everything was weird and wonderful. People kept social distancing and the unconference happened at a camping site on the Adriatic Sea. The most heard question was "Are you fully vaccinated?" and the reply determined the kind of greetings we would exchange. From elbow touching to hugs. It was great to meet with my colleague Laura who attends the event regularly.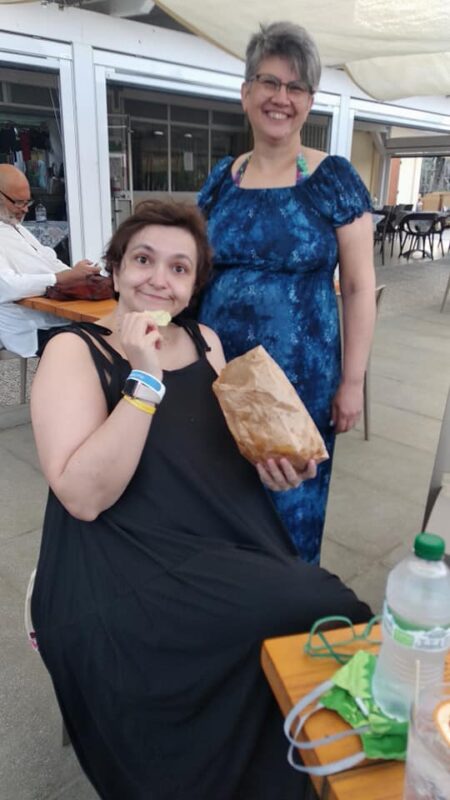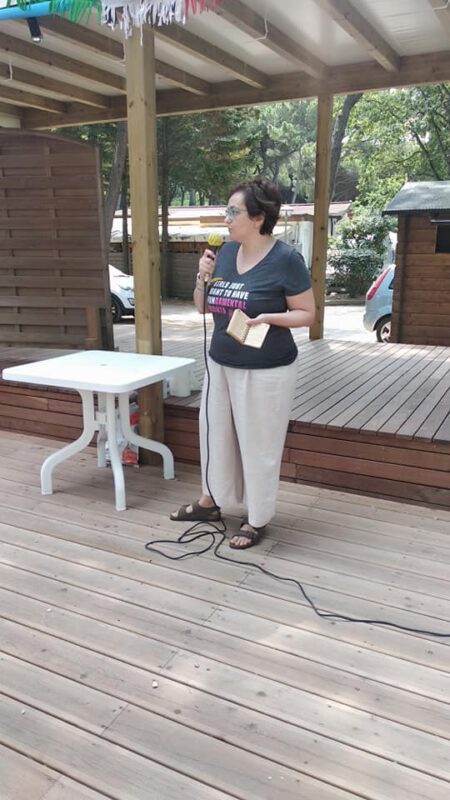 On the first day, I moderated a panel for the PHP Dutch online conference and on the second day, I gave a talk at the Freelancecamp. On both occasions, I spoke about diversity and inclusion and mentioned how Yoast is living by its values. I used this opportunity to talk to WordPress users and developers: WordPress 5.8 is right around the corner, it will bring numerous improvements and additions and I was curious to hear what people knew/thought about them. Turns out, besides one developer that keeps a close eye on the WordPress Core blog, the others didn't know much about the upcoming version. Needless to say, I took this opportunity to tell them about it.
Since in-person WordCamps and WordPress Meetups haven't happened for a while in Italy, it was exciting to see lots of people from the Italian WordPress community attending, including one of the co-cofounders of the community, Francesco Di Candia.
WordPress.org
Last week I barely worked on WordPress itself. I have a long list of tickets that I want to test, give feedback to, etc… but they will have to wait until mid-July.
Last Friday, team Yoast had another Contributor Day, this time with external guests as team leads, which I couldn't attend because of the conference I was attending. I helped with the organization though and I am eager to hear the feedback from attendees. After this event, the community and WordPress team will evaluate how the event was and decide if we are ready to host external contributors when we start organizing these days again in the Fall. Stay tuned to hear more about upcoming events!
Internal work
My onboarding to the Commerce team continues. Last week I started following classes to take the Google Analytics Individual Qualification, a requirement for the commerce team members. I haven't looked at Google Analytics in years, and it's a very interesting learning experience. Since starting it, I noticed that I am paying more attention to the UX and I find myself thinking of the WordPress.org product a lot while doing so.
June means also mid-year performance reviews. I am getting ready for my give my review to the team and receive my own. I am looking forward to this: formal reviews are not a time for surprises but I feel like the change in the delivery method does set the tone for a more in-depth reflection.
Justin
I'm continuing my momentum from the previous weeks by working on E2E testing in WordPress Core, and with the WordPress Test Team.
WordPress Test Team
I continue to triage tickets that need to be tested on Trac; whether it's patches that need to be tested or bug scenarios that need to be reproduced. I particularly focused on this ticket regarding how the Hello Dolly plugin is present on a WordPress installation.
Regarding E2E testing in Core, I worked to publish this article that clarifies the state of E2E testing in WordPress Core. The goal is to have contributors at the same level of information about what is already done for these tests in Core, and what remains to be done.
Contributor Day at Yoast and documentation
Last Friday, we had another Contributor Day at Yoast. I participated in the Documentation table, where with the help of Milana, we worked on creating user documentation for the Site Health component of WordPress.
Sergey
WordPress 5.8
For the last week, my main focus was to continue reviewing bug fixes and enhancements for WordPress 5.8, the next major release, as part of my duties as a Core Committer. I made thirty-three commits to WordPress core and triaged new tickets incoming into Trac (the bug tracking system that WordPress uses).
On Monday, June 21st, I've celebrated my 38th birthday, as well as moving up to the second place by the number of commits to WordPress core.
Professional Development
I've finished the "New Adventures In Front-End, 2021 Edition" workshop by Vitaly Friedman, co-founder of Smashing Magazine and front-end/UX consultant. Front-end development seems to get more and more complicated, and this was a bit outside of my comfort zone, as I don't deal with frontend that often, but I immediately knew this could be helpful in my future work on WordPress.
The workshop focuses on building fast and scalable experiences. These are just some of the things that I've learned:
Deep dive into DevTools and WebPageTest
Making sense of performance flame charts, networking panel and WebPageTest waterfalls to identify performance bottlenecks
Accessibility with common solutions, patterns and strategies
Text compression with Brotli
Image and video optimization (AVIF, AV1, formats, delivery techniques and tooling)
Web Font Loading strategies and recipes
Tim
Last week I participated in the contributor day at Yoast together with my fellow designers here. Together with the amazing Tammie Lister we looked at how to onboard new designers into the WordPress design space, such as where to find issues and how the WP design library in Figma works, and we did some triage on Gutenberg issues. We also talked about how I can transfer my knowledge, as I will be leaving Yoast to pursue other passions. So this will likely be the last update from me here!
Read more: A week with us: Working on WordPress 5.8 and Gutenberg »