Senior SEO expert
Are you an experienced SEO specialist to join our expanding team? Somebody who knows SEO inside-out, and who can operate as part of an internal center of excellence which touches on all aspects of the business. The role is intentionally flexible and open-ended but will include involvement in areas like product & feature ideation, internal education, content creation, evolving our own SEO strategies, public speaking, and identifying opportunities to drive growth.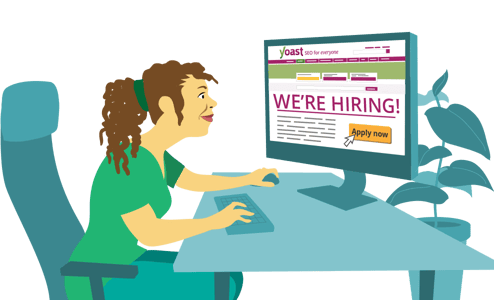 The role
Day-to-day responsibilities will vary depending on current priorities and opportunities. It'll be part of your job to identify and prioritize those accordingly. Examples of representative activities might include:
Assisting development, marketing and support teams with on-demand SEO expertise (e.g., answering questions, diagnosing potential bugs, and general problem-solving).
Representing and promoting the brand(s) (and products) in the SEO community:

On social media, webinars, relevant third-party sites and podcasts, at conferences, and in person.
Establishing, growing and maintaining relationships with industry contacts, influences and partners.
Featuring in educational content and media (e.g., our own SEO academy courses, third-party webinars/podcasts, etc).

Staying up to date with the latest in SEO and related disciplines (e.g., performance, accessibility, privacy).

Communicating and educating on those topics and changes internally and externally.
Identifying key/strategic events in the ecosystem (e.g., significant changes in Google's SERPs or algorithms), and advising teams on how we should react (at an organizational level and a product level).
Monitoring the market for changing user trends/needs, and changes to/with our competitors (features, pricing, positioning, new players, etc).

Contributing to the product feature roadmap (ideation, scoping, collaborating).
Identifying new revenue generation opportunities.
Contributing to our own SEO strategy, through:

Providing strategic and tactical insight.
Producing content and research to support campaigns.
Supporting, guiding and cooperating with our marketing and content teams.
Writing (blogging, thought leadership, research).

Contributing to technical documentation.
Acting as a resource for other brands in the Newfold Digital Group (e.g., consultative support).
Hustling, improvising, hacking, innovating, disrupting, challenging, and optimizing all of the things.
You must have...
SEO skills & experience
A deep understanding of the Search ecosystem, including:

Crawling, indexing and rendering processes/pipelines, and controls/directives (e.g., robots.txt, hreflang, etc).
Insight into Google's past, present and future mission, strategy, and surfaces; and how end-users can (and should) interact with those.
Expertise with SEO software (e.g., Google Search Console, crawling/analysis tools, rank trackers, keyword/market research tools, etc).
A deep understanding of EEAT principles, and how to apply them.

Practical SEO experience in multiple verticals, niches and site types (e.g., ecommerce, video, B2C, B2B, international, local, etc).
Expertise in content strategy and brand strategy.
Expertise in information architecture.
General skills & experience
Excellent communication (written and verbal) and leadership skills.
Strong analytical skills and data-led strategic decision-making.
The ability to self-manage, prioritize, project-manage, and communicate effectively.
A drive to stay on the cutting edge of SEO.
Experience as a public speaker.
Ideally, you'll also have…
We recognize that SEO is a broad space, and we do not expect our candidates to have deep expertise in all of these spaces. However, the right candidate will have strengths in many of them, and be able to create synergies across those areas.
We're looking in particular for people with:
Experience in product evangelism and community-building in the SEO space.
Performance optimization knowledge and capabilities.
Expertise in schema.org / structured data.
Experience working with WordPress (beyond just configuring plugins and themes) and related technologies. Including:

Strong HTML, CSS and JavaScript skills.
Basic PHP & MySQL capabilities.

Experience in digital PR, and related forms of link building.
Experience with social media marketing.
Experience in delivering consultative services.
Experience with analytics and data; including:

CRO strategy
A/B & multivariate testing & tools.
GA4, GTM & Looker Studio
Server log analysis.

Experience contributing to product roadmaps.
Reasonable design skills.
Experience in the paid search ecosystem (e.g., Google Ads).
An understanding of information retrieval methodologies.
Existing strong relationships with industry influencers.
Strong opinions on the industry, the web, and what "good" looks like.
Your own personal website, running Yoast SEO.
Experience contributing to open-source projects.
The first 90 days…
We'd expect the successful candidate to hit the ground running, and to take ownership of their own priorities and agenda. An example roadmap for the first 90 days might look something like the following:
Understand our product and platform ecosystems.

Explore and understand the product roadmap and competitive landscape.
Interview key stakeholders, employees and users.

Plan out and begin delivery of an internal SEO education program.
Take ownership of yoast.com's SEO strategy.
Plan a conference/speaking strategy.
Create a strategy for (and begin) producing content (blogging, newsletter content, video, etc), and aligning with / coordinating the existing content team.
Work with the partnerships team to establish and populate an evangelists/VIP group.
Provide a (SEO) SWOT analysis (or similar overview) of the brand(s), product(s), website(s).
What we're offering
A competitive salary.
A challenging job with a fast-growing, dynamic, ambitious, and international company making an impact on the web.
25 vacation days based on 40 hours per week. In addition, Yoast gives you five volunteer days to help at, for example, the local soccer club.
A bonus scheme.
You'll receive 10% of your annual salary as a training budget.
Do you want to work out and stay fit? Yoast has its own on-site gym and personal trainer
Logistics
You'll report to the Head of SEO.
We support remote working but expect this role to require periodic on-site visits (scheduling TBD) to Yoast HQ.
We'll cover reasonable expenses for travel, activities and expenses undertaken as part of the role (e.g., conference flights, technology).
Compensation & package TBD based on the candidate.
Apply!
Are you interested? The application procedure consists of three interviews; an introductory meeting, a practical interview and a final conversation. Do you have questions? We'll be happy to answer them. Please send an email to jobs@yoast.com. Note: only applications with a cover letter will be considered.
(Our recruitment code applies to all applications)
Not what you were looking for? Take a look at our other job openings:
About Yoast
At Yoast, we optimize websites. Not just one aspect of websites, but every aspect. We make websites more usable, easier to navigate, faster and more reliable. In other words: we make websites work. For the owner and the visitor. The added bonus is that if you do all that right, a website becomes easier to find too. Read all about Yoast »
---
---