Senior Product Marketer
Yoast is growing fast! Are you the Product Marketer who wants to grow with team Yoast? Are you the Product Marketer who knows how to reach new target audiences and hold the attention of our 12+ million users worldwide through marketing campaigns? Do you have a great sense of responsibility and do you dare to show ownership? Then we are looking for you!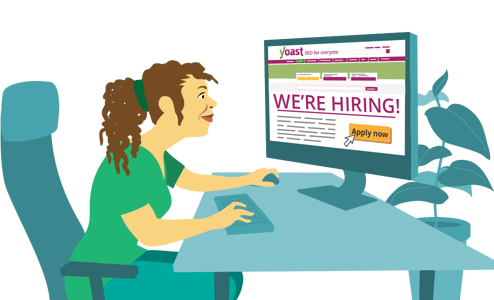 Never a dull moment for you at Yoast! As a Product Marketer, you will help set up various marketing campaigns for the # 1 WordPress SEO plugin: Yoast SEO, for Yoast SEO for Shopify, or for example for a new SEO webinar. And that for our global audience!
You may also call yourself an online marketer, digital marketer, digital strategist, content marketer, or another job title. It doesn't matter! You're welcome here and you'll have the opportunity to market the Yoast SEO software even better.
What will you be doing?
Together with your colleagues in the Product Marketing team, you will be responsible for all the marketing of our products. As a team you'll be the link between the product team and all the content teams:
You identify marketing opportunities, pro-actively think along with the creation of marketing campaigns, and you know how to present the product firmly to our existing and new customers.
You will help write and optimize commercial pages, such as product and feature pages.
You want to learn the product inside out, test the product on your own site and spot marketing opportunities within the product and stay up to date on all the latest SEO news and competitors.
You have a helicopter view and think along with all the marketing ideas and check all of these, ranging from newsletters, videos, and illustrations. You put yourself in our user's shoes: what are our users facing, what needs do they have and what solution is needed?
You keep everyone within Yoast informed about the marketing campaigns and bring teams together if needed.
Who are you?
You work and have knowledge at an academic level.
You're a fast learner and easily make things your own.
You have SEO, WordPress, and/or Shopify knowledge.
You have an affinity for and knowledge of online marketing and have demonstrable experience in marketing and communication.
You are not afraid to establish yourself from day 1 and to assert yourself in the organization:
Openness, flexibility, creativity, high motivation, and being a team player are the characteristics you recognize yourself in.
Ideally, you have experience in digital communication (e.g. Slack and Jira).
Do you speak and write English fluently, preferably with (at least) proficiency level C1? Perfect!
Preferably you also speak and write Dutch as most of our communications are done in Dutch.
You may not tick all the boxes above. We feel you! But if you recognize yourself in most of it, we hope you'll take the step to apply.
What we're offering
A challenging job in a fast-growing, dynamic, ambitious, and international atmosphere. Working at a company that impacts the web.
A monthly salary of € 3300 – 4000 (on the base of 40 hours a week) depending on experience.
25 vacation days (on the base of 40 hours). Next to that, you'll get five volunteer days which you can spend helping out at the local soccer club for example. Or to supervise a school trip of one of your children.
You'll be able to spend 10% of your salary on education.
A bonus scheme.
We have a great pension plan, which is fully paid by Yoast.
Exercise and stay fit! We have our own gym and a personal trainer!
We have a really fun (slightly crazy) company culture with lots and lots of team-building activities. The know-your-colleagues-quiz, lots of celebrations and LEGO-building days, and many more.
The opportunity to learn a lot in a short time, at one of the leading SEO companies.
Procedure
The application process consists of three, maybe four, parts: an introductory job interview, one or two practical interviews, and a final meeting. A social media screening might be part of the procedure.
Note: only applications with a cover letter will be considered.
(Our recruitment code applies to all applications)
Not what you were looking for? Take a look at our other job openings:
About Yoast
At Yoast, we optimize websites. Not just one aspect of websites, but every aspect. We make websites more usable, easier to navigate, faster and more reliable. In other words: we make websites work. For the owner and the visitor. The added bonus is that if you do all that right, a website becomes easier to find too. Read all about Yoast »
---
---