Native speaker consultant Japanese
In the function of native speaker consultant, you'll support a team of linguists at Yoast. In this team, we work on making the SEO and readability analyses of Yoast SEO available to as many languages as possible. We're looking for your help to make them available in your native language, too!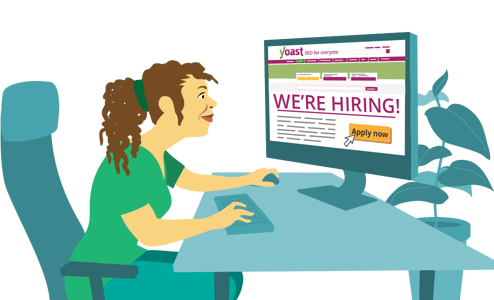 This is a temporary function. You'll work with us for the duration of a specific project, for approximately 15 workdays (possibly split up over a period of 4-6 weeks).
We are currently looking for native speaker consultants speaking Japanese.
You'll do research on the internet and provide information about your native language from your perspective as a native speaker. For this, concrete research tasks will be formulated for you to execute. These tasks might include the following:
Compiling lists of words belonging to certain word categories.
Provide native speaker insights on certain word forms and grammatical patterns.
Looking up stylistic conventions for good readability in your language.
Evaluating algorithms for recognizing word forms that belong to the same lemma.
For this, we require you to have a solid understanding of the grammar of your native language. You also need to be able to talk about the grammar of your own language in English.
Communication will take place via video calls, online text chat, and possibly email.
Timespan
15 work days/3 work weeks would be ideal (ideally split up over e.g. a month or 6 weeks) Time Period: starting mid-August at the earliest
Required qualifications
Native speaker of your language.
You've studied your own language or general linguistics at an academic level.
Good communication skills in English.
Remote work is okay; to communicate with the team, you should be available during at least 50 % of our office hours. These are Monday-Friday, 9:00-17:00 (CET/Amsterdam time). Preferred days are Monday, Wednesday and Thursday.
Knowledge of linguistic concepts and terminology is a must, and you should be able to communicate about these things in English. This includes the following:

Knowing grammar terms and language structures;
Being familiar with and recognizing different parts of speech in your language.

Preferred qualifications:

100% of the work time scheduled during our office hours to facilitate communication;
Computational linguistics knowledge is a plus;
If you've worked with Yoast SEO it's a plus.
What we're offering
A competitive hourly rate.
A chance to work on some of the most-used web software in the world, currently used by more than 12 million websites!
You'll join a team of skilled, experienced, and most importantly, passionate colleagues.
Are you interested? Then respond before June 30, 2021. Note: only applications with a motivation letter will be considered. Do you have questions? We'll be happy to answer them. Please send an email to jobs@yoast.com.
(Our recruitment code applies to all applications)
Not what you were looking for? Take a look at our other job openings:
About Yoast
Yoast consists of a rapidly growing team of internet enthusiasts. We're a start-up with a very good international reputation when it comes to SEO and website optimization. Multiple times per week we publish free SEO and/or web development related articles on our blogs. We organize MeetUps and speak at conferences.
At Yoast, we are very community-minded and highly value Open Source. We provide both free and paid plugins for WordPress, Drupal, Magento 2 and TYPO3, and are always looking to expand our field of work. Besides software, we sell online (SEO) courses in our Yoast Academy.
Our company is continuously in development. We create a lot of new products. Next to ongoing improvements of our Yoast SEO plugins, we publish courses on a frequent basis. The development of new products is mostly done internally and is a real team effort. Our team consists of authors, illustrators, marketeers, developers, and researchers. Together, we build new innovative SEO products!
---
---