DevOps engineer
Yoast is growing fast! Will you join us a DevOps engineer? You'll be a part of the enthusiastic and driven Team Yoast, and together we'll build the best SEO for our 11 million users worldwide!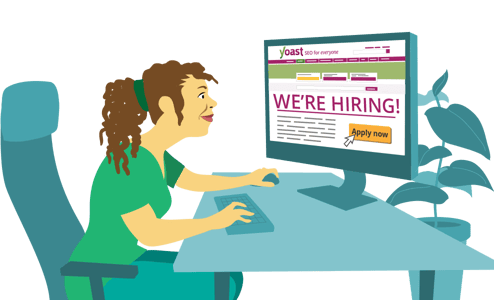 As a DevOps engineer you'll mainly be busy with automating processes and infrastructure management, and you do that in collaboration with our partners. Together with the team, your day starts with a stand-up to discuss current issues. Things like setting up pipelines to automate release candidates for our SEO plugin, or the migration of CI pipelines from Travis to Jenkins.
Besides that you'll be available to support our development team and QA in case of any questions about automatic processes. You monitor alerts and escalate these to the right people when necessary.
You develop the CI & Data pipelines and keep them running.
You'll also be involved in the release process of our WordPress plugins.
You take care of our developers' development environment.
You'll also monitor and maintain our production environment.
Who are you?
You have a university degree or equivalent (at minimum), preferably in computer science, ICT, or a similar area.
You have a minimum of two years' experience in software operations or DevOps. Experience as a developer is a bonus.
You have experience with Linux, Bash, and CI platforms such as Travis and Jenkins.
You're familiar with container management tools such as Docker or Kubernetes.
You should also have basic programming experience in languages such as Python, Ruby or JavaScript.
You have knowledge and experience with monitoring tools like Zabbix, Prometheus or Elasticsearch.
You'll need to keep an eye on lots of things at the same time, so it goes without saying that you need have a helicopter view.
You have good communication skills and a sense of responsibility.
What we're offering
A challenging job in a fast-growing, dynamic, ambitious and international atmosphere. Working at a company that impacts the web.
A salary ranging from €2500 to €4500 per month, depending on your experience
25 vacation days (on the base of 40 hours). Next to that, you'll get five volunteer days which you can spend helping out at the local soccer club for example. Or to supervise a school trip of one of your children.
A bonus scheme paid out at the end of the year.
You'll be able to spend 10% of your salary on education or training.
We have a great pension plan, which is fully paid by Yoast.
Exercise and stay fit! We have our own gym and a personal trainer!
We have a really fun (slightly crazy) company culture with lots and lots of team building activities. The know-your-colleagues-quiz, lots of celebrations and LEGO-building days. Because of Covid a lot of these things are online now!
The opportunity to learn a lot in a short time, at one of the leading SEO companies.
Interested? Apply now! Note: only applications with a cover letter will be considered. The application process consists of three interviews. If you have any questions about this role, please get in touch! You can send your queries to jobs@yoast.com.
Apply for this position now!
(Our recruitment code applies to all applications)
Apply now
Not what you were looking for? Take a look at our other job openings:
About Yoast
Yoast consists of a rapidly growing team of internet enthusiasts. We're a start-up with a very good international reputation when it comes to SEO and website optimization. Multiple times per week we publish free SEO and/or web development related articles on our blogs. We organize MeetUps and speak at conferences.
At Yoast, we are very community-minded and highly value Open Source. We provide both free and paid plugins for WordPress, NEOS, and TYPO3, and are always looking to expand our field of work. Besides software, we sell online (SEO) courses in our Yoast Academy.
Our company is continuously in development. We create a lot of new products. Next to ongoing improvements of our Yoast SEO plugins, we publish courses on a frequent basis. The development of new products is mostly done internally and is a real team effort. Our team consists of authors, illustrators, marketeers, developers, and researchers. Together, we build new innovative SEO products!
---
---