In the spotlight: Redirect manager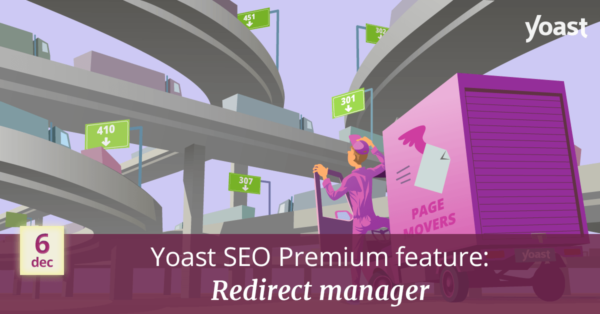 It's one of Yoast SEO Premium's most-appreciated features: the redirect manager! It creates redirects in no-time, no need for a developer. And, it keeps your site healthy and up to date! It's definitely one of our own all-time favorite features. Is it yours too?
Did you know: 58% of Yoast SEO Premium users say that the redirect manager is one of the main reasons that they use Yoast SEO Premium!
Why would I need the redirect manager?
Everybody has to delete posts or pages at some point, whether you're cleaning up pages on your site or changing your site structure. Deleting comes with a risk though, because when the old URL gets visitors, they'll be served a 404 not found error. Landing on a 404 error page is something you should avoid at all times, for both user-friendliness and SEO.
In most cases, especially for a frequently visited page, you'd want to redirect the old URL to a new one with the information you think is most relevant to these visitors. In other cases you might want to tell your visitors content has been deleted or temporarily show another page. With the Yoast SEO Premium plugin, you can do all this directly from within your WordPress install!
So, do you want to:
✓ Easily redirect pages from within your WordPress install?
✓ Automatically get a request to redirect the URL when you delete a page?
Make sure to get Yoast SEO Premium!