Yoast goes TYPO3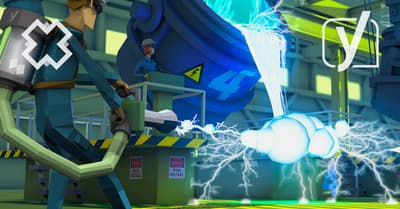 Mid February, we announced our cooperation with the Dutch web agency MaxServ. Together we've been working on two new versions of Yoast SEO: Yoast SEO for TYPO3 and Yoast SEO for Magento 2.
After an intense period of developing and testing we tagged our first stable version of Yoast SEO for TYPO3 last week. Such a milestone deserves some attention, right? That's why we attended and spoke at Meet TYPO3 in Rotterdam.
The conference
Meet TYPO3 was held in the Shark room in Rotterdam Zoo (Diergaarde Blijdorp). And I must admit that I'd never been in a conference room with real sharks swimming past the window. With around 100 attendees and only a couple of sponsor booths, Yoast and MaxServ got quite the attention. Even though most of the attendees had never worked with WordPress, it was amazing how many knew our WordPress plugin and were happy to see it make its move to TYPO3 too.
During their 45 minute presentation Joost (Yoast) and Richard (MaxServ) officially launched Yoast SEO for TYPO3 in a packed Shark room. They went over most of the main features. Judging by the number of questions after the presentation, they did an amazing job getting people excited!
Yoast SEO for TYPO3
So, what does the extension (extensions are the TYPO3 equivalent of WordPress plugins) do? The most obvious feature is the Yoast Analysis. This is shown in two different ways. On content pages, you see the overall score on SEO and Readability. Upon opening the Yoast SEO settings page, you're presented with all content checks which help you improve your text.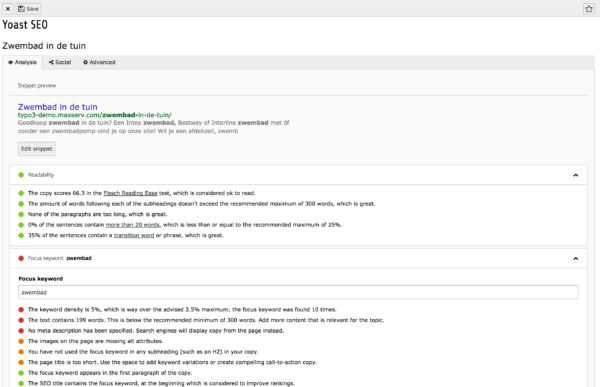 Besides analyzing the content and giving valuable feedback, the extension also shows the snippet for that page. The snippet shows what your page would look like in Google's search results. Last, but certainly not least, Yoast SEO for TYPO3 adds the option to set metadata specific for Open Graph (e.g. Facebook, LinkedIn and Pinterest) and Twitter.
Give Yoast SEO for TYPO3 a try!
There are several ways to find and install Yoast SEO for TYPO3.
First, you can find it in the TYPO3 Extension Repository. Or, you can find the (open) source on GitHub. Want to use composer to install the extension? You can also find it on Packagist.
Don't feel comfortable installing a new extension yourself? You can always reach out to MaxServ to order a full implementation.
And what about Yoast SEO for Magento 2?
It's currently in public beta phase. You can sign up to join the beta at https://www.maxserv.com/yoast-beta-program/.
Coming up next!
Event

December 09, 2023

Team Yoast is at Attending, Organizing, Sponsoring WordCamp Ahmedabad 2023! Click through to see who will be there, what we will do, and more!

See where you can find us next »

SEO webinar

12 December 2023

Learn how to start your SEO journey the right way with our free webinar. Get practical tips and answers to all your questions in the live Q&A!

All Yoast SEO webinars »