Yoast Care fund: An interview with Foteini Vavitsa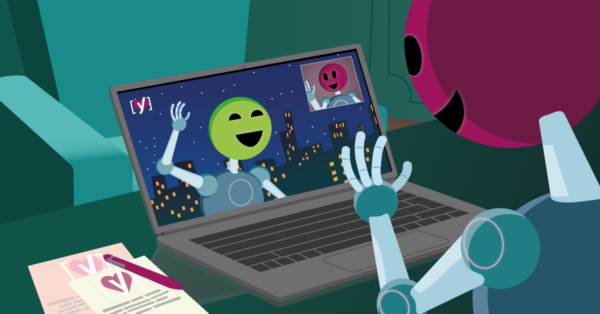 Recipient:
Foteini Vavitsa
Nominated by:
Evangelia Pappa
Today we're interviewing Yoast Care fund recipient Foteini Vavitsa, who received a nomination from Evangelia Pappa. Evangelia nominated her for everything she contributes to the community. Let's find out what he does exactly! But first, nominator Evangelia would love to tell you why she nominated Foteini:
Nominator Evangelia Pappa: "Foteini started her journey with the WordPress Greek Community as a speaker. She is now a WordPress meetup and WordCamp organizer from Greece. One of the first girls of the WordPress Greek Community raised their voices and encouraged other women to do the same. Foteini, during the lockdowns in Greece, not only participated but also led the WordPress Greek Community online meetups every week from March to June 2020. She takes care of the marketing strategy and social media of the Greek Community. Also, She is one of the organizers of the soon-to-be-aired Balkan Women Only online meetup to create a safe space for women and non-binary people in the WordPress Communities of the Balkan Countries. She works as a marketing director, and she is not paid for her contribution. Therefore, I believe she deserves a big "thank you" for her efforts!"
Let's get to know Foteini Vavitsa!
Thank you for those breathtaking words, Evangelia. Now, let's get to know this all-rounder by asking her some questions:
Hi, Foteini. What do you do?
I am an Economist by profession but a Marketer by heart. From the beginning of my career, I knew that I want to work in the field of marketing and communication. What motivates me is helping professionals and businesses to find their online voice. This is expressed through several projects that I am working on, the consultations that I offer to individuals who want to learn about the online tools and how they can help them to promote what they do, and the seminars that I attend as a speaker.
I firmly believe in the power of Education and life-long learning, which I am happy to express through Auvril Education, where I am a Co-Founder and CMO of our team.
How did you know about WordPress?
When I started my attempts to find a job at the beginning of my career, I had to gain experience in online marketing and Search Engine Optimisation. At that time, the easiest thing to do was to create a blog and start writing content. In a few words, I became the guinea pig of what I wanted to do.
The first challenge I've encountered was that I don't know how to code. This was the time I found out about content management systems. WordPress was the platform that I loved the most, and I am still using it today.
So, tell us. Why do you think you got nominated?
I am passionate about the WordPress Greek Community. From the first meetup I attended, I got hooked. The idea of contributing to a project that helps millions of people worldwide to find their online voice by owning their website (hint: WordPress) is just awesome.
What is more touching about our Community is that we like embracing people who contribute to the events that are organized by all of us throughout the country. At the end of the day, what is important is the willingness to help, no matter the outcome.
Why WordPress?
WordPress has created an environment that is friendly to all people, no matter where they are from or what they do. You just feel that the only important thing is to be authentic and passionate about what you do. After that, everything you need will just fall into place. Maybe by finding the proper plug-in or theme.
Somehow, this is how I like living my life. So, you can say that, in a way, we share the same culture and values. Isn't this the most important factor when you choose your business partners?
Why did you start contributing? Share with us the first time you contribute.
It all started when I decided to attend as a speaker at WordCamp Athens in 2019. It was a great experience. At the same time, I was observing the contribution made by the organizing team and I thought "I want to do that too".
It was effortless for me to express my interest. I had already met many people volunteering to organize the conference, and they were all very friendly and helpful. After that, I took part in the organizing team of WordCamp Thessaloniki 2019. I was a member of the publicity team, and I enjoyed every moment. It was not always easy but worth it. I got to know even better many members of the WordPress Greek Community, and I remember laughing. A lot.
In addition to that, the experience I gained was also very valuable. I've learned many things about the WordPress platform and I wrote lots of texts and articles in the Greek and English language. Something really important for me, since copywriting is one of the services that I offer to my clients.
Up until today, I like contributing to organizing meetups. Apart from that, I am the Lead of the Publicity Team at WordCamp Greece 2021. The opportunity of this lockdown was that we started creating online events with people of the Community, located in different places of our country. So, let's see, what else is possible?
Who is your WordPress hero?
Evangelia Pappa, of course. Believe me, this is not because she nominated me for Yoast Care. Evangelia is helping in the WordPress Greek Community from the beginning and her support is one of the most valuable ones. She has been one of the first organizing members in our Community's events, always seeing the best in others and helping them this way to become a better version of themselves.
In that way, she has always been by my side, supporting me in every attempt and inspiration. I am thankful for many things, for being a part of our Community. Our friendship with Evangelia is the first one of them.
Where can people find you?
Online: At my WordPress blog. On Social Media: Instagram, LinkedIn, and Facebook.
With the hope to be able to meet offline sometime soon, you can find me at Thessaloniki WordPress's, and Thessaloniki Toastmasters' meetups.
Thank you for this interview, Foteini. And for all of your contributions to the WordPress community! If you're reading this and know someone like Foteini who deserves a nomination for our Care fund, just go to our Yoast Care page to nominate them!