20% off Yoast SEO: 7 features that'll make you happy!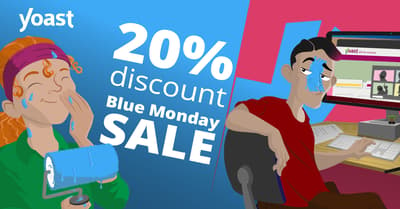 So sorry! This sale has ended… don't want to miss our discounts? Sign up for our newsletter below!
Time to brighten up your Blue Monday! What better way to do this than with a special Blue Monday discount? Get rid of the blues instantly: claim your 20% discount – valid just on Blue Monday. Here are 7 features in Yoast SEO that will definitely cheer you up!
1. Access to 15 Yoast SEO academy courses
Every Yoast SEO Premium subscription comes with complimentary access to Yoast SEO academy. This means that you don't just get access to the most comprehensive SEO plugin out there — you'll also unlock 15 SEO training courses! Learn all about the basics of SEO, SEO copywriting, keyword research, structured data and many other topics related to SEO!
Read more: Learn SEO with the online Yoast SEO academy coures »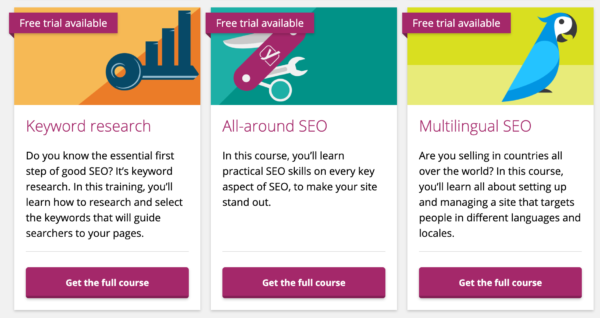 2. Advanced content analysis – just like Google
Setting a focus keyphrase is one of the greatest features in our free plugin. But did you know that Google also looks at synonyms and understands different word forms? That is why Yoast SEO Premium comes with automatic detection of grammatical variations of your keyphrase and a separate field for synonyms. It helps you to make your texts more readable and attractive and the plugin helps you analyze your content like Google does.
Keep reading: Target more keyword variations with state-of-the-art text analysis »


3. Optimize your social posts with the social previews feature
But, you aren't just making great content for no one to see… Attracting visitors to your site by creating engaging posts on social media is indispensable nowadays. In Yoast SEO Premium, you can optimize your social posts and see them through the eyes of your audience on Facebook or Twitter!
Read on: See your social posts through the eyes of your readers »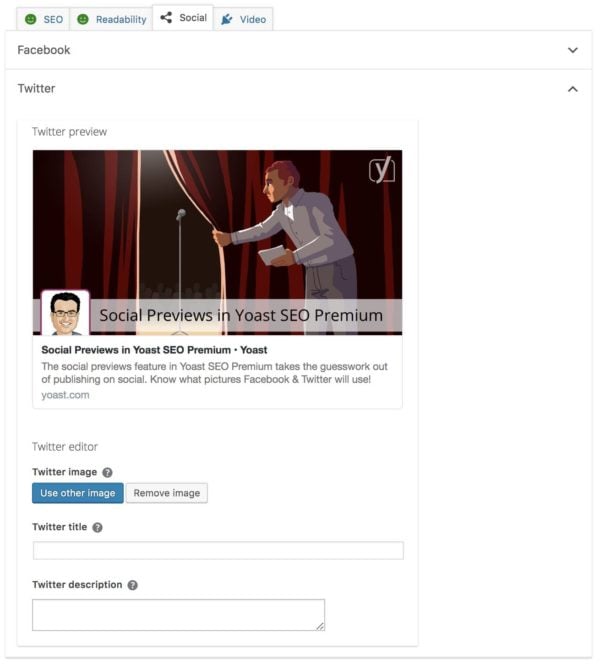 4. Optimize your site structure
The structure of your site is really important to improve your SEO results. You don't want to create content that Google can not index and therefore your customers can not find? With Yoast SEO Premium we help you easily linking pages with the same topic and also make clear which pages or posts still miss some referring to.
When your site is filled with a lot of content, you know how hard it is to keep an eye on the bigger picture. Maintaining a clear site structure can be quite a puzzle. You don't want your visitors to get lost or miss relevant content while visiting your site.
Whether it's suggestions for internal linking, spotting orphaned content or keeping your cornerstone content fresh; Yoast SEO Premium has your back. Our internal linking suggestions, orphaned and stale content filters will help you keep a clear picture of your site structure. Visitors will be guided through your site how you want them to!
Keep on reading: Make content findable with our internal linking suggestions tool »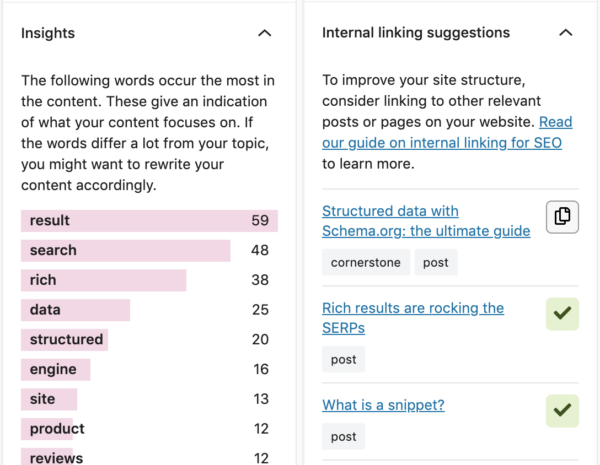 5. Prevent broken links with the redirect manager
Experienced the frustration of clicking on a link that leads to a 404 page? If a page or post is deleted or unpublished it is still part of the Search Results in Google. That's where those 404 pages can really bother you. You don't want YOUR customers to be willing to visit your page and end up on a dead road? And, with the redirect manager, you don't have to be afraid anymore that a 404 will guide your visitors to a dead link. It will help you prevent and fix dead links! 58% of our customers even praise the redirect manager as the best feature in Yoast SEO Premium!
Read more: Avoid broken links and 404 errors with the redirect manager in Yoast SEO Premium »


6. Find high-performing keywords with the SEMrush tool
Doing keyword research can be quite time-consuming and hard, right?! Not with the SEMrush tool in Yoast SEO! In just a few clicks, it enables you to find related high-performing keywords and keyphrase insights right in the WordPress editor and write relevant high-quality content!
If you use Yoast SEO Premium with the SEMrush keyword research tool, you will be able to find and immediately add related keywords to your text with a simple click of the button. Yoast SEO then immediately analyses your use of the additional keyphrase and gives you real-time SEO feedback on it. It will help you a great deal in getting your SEO thoroughly polished!
Boost the quality and relevance of your content with high-performance keywords in Yoast SEO. Available for 100+ countries
Keep reading: Find high-performing keywords that boost the quality and relevance of your content »
7. Unlock the smart Yoast SEO blocks
If you install Yoast SEO Premium, you'll get access to 6 preformatted blocks, that make optimizing your site a lot easier. Leverage the smart Yoast SEO blocks to improve your internal linking, get rich results, and boost your SEO! How about an instant, formatted Table of contents block, a Related links block or a Subpages block? Make sure to check out al 6 easy-to-add blocks!
Read on: Use the Yoast SEO blocks to improve internal linking and get rich results »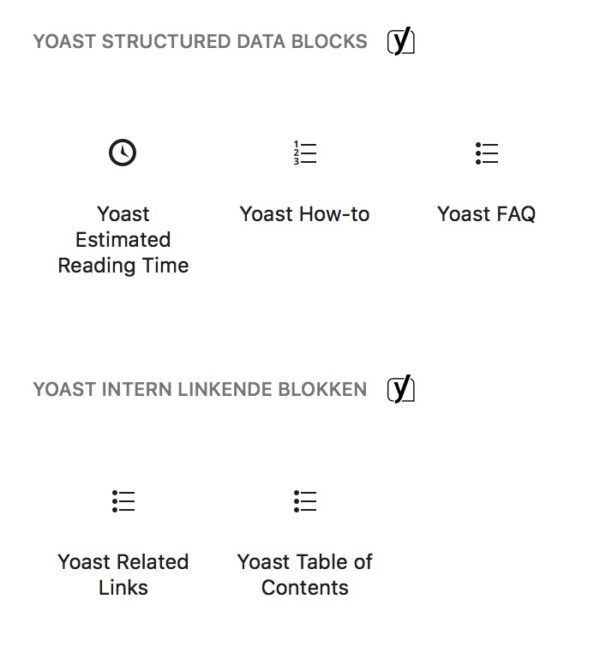 We get it like no other: running a business takes time! You need to be in charge of finance, operations, account management, and of course your online visibility so customers can find your business easily on the web. When you're using the free Yoast SEO plugin you are already doing a lot to rank high in search engines like Google. But as you now know, there's more! If you upgrade to Yoast SEO Premium, you'll unlock many SEO tools that will save you a bunch of time. Don't forget to get it today and save 20%!
Get Yoast SEO Premium now
Unlock time-saving SEO tools
Get FULL access to Yoast academy
Become an SEO expert in no-time
Coming up next!
Event

October 04, 2023

Team Yoast is at Attending, Organizing Yoast Contributor day 2023 - October edition! Click through to see who will be there, what we will do, and more!

See where you can find us next »

SEO webinar

12 October 2023

Stay ahead of the curve in the fast-evolving world of e-commerce & explore key trends & emerging opportunities. Register for "E-commerce Trends 2023" now!️

All Yoast SEO webinars »