Product philosophy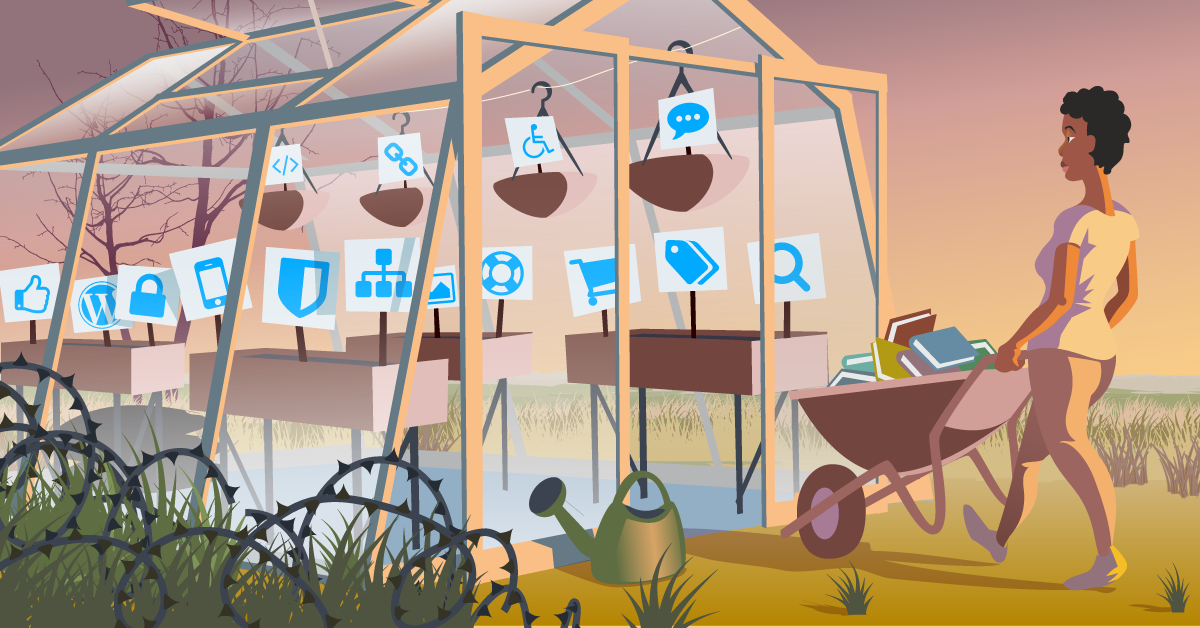 We believe that the role of our software is to help people maximise their chance of success online. That means providing them with a strong technical foundation, giving them tools and resources, educating them, and helping them make the right decisions.
We believe that our plugins, academy courses, and contributions to the broader WordPress and open source ecosystems play – and will continue to play – a vital role in that success.
To ensure that we stay on course and that we're making the right decisions for users, our product decisions are built on a series of core tenets.
1. We're the experts, so our users don't need to be
Helping users to win doesn't mean providing them with the most settings, buttons and controls. In fact, for almost all aspects of SEO, you shouldn't need to micromanage your site's technical settings. You just need your site to work perfectly.
To make sure that we make the right decisions on those settings, we train our teams to the highest standards in SEO. Next to this, we also employ multiple internationally acclaimed, award-winning SEOs. They help shape our roadmap, test our features, and provide cutting-edge SEO standards to our users.
That's why our tools may look simpler than some others in places. It's not because we lack features, it's because we're smart enough to give users the right settings. All without making them fiddle with thousands of details. It's part of our product DNA to make sure that it provides perfect technical SEO for the user whilst asking as few questions as possible. We believe in not providing unnecessary or confusing options.
2. We're consistently first, and consistently best
As Google, Bing, Facebook and other platforms launch new features, we're consistently first to react. From supporting new meta robots standards, to reacting to algorithm updates. We set the standard which other platforms and plugins follow.
Our technical solutions to SEO problems like crawl management, meta tags, and schema markup are consistently and irrefutably more detailed, more sophisticated, and more robust than any other solution available.
3. We're open, and open source
We have no secrets when it comes to our thinking, our decisions, our approach, or our code. Whilst we don't expose unnecessary complexity to our users, we never hide anything. There is no secret sauce, or magic formula – just best practice SEO, PHP, JavaScript and web development and synergize.
As part of this philosophy, we thoroughly document our approach. We rigorously interrogate, challenge, improve, and maintain those standards.
We love open source. Therefore we invite outside collaboration and input on our products and content. Just as we collaborate and provide input on other open source projects (like AMP and Gutenberg).
4. We believe in education
Improving your visibility in search means having the best content and strongest brand, as well as having the best platform. That's why we provide sophisticated tools to analyze your content and tone of voice, as well as the use of language, and the structure of your content. Our famous 'traffic light' and 'green bullet' reports are best-of-breed when it comes to understanding how to best optimize your content for search.
We won't pretend that we can solve all of your SEO problems, but we'll help you to help yourself.
Beyond our WordPress plugin, Yoast also creates and maintains Yoast SEO Academy – a set of online SEO courses and qualifications which have educated and supported almost 50,000 users to date.
5. We're a proper company, and a family
Yoast employs over 100 people, which includes some of the world's best PHP and WordPress developers. We use modern, secure, and performant development practices and have rigorous testing processes. Our support team provide 24/7 dedicated help around the globe. We're a proper company, with proper processes, and a stable future.
More importantly, perhaps, we're a family. We like to work, eat, play and laugh together. As friends, colleagues and teams. We strongly believe in the power and importance of collaboration, empowerment, personal growth, diversity, sustainably, equal opportunities, and of course, living our best lives. Our work at Yoast, and the culture we build together, is a pivotal part of that. We believe that this makes our products better, too.
6. We're connected and integrated
Uniquely in the SEO industry, we're proud to have an open dialogue with multiple teams from Google, Microsoft, Facebook, LinkedIn, Pinterest and more. We discuss our respective product roadmaps, integrations, collaborations and more. We speak at each others' events and conferences and also hang out in shared Slack workspaces.
We also have strong working partnerships and integrations with many of the biggest names and plugins in the WordPress ecosystem. These include Sucuri, Siteground, Human Made, Modern Tribe, Automattic, Inpsyde and many more.
Thanks to those strong relationships, we can make sure that our plugins are also better integrated and interoperable with other popular systems, themes, hosting providers and technical setups than many others.
7. We're loved, trusted, and involved
We're active and well-respected members of the WordPress community. From organizing and hosting meetups and WordCamp events to contributing directly to WordPress core and wordpress.org. Yoast is deeply ingrained in WordPress technology and culture.
In fact, many of WordPress core's "SEO features" were built and are maintained by our team. We continue to work on improving SEO for everyone on the platform.
8. We're great value for money
When you subscribe to our premium plugin, you unlock additional tools and automation. Next to this, you also enable us to continue to invest in:
staying at the cutting-edge technical SEO;
developing sophisticated language analysis tools;
reacting quickly to changes from Google, Facebook and other platforms;
releasing fortnightly feature, security, and quality updates;
translating our plugins into over dozens of languages;
providing you with access to an expert support team, 24/7;
and providing you with world-class SEO education.
That means that you get the best features, and you get them faster – before your competition get them, and before other plugins copy them. We release fortnightly updates with new features, improvements, and bug-fixes so that you can stay right at the cutting edge of SEO.
9. We value your privacy
We believe in the importance of user privacy, transparency, and honest marketing. Unlike others, we don't sell your data, we don't monitor individual users, and we won't sell your personal information to spammers.
We'll also never collect or store data which we don't strictly need, and always put the protection of our users before profit.
Want to learn more?
We're proud of our culture, our products, and the positive impact we have on the world. Our work helps to make SEO available and accessible to everyone. Our involvement in WordPress helps to democratize publishing. The technology and education we provide helps to improve global web standards.
If you'd like to find out more about what we do, you can: