Meet one of our very first customers!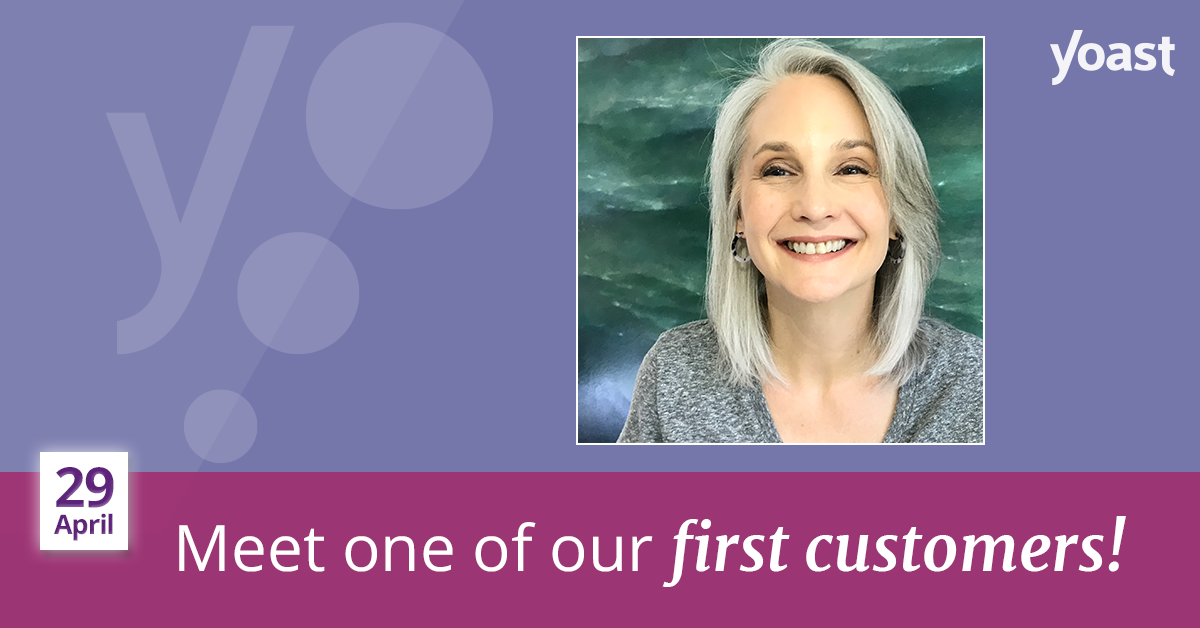 Some people have been with us from the start, like Lisa League. She lives and works in downtown Winter Park, Florida. She's seen our company and products evolve over the years, so we caught up and asked her a thing or two!
Who is Lisa League?
Lisa and Yoast go way back… All the way to the early years of our plugin! Lisa worked freelance in creating content for a marketing firm back then. Now, Lisa runs Qpractice, which is a large study group of anywhere between 400-1000 members worldwide, studying for the NCIDQ Exam each season.

At Yoast, we love good food… So we had to know what Lisa's favorite dish is: She loves any super spicy veggie Thai curry. And, she drinks a lot of tea. So, grab your own cup of tea and let's go on to Lisa's story!
You have been using Yoast for quite a while! Do you remember how you started out?
I had used the free plugin for quite a while before the premium version came out. I worked freelance creating content for a marketing firm, and at that time it was a new paid plugin. I recommended it to my clients, as for example, the Local SEO plugin would definitely help them rank better locally.
What is your favorite feature of Yoast SEO?
It's hard to choose! Some things I take for granted just because I don't have to worry about them, like how it creates a sitemap. The installation wizard takes care of many of the technical issues for you, too.
As I produce a lot of member-only content, the control over the indexing process and custom post types are great for me. I focus most on the written content and optimizing that, including the settings for social sharing. The SERP previews and analysis tools are really nice to have, too. I'm looking forward to trying out the newer features! I'm doing a massive rework of my content soon, so I'll be sure to check them out then.
What have you learned from using Yoast SEO?
I think it helps me as a pre-publish checklist, as a way to optimize the previously written content and to see opportunities that I might not have thought of.
What would you like to say to people that aren't sure if they need to upgrade to Yoast SEO Premium?
I highly recommend the customer support that comes with premium. I've gone through a fair amount of bugs and hassles over the years, and Support has been continually supportive.
And if you're new to SEO: start with Yoast SEO academy!
What surprised you most when using Yoast SEO?
Perhaps seeing which articles are and are not interlinked, and which I need to link to more.
You've seen the plugin and the company evolve over the years. What sticks in your mind when you think back?
It's been fun watching the branding and logos evolve over the years, I even remember a windmill being part of the branding.
Recently, I received an email that a feature I requested mid-2019 is planned for an upcoming release. It's cool to contribute that way!
Joost was a natural teacher back then, too. In 2012 he sent out an email saying he was partnering with The Next Web, for which he was giving a 2-hour online class on "SEO Essentials for Startups". It's fun to see how Yoast has a whole SEO academy now.
Back in the day, support tickets were answered by Joost himself. I even donated to help him further develop the WordPress SEO plugin, before there was a premium version. That was in October 2012, Yoast has come a long way!
Lisa also shared a fond memory she has, which warms our hearts!
I remember being particularly pleased when I got a like and positive feedback from Joost himself, in the Advanced WordPress Facebook group years ago. I had replied to someone with something along the lines of that simply using the plugin would not substitute for well-written content. When Joost liked and replied, I screenshot that and saved it for a while!