WooCommerce developer
Ben jij een expert in WooCommerce & WordPress? Heb je al vele sites met WooCommerce gebouwd en wil je nu wel eens een stap verder? Dan zijn we op zoek naar jou!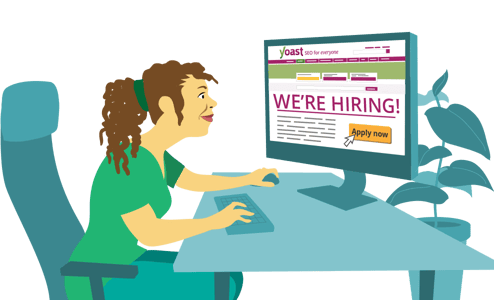 We zijn op zoek naar een WordPress developer met minimaal 2 jaar ervaring met WooCommerce. We werken met PHP (5.6 in onze plugins, 7.1+ op Yoast.com) en JavaScript (React/Redux en node). Als je geen ervaring hebt met JavaScript is dat zeker geen probleem, we zoeken vooral iemand die WordPress én WooCommerce snapt en alle rariteiten en uitzonderingen een keer gezien heeft.
Voor ons ontwikkelplezier gebruiken we git, GitHub, PHPUnit, Visual Studio code en hebben we een eigen ontwikkelde development omgeving (onderhouden door DevOps) op basis van Docker. Hierin zijn we altijd op zoek naar optimalisaties, dus deze lijst zal waarschijnlijk alweer verouderd zijn wanneer je aangenomen bent.
We zoeken jou als...
Je een WooCommerce en WordPress theme- en plugin-developer bent.
Je in HTML, CSS en WordPress code kan dromen.
Je nieuwe ideeën verwelkomt en denkt in oplossingen.
Je gelukkig wordt van kennis delen en samen producten maken.
Je nieuwe codebases en frameworks snel eigen kunt maken.
Je webontwikkeling serieus neemt en daar alles over wilt weten.
Je een HBO of academisch werk- en denkniveau hebt.
Kennis (en begrip) van programmeerprincipes zoals SOLID en TDD is een grote pré.
Wat we extra vet vinden
Wanneer je aan WordPress-core of WooCommerce patches hebt bijgedragen.
Wanneer je aan andere Open Source projecten hebt bijgedragen.
Wanneer je voor jezelf een WordPress site onderhoudt.
Wanneer je Gutenberg blokken hebt gemaakt.
Wat we bieden
Een uitdagende baan bij een snelgroeiend, dynamisch, ambitieus en internationaal bedrijf dat impact maakt op het web.
Een salaris van minimaal €2300 en maximaal €4000 per maand op basis van 40 uur per week, afhankelijk van je werkervaring.
25 vakantiedagen op basis van 40 uur. Daarnaast krijg je van Yoast vijf vrijwilligersdagen om mee te helpen bij bijvoorbeeld de plaatselijke voetbalclub. Of eindelijk eens mee te gaan met het schoolreisje van je kinderen.
Een bonusregeling.
Je krijgt 10% van je jaarsalaris als opleidingsbudget.
Uitstekende pensioenregeling, WGA-hiaat verzekering en een ANW-hiaat verzekering, volledig betaald door Yoast. Dat betekent netto meer loon!
Wil je lekker sporten en fit blijven? Yoast heeft een eigen gym en personal trainer.
Een ongekend goede, maar ook een klein beetje gekke werksfeer en heel veel teambuilding! De ken-je-collega quiz, LEGO bouwdagen en maandelijks het Yoast vier moment waarin we samen onze successen delen. En ook dan zorgt Yoast regelmatig voor iets lekkers!
Je krijgt alle ruimte om nieuwe initiatieven en ideeën in te brengen en snel door te groeien.
Procedure
De sollicitatieprocedure bestaat uit drie, of vier, gesprekken: een kennismakingsgesprek, een of twee praktijkinterviews en een laatste gesprek met enkele leden van het leadership team. Deze worden mogelijk verdeeld over meerdere dagen. Let op: alleen sollicitaties met een motivatiebrief worden bekeken.
Heb je vragen over de functie? Neem dan contact met ons op. Je kunt je vraag stellen via jobs@yoast.com.
(Onze sollicitatiecode is van toepassing op alle sollicitaties)
Niet wat je zocht? Kijk eens naar onze andere vacatures:
---
---