Content manager - Team Blog
Join Yoast's blog team as a content manager! Do you have web editing and content management experience? Are you a great communicator and do you thrive in a fast and flexible environment? Do you have a strong grasp of written English and a passion for technology, websites and SEO? Then, we're looking for you!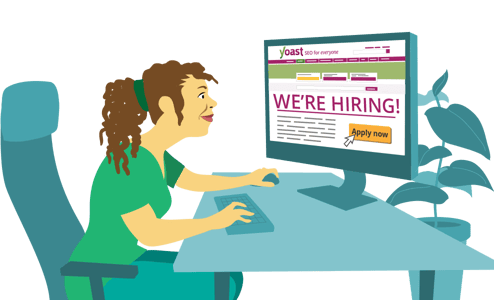 The Yoast blog team is looking for someone who's a quick copywriter and editor, with a keen eye for detail. As we write about search engine optimization, having knowledge of websites, SEO and/or WordPress is a big plus. You'll also write content concerning other brands that are part of the Newfold Digital family.
What are you going to do?
As a content manager, you'll be part of an awesome team of three dedicated content writers and SEO specialists. Together, we're creating user-friendly, informative and commercial content about SEO and our plugins, mostly for our blog but, occasionally, also for other outlets!
We work in an informal, fun but focused way. You'll work closely together with other departments, such as the academy team, product marketing, brand and our commerce and social team.
You'll contribute to the visibility and profitability of our company by:
Editing, optimizing and publishing blog posts
Updating content for our SEO blog
Moderating and answering comments on our blog posts
Creating content for other parts of our website, such as help or feature pages
Writing content for other projects, like magazines or events.
Who are you?
At least 2-5 years of experience in content management and/ or web editing
A bachelor's degree HBO or WO, e.g. Communication or journalism.
Excellent English writing skills, preferably C2 CEFR level.
Experience with WordPress and SEO
You're able to explain complex concepts in simple, clear and evocative language.
You're interested in online marketing and sales
You're someone who easily approaches colleagues and you find it fun to interact with people.
This is what you get from Yoast!
A job at a fast growing company and enthusiastic colleagues.
A salary of € 2600 - € 3300 based on 40 hours per week, depending on your work experience.
25 vacation days based on 40 hours. In addition, you get five volunteer days a year from Yoast to help with, for example, the local football club. Or to join the school trip of your children.
A bonus scheme paid out at the end of the year.
You will receive 10% of your annual salary as a training budget.
A collective health insurance with extra reimbursements for physiotherapy, for example.
Excellent pension scheme, WGA insurance and ANW insurance, paid fully by Yoast. That means that your net wages are higher!
Do you want to exercise and stay fit? Yoast has its own gym and personal trainer.
A fun and good working atmosphere with a lot of team building. The know-your-colleagues quiz, LEGO building days, a freshly prepared lunch every day, the monthly Yoast celebration moments in which we share our successes together and much more. Despite the corona pandemic, we have not stopped doing this, we are now doing this together online.
We encourage you, and appreciate, to bring in new initiatives and ideas.
And last but not least: working in a fresh and modernly furnished location. Nespresso coffee, delicious tea, a well-stocked fridge and fresh fruit ensure that you get through the day energetically and enjoy being part of Team Yoast.
Procedure
Apply before the 12th of December. The first interviews will be held in the week 50 and 51. The application process consists of three parts: an introductory job interview, a practical interview and a final meeting. These steps might take place on different days. A social media screening might be part of the procedure. Note: only applications with a cover letter will be considered.
(Our recruitment code applies to all applications)
Not what you were looking for? Take a look at our other job openings:
About Yoast
Yoast consists of a rapidly growing team of internet enthusiasts. We're a start-up with a very good international reputation when it comes to SEO and website optimization. Multiple times per week we publish free SEO and/or web development related articles on our blogs. We organize MeetUps and speak at conferences.
At Yoast, we are very community-minded and highly value Open Source. We provide both free and paid plugins for WordPress, NEOS, and TYPO3, and are always looking to expand our field of work. Besides software, we sell online (SEO) courses in our Yoast Academy.
Our company is continuously in development. We create a lot of new products. Next to ongoing improvements of our Yoast SEO plugins, we publish courses on a frequent basis. The development of new products is mostly done internally and is a real team effort. Our team consists of authors, illustrators, marketeers, developers, and researchers. Together, we build new innovative SEO products!
---
---