Job application at Yoast: FAQ
Want to apply for a job at Yoast? It's natural to have questions! With this FAQ we want to make your application process easier and give you as many answers as we can!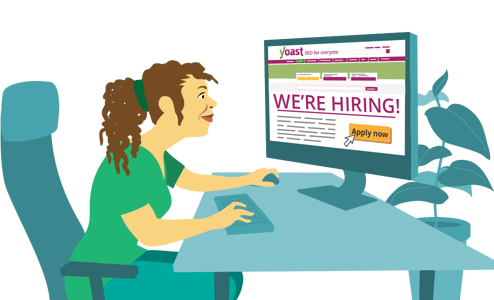 Is your question not on the list? Send the additional questions you may have about job applications at Yoast to jobs@yoast.com.
Frequently asked questions about the job application procedure at Yoast
How do I apply for positions at Yoast?
All open positions at Yoast are posted on our corporate website. Head to our careers page or werken bij (in Dutch) to find a job opening that suits you. Once you find one, click the Apply button to start your application. You will be asked to complete a candidate profile and upload a CV or resume to our online application system.
How will I know if my application has been received?
After submitting your resume, you'll receive a thank-you message informing you that your application will be processed. You will also receive an email to confirm the receipt of your application.
I have applied for a job. When will I hear something?

Our aim is to respond within seven working days after receiving your application.
Can I also apply by email?
Of course, send your application to jobs@yoast.com.

What does the application procedure of Yoast look like?

In general, the procedure consists of the following steps: a short interview with the recruiter, two selection interviews, and an introduction to (some) members of the management team. This can differ per vacancy. You'll find specific details about the procedure in the vacancy you applied for.
What should I do if I cannot find an opportunity that matches my skills?
You can make a general application. Yoast is growing rapidly, and there is a good chance that an opportunity requiring your skills and experience will be available in the future. Your information will be made available to our corporate recruiter. We will compare your skills and experience with our ongoing requirements and will be able to contact you when a suitable opportunity arises.
If I am rejected, can I reapply at Yoast later?
Yes of course you can! However, try to take into account the requirements of the vacancy.
What does the recruitment department do with my personal data?
When you leave your details, they will be stored in our database. We will treat your data carefully and confidentially and we do not provide your data to third parties. Of course, we also comply with the GDPR (General Data Protection Regulation).

The vacancy was still on the website yesterday, but is it no longer visible today. Why is that?
Unfortunately, you can no longer apply for that position, because the application deadline has passed.
Who can I contact if I have additional questions about the vacancy?
For additional questions about the vacancy, please contact our recruiter.

I don't live near Wijchen. Can I apply?
We are working more and more hybrid (at home and at the office). So, yes, you can apply for a vacancy based in our head office in Wijchen, regardless of your current location!
Can I apply for multiple positions at Yoast at the same time?
You can apply for multiple positions at the same time. However, it is easier to apply for the most interesting and suitable vacancy for you. Then, you can indicate in your motivation letter that you are also interested in other positions. We're happy to think along with you.
I applied, but did not receive a confirmation email. What should I do?
First, check your spam box. Can't find an email from Yoast there? Then contact our recruiter. She will check for you if your application has been received in good order.
Ready to apply? Go to our jobs page and check out the vacancies!