How to translate the Yoast SEO academy courses into your language
The Yoast SEO academy courses are all written and spoken in English. However, we understand non-English speakers also want to follow our online training courses. We want to make our content accessible for everyone, so in this article, we'll explain how you can translate videos, reading materials (pdfs), and page content into different languages.
Table of contents
---
Videos
In our free courses, we've embedded YouTube videos. YouTube can auto-translate our subtitles into another language (if you're on desktop). Here's how you go about that:
Click the settings icon in the video player.

Select the settings cogwheel in the bottom menu of the YouTube video player.


Click 'Subtitles/CC'.

Click 'Auto-translate'.

Select the language you prefer.

A list of languages will open. Select your language from the list and the subtitles will be automatically translated!

---
Course reading materials (pdfs)
There's a very convenient way to translate the course reading materials (pdf files) as well. We suggest you use the 'Documents' functionality in Google Translate. This translating tool by Google allows you to translate text into over a 100 languages.
How does this work? Select 'Documents' at the top of Google Translate, upload your pdf file, select the language you prefer on the right, and click 'Translate'. Google Translate will present you with a translated document in just a few clicks!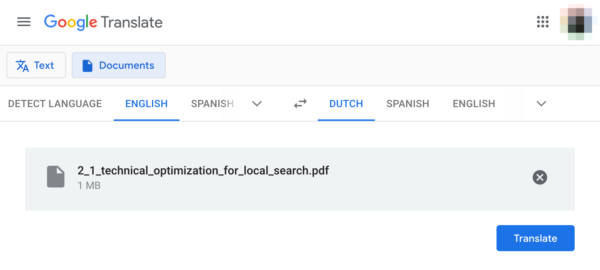 ---
Page content
To translate our other page content, like the course introduction, the learning objectives, and the quizzes, we also suggest you use Google Translate. To translate the content, simply select it, copy it, and paste it into the 'Text' functionality of Google Translate. Then, select the language you prefer on the right-hand side. The tool will then automatically translate the content for you.