Help beacon notification
With the introduction of Yoast SEO 12.6, we replaced the old Help Center with a new beacon. This beacon has some very cool features. Make sure to check them out in the 12.6 release post!
The beacon can be found in the bottom-right corner of every page in our plugin.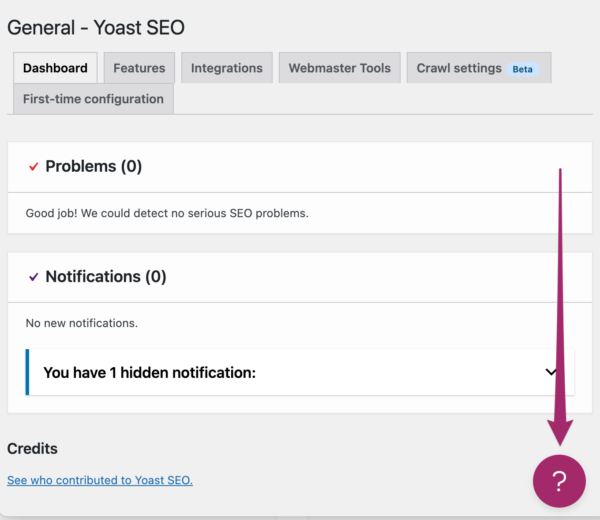 However, before you are able to use this beacon, you will need to confirm that you are ok with using it. A notification will pop up when you click the beacon.

After selecting 'OK' you are good to go!
My Yoast SEO plugin does not have the beacon!
That's definitely not good, you're missing out! There are two major reasons why this could be the case. They are listed below:
You have not yet updated to the 12.6 or higher version of the plugin. Please check the plugins page on your website to confirm you are on the right version.

Some ad-blockers block the beacon completely, meaning that you don't even see it. Make sure to either disable the ad-blocker or put your website in the allowlist in the ad-blocker.
Edge case
There is one special case when using the Microsoft Edge browser. When the notification has been dismissed twice, the browser will ask if you want to stop the page from creating more messages. If you agree to that, then it is no longer possible to open the beacon at all. In order to resolve this, the browser needs to be restarted.
Related articles