Yoast Care fund: An interview with Mary Baum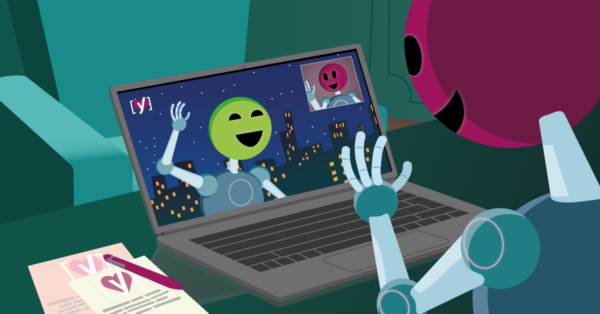 Recipient:
Mary Baum
Nominated by:
Justin Ahinon
Today's recipient of the Yoast Care fund is Mary Baum, who was nominated by Justin Ahinon. Why? Justin: "Because Mary is one of the most willing and enthusiastic WordPress contributors I've ever met. Working with her is always a wonderful experience. And I think she fully deserves the Yoast Care fund for that." You're quite right Justin, she does! So, let's get to know Mary.
Hi Mary, can you tell us what you do?
I build identities and promotions – mostly events – for clients in the tennis industry, volunteer on the WordPress Core team, and am experimenting with print-on-demand product design. I also take pictures of tennis and landscapes; portraits of people and cats; and macro shots of plants and flowers.
How did you discover WordPress?
I'm a traditionally trained designer and copywriter who was avoiding learning to code, because I thought that would be a distraction from making myself focus on growing my marketing practice.
But I did realize my clients needed more functionality in their sites than I could build myself. So I started looking at solutions for commerce, events and more that I could control without hiring developers, because I didn't think my clients would pay what developers are worth.
I tried a couple of hosted solutions based on shortcodes that turned out to be expensive and unwieldy. And support was nonexistent without thousands of dollars' worth of upfront expense! At the same time, people around me were discovering WordPress, and it was becoming a real deficiency that, although I could write some CSS at that point, I couldn't yet build a WordPress theme.
Why do you think you got nominated?
There's a saying that feedback says a lot more about the giver than the receiver, and I think this nomination is a prime example. Justin is one of the kindest, most generous and supportive people I know. And he's a great developer! So it's easy for me to see how he projects his own goodness and talent out into the world, and I'm incredibly grateful a little of that has landed on me!
Why WordPress?
Sé Reed (@sereedmedia on various social platforms), a regular on WP-Watercooler, my favorite podcast, continually reminds us listeners that the best thing about WordPress is the community, and I believe that, too.
Can you tell us about the first time you contributed?
I've been part of the St. Louis WordPress community since 2011 and helped organize every WordCamp in STL since then. When my husband and I moved to California for a temporary assignment he took with the program he was on, I dove in to the SoCal WordPress community.
That, in turn, led me to PressNomics 2016. And to an evening out with Aaron Jorbin and Mike Schroder plus Ant Miller, Aaron Hockley, Tracy Levesque, Matt Cromwell, and several other amazing folks. Most of whom are Core contributors to this day. I single out Jorbin and Mike because they're whom I spent most of the evening with, and while I think we talked about almost everything under the sun, Jorbin would interject with "… and when YOU'RE a Core Contributor … "
Two years later, on a whim, I decided to sit in on the 5.0 release party in Slack – and, OMG. Was that the coolest thing EVER! I couldn't shut up about it, even a week later, sitting at dinner at a wedding (damn good thing I was sitting next to a software engineer who'd been a classmate of my husband in engineering school!)
So I started showing up at other release parties and making edit suggestions for the blog posts. By early 2019 I was a regular at devchat, and I took a leap in the spring when Justin and I both volunteered to co-lead 5.2.2, under the very capable guidance of JB Audras.
What does WordPress look like in your perfect world?
1: Full-site editing, aka respect for the DOM
I think we're getting close! By the end of the year, or early into 2021, we will have full-site editing in the block editor. For me that's huge, because my one difficulty with the editor up to now is that it lives as one part of one or two templates in the template hierarchy.
I'm a Genesis front-ender, so I'm used to thinking of the Genesis DOM as the only DOM – in fact, until recently I didn't know that WordPress is agnostic on document structure.
But it did bug me that we were now building all of our content not just in the content div but in the entry-content div (all those unnecessary containers! Gah!) (And nothing do with that entry-header space in the block editor!) so I'll feel a lot more comfortable when we've brought all those other template parts back into the workflow. In short, Bring on the FSE!
2: A Media Library that acts like a library
The other thing would be a well-organized Media Library, where we can FTP into it directly and migrate any item's metadata to a replacement copy of that item.
I don't mind replacing an image fifty times on a day when I've apparently forgotten how to crop, or color-correct. But I do get tired of retyping the same title, caption, alt-text and more every time I upload that replacement! In fact, my biggest, deadliest accessibility sin is leaving off the alt text on images after I've uploaded the same file, but with tweaks, 97 times and just can't deal with typing that same information into those same fields even one more time …
Who is your WordPress hero?
I have several! Let me mention three just for today:
Bridget Willard, who understands social media like nobody I've ever met and continually drops the wisdom – often when I least expect it – and is the knockout heavyweight champ on perseverance.
Josepha Haden, who in the five years I've known her has given everything, publicly, to keep this community together and growing, and who makes sure every person gets heard. Also, Josepha has never styled herself a coder, but did the work to learn the tasks of Core packaging and mission control, so she could lead a release publicly and in real-time. And that's where I got the courage to sign up to lead, however prematurely.
And then there's Sergey Biryukov. OMG. The man is a committing machine! Nearly 600 commits to WordPress 5.4 alone.
Who is your WordPress mentor?
Again, I have several. For today, I'll shout out to Chris Wiegman, who got me to switch to phpStorm (a GREAT little IDE! Even has Git and SVN built right in! And FTP, for those of us who still live in shared hosting). And, of course, Jorbin and Mike Schroder. Jorbin has nominated me for Core rep!
Finally, every day I learn just by watching Francesca Morano and JB Audras in action. JB has code chops and single-minded determination to make things happen seemingly by magic, fueled with coffee and a single glass of red wine (based on emojis). And both of them are the royalty of reaching out to folks and rallying them to teamwork!
Scroll up through JB's work on the themes and plugins auto-updates feature over the last several months, which is a mere fraction of what he's accomplished across the project, and you'll see what I mean.
What contribution or moment are you most proud of?
For now, I think writing the WordPress 5.4 About page and contributing to its design in a couple of small ways. And I think I edited all but about three dev notes, so I'm pretty proud of the field guide for 5.4 as well.
It was also pretty great being onstage at WCUS in St. Louis as part of the organizing team. Of course, since I harbor delusions that I'm some sort of a comedian when I speak at WordCamps, I'll take every second on a stage I can get!
What would you love to do in the future?
I'm working on learning React right now so I can take more on code-wise in the project. And just as it was with Latin when I was in school, my biggest PHP weakness is vocabulary. So I need to spend some time just reading all the WordPress functions in Core. And I'd like to see my design work take off!
Where can people find you?
I'm marybaum on Twitter, Github and wordpress.org. And on spoonflower.com, where I have some fabric designs. Photography is at marybaum.com. And I have some talks at WordPress.tv.
Do you happen to know someone like Mary? Someone who loves contributing to WordPress and who pours their heart and soul into their work for the community? Nominate them now by going to our Yoast care fund page!