Yoast Care fund: An interview with Mark Smallman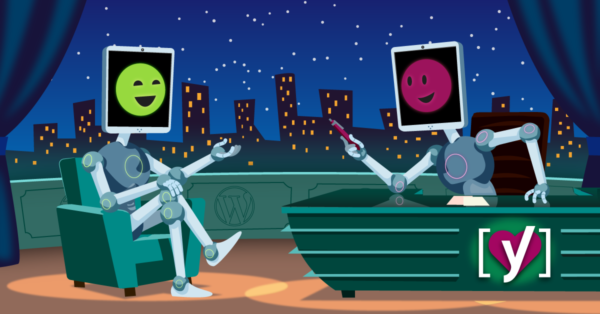 Recipient:
Mark Smallman
Nominated by:
Lesley Anne Quin
Another week, another Yoast care fund recipient! Want to read about what the Yoast Care fund is first? Go check out the Yoast Care fund page! Today, it's time for Mark Smallman to shine. This graphic and web designer, who was nominated by Lesley Anne Quinn, loves his coffee and WordPress. Let's get to know Mark!
What do you do?
I drink coffee and I code things.

OK, the real version… I do graphic and web design. I started out working in a print factory, then moved on to several graphic design roles. These included being contracted to work for local government offices, newspaper and magazine publishers. I once went from print-finisher to pre-press manager, digital press operator, designer and then senior designer – all for the same company within 9 months.
In 2009, I went self-employed. At the start, I was creating a bi-monthly publication for an Irish show dog magazine. I soon started to be asked to create websites for clients, with CMS capabilities. It was then that I found WordPress (and never looked back). Now I spend 90-95% of my working time building WordPress sites for clients.

Why did you start contributing?
When I started out using WordPress, I was living in Scotland and attended a few of the Edinburgh Meetups. When I moved back to Northern Ireland in 2013, I found there were no local meetups. I hosted the first WordPress Meetup in Northern Ireland on January 10th, 2014. This then led to being lead-organizer for the first WordCamp Belfast in 2016.
What contribution or moment are you most proud of?
There are a few 'moments' that made me feel proud… The first would have to be when the first session got underway of the first WordCamp in Northern Ireland. All our speakers were ready, our volunteers & sponsors were all in place, and the event we thought could never happen was taking place.

As a result of WordCamp Belfast 2016, the Dublin WP Meetup group re-formed, which has now held two successful WordCamps. And as a result of the first WordCamp Dublin, we also saw the formation of a Meetup group in Galway, Ireland.

Now after the recent WordCamp Dublin 2019, there have been conversations about other possible Meetup groups starting. To think that this was all due to me taking the chance on starting the Belfast group, does make me feel good about that decision.
The fact that both the Belfast & Dublin teams all help each other, and people from both teams have been on the organizing teams for both WordCamps, can only be a good thing as well.
What would you love to do in the future?
My first plan is to re-start the Belfast Meetup group, but I think it would be good to see other like-minded people help take charge of the group. Then we can plan for the next WordCamp – the question is… will it be in Belfast or Dublin?

I would like to see us having the Belfast and Dublin groups, as well as any other groups that spring-up, having meetups. If we had 3 or 4 active WordPress groups on the island of Ireland in time for the 20th Birthday of WordPress, it would be fantastic.

Perhaps we would be having an annual WordCamp Ireland – that is in different cities each year? You never know, perhaps in time, it could lead to a WordCamp Europe on the island of Ireland?

For myself, I would like to get more involved in the wider WordPress community. Perhaps assisting other fledgling groups, or help guide anyone that is thinking of starting a group.
Where can people find you?
I can be found via my own site: MacGraphic.co.uk, on Twitter, and @macgraphic on the WPIreland, Make.WordPress and the WP-Community-UK Slack channels.
Do you know someone who has done a lot for WordPress and its community, just like Mark? Then don't wait any longer to nominate them for the Yoast Care fund! You can read all about it on the Yoast Care fund page.