Yoast Care fund: An interview with Giorgia Castro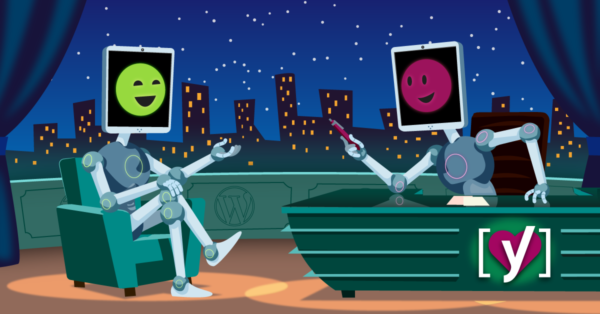 Recipient:
Giorgia Castro
Nominated by:
Simona Simionato
A while ago we launched our newest project, the Yoast Care fund. Care stands for The Community Appreciation REwards, which means we reward people for their awesome voluntary contributions to WordPress. Today, we're celebrating our first contributor. We're proud to present Georgia Castro, a freelance graphic- and web designer at Think-it. Giorgia has been nominated by Simona Simionato, who is also a WordPress contributor. Giorgia tells us about her contributions and more!
Why did you start contributing? Share with us the first time you contribute?
My first WordCamp was in Rome as a volunteer, in December 2017. After some Meetups, Giulia and Carola, the organizers of Verona Meetup, offered me to participate in a WordCamp as a volunteer. I decided to accept because, not knowing WordPress well, I knew I couldn't make a speech. I wanted to give back for what I was learning, and that was the way: The application was made, a train ticket purchased, and the accommodation booked. I had a lot of trouble as if I couldn't do anything. Instead, it was a wonderful experience, the first of many others.
What did you work on?
I'm a freelance graphic designer and since 3 years ago I'm a web designer leveraging WordPress potentiality. So far I have volunteered during several WordCamps: Rome (twice), Turin, Milan, London and Belgrade (WordCamp Europe, a great experience that I recommend to everyone). This year I was supposed to be in Berlin too, but I sprained my ankle and was forced to stay home :-( I'm PTE in the Polyglots team and in my free time I help translate WordPress into Italian. I organized one of 81 local events for WordPress Translation Day in May 2019. I'm also one of the organizers of Verona WordCamp (also in Catania and Milan this year).
What contribution or moment are you most proud of?
April 2019. I had been to London before for two months and ever since I've been in love with this city. I wanted to go back again and knowing that there would be a WordCamp I wanted to be a volunteer. Unfortunately, WordCamp Turin was also taking place those days, where al my friends would be and where I already had a ticket for (and would volunteer!). After considerable reflection, I preferred to go to London. I applied as a volunteer (basically I applied as a volunteer at every WordCamp I attended). I usually use English only for writing/reading. I've very rarely "spoken" English to anyone. I'm very proud of myself because I traveled alone. No worries about my English: I talked to many people.
What would you love to do in the future?
I want to participate in as many WordCamps as possible, maybe all of them! I will continue to support the Polyglots team. Next year, I will help in organizing a meetup in my city, Verona. And maybe… I don't know if I can tell… I'll apply to lead the organization of the next WordCamp Verona.
Where can people find you? Online, WordCamps, other meetups?
I love connecting with as many people as possible. You can find me here: WordPress.org, Instagram, and Twitter. You can also find me the Verona WordPress Meetup (every month) and at many WordCamps in Italy.
Do you also want to nominate someone for the Yoast Care fund? Visit the Yoast Care fund page to find out how!