Yoast Care fund: An interview with Felipe Elia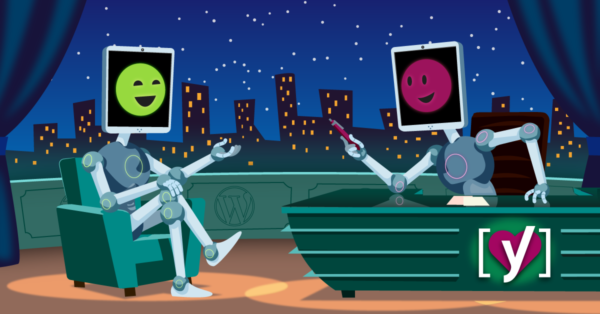 Recipient:
Felipe Elia
Nominated by:
Felipe Santos
This week's Yoast Care recipient is Felipe Elia, who was nominated for this fund by Felipe Santos. Felipe Elia is from Curitiba, Brasil, and works as a web engineer. Felipe does a lot for WordPress, both for the Brazil WordPress community and on an international level. Let's find out more about Felipe, his contributions, his future plans and more!
What do you do?
I've been working as a Web Engineer at 10up for a month now. Before that, I was working at NextPress on the new version of WP Ultimo, a WaaS (WordPress as a Service) plugin.
On the community side, here in Brazil, I'm a Locale Manager, Global Translator Editor, Brazilian Support Forums keymaster, and one of the WordPress pt-BR Official Blog authors. At the international level, I'm a Polyglots Global Mentor, I'm part of Docs team and I also try to make consistent contributions to the WordPress core.
Why did you start contributing? Share with us the first time you contributed?
When I moved with my family from Rio de Janeiro to Curitiba, I had no friends to talk with. So, I searched for a couple of things that were part of my day and found a WordPress meetup. That was in May 2016. In June, I was already giving a talk there about how to convince clients and managers to use WordPress. After a couple of months, I was invited to be part of the local community organization, then I started helping on the forums and translations and have been trying to help since then.
What does WordPress look like in your perfect world?
Technology-wise I think it has its flaws: a quite old codebase, some ancient concepts that should be modernized, and that is something that can evolve. But honestly, in my humble opinion that is something minor. What I really would like to see evolving is the balance between volunteer work and responsibility – especially on local communities – and more participation of companies that have their business models 100% based on WordPress and don't even know it is possible to give something back.
Open source is a very nice model but it still has some problems we can work on. WordPress being so big a player, I'm sure it can help to leverage this.
What would you love to do in the future?
I'd love to be part of that change somehow. Also, I'd love to help WordPress even more, probably onboarding and guiding the new incomers. Additionally, something that I'd love to see happening is the growth and evolution of WordPress developers: right now we see a very small amount of WP developers who understand the ins and outs of WordPress. I'd love to help them to know more and let them know they can help the CMS they use to make their livings.
Where can people find you? Online, WordCamps, other meetups?
I'm always at our WordPress meetups in Curitiba, which happen once a month. This year I intend to be present at all WordCamps here in Brazil and I'll also be at WordCamp Europe. Apart from social media – mostly Twitter (twitter.com/felipe_elia) – I have a blog in English (felipeelia.dev) and in Brazilian Portuguese (felipeelia.com.br) and a YouTube channel in Brazilian Portuguese (youtube.com/channel/UCD_26rOE3ClALcZreTkyIoQ) where I share some tips about WordPress. Every week it is possible to see me there.
Do you know someone who also does a lot for WordPress? Someone who deserves to receive the Yoast Care fund? Don't wait any longer and nominate that person now! Visit the Yoast Care fund page for more info.