Yoast Care fund: An interview with Abha Thakor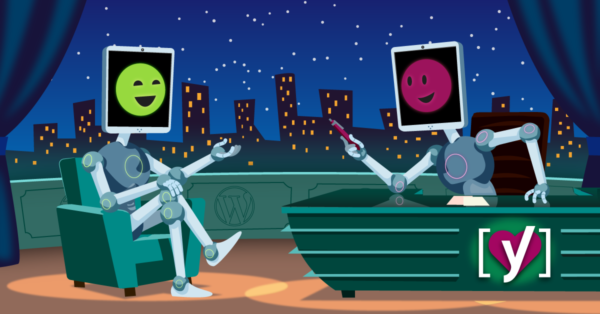 Recipient:
Abha Thakor
Nominated by:
Marcin Kilarski
Today it's Abha Thakor who takes the stage! She was nominated for the Yoast Care fund by Marcin Kilarski. Abha is a digital and IT professional working across communications, research and project management. Let's start off with a word from Marcin about Abha:
"I nominated Abha, because I have seen countless times how much she supports the WordPress community. She is full of positivity about the project and tasks, and passes that vibe onto others around her. I appreciated it a lot during the six month period leading up to WordCamp Dublin 2019. Abha continuously encouraged everyone to keep moving forward despite the staggering amount of tasks a small team was trying to complete. She was one of the hardest working people and always supported the team. She shared with us an ocean of knowledge about organizing a conference that she has acquired over the years with WordCamps and other events. She makes the WordPress community truly special."
Now, let's give the mic to Abha herself in today's Yoast Care interview!
How did you know about WordPress?
I have been working with websites professionally since 1998. I soon became interested in how open source was used for innovation and community skill-building. WordPress is now the dominant content management system I use with a variety of clients and in volunteer projects.
Why did you start contributing?
My parents have long given their professional skills to contributing to open-source type projects to benefit communities. They instilled in me the importance of giving time to contribute to professional development projects. Through them, I saw how solutions could be found by engaging with and encouraging people from different backgrounds and cultures to work together.

My interest in contributing is fuelled by the ongoing inspiration of contributors I meet and what we have been able to achieve together to benefit others. I have been able to map my skills and learning from working with public bodies and charities to support open source and community projects. My mum is now a contributor to Polyglots and my dad to Marketing and Sustainability!
Who is your WordPress mentor?
I have particularly enjoyed working alongside Rocío Valdivia in the community team and Alain Schlesser in WP-CLI. I have been inspired by them and others to support contributors' professional development and highlight ways people can contribute and improve access.
What contribution or moment are you most proud of?
I think working on the development of a model for marketing tables at contributor events which can be used and adapted for other locations. This model is aimed at helping camps that aren't able to have a full day on contributing and to improve connections with the Make WordPress team. It will help share learning and tasks from bigger events and make it easier for follow-ups with participants. It is hoped the model could also help some of the other teams too. We piloted this model at WordCamp Dublin in October 2019. We split the sessions into teams with prepared tasks for both individuals and topics. We also designed workshop-based slots and follow up opportunities linked to the wider WordPress community.

The sessions and additional digital skills workshops linked in with a series of articles on digital citizenship I worked on with Josepha Haden, Yvette Sonneveld and others in the Marketing Team.
This model has built on work with contributor events globally during the last year. We've learned a lot about how we can support local communities by taking part in the international WordPress community. We would welcome others to be involved.
What would you love to do in the future?
I want to help make accessibility and sustainability, two things that underpin all of our WordPress community activities. Also to help shape how the product is developed and used to maximize accessibility in the widest sense. I work with increasing access issues with and in AI. There are so many opportunities for us to continue developing WordPress' potential both as a tool for sites and for the wider benefit of the open-source community."
Where can people find you? Online, WordCamps, other meetups?
You can find me on Twitter @NonStopNewsUK, on WordPress slack as @abhanonstopnewsuk or at NonStopNews.co.uk.

I pop up at many contributor events and local WordPress Meetups as a speaker or volunteer. I am a WordCamp Europe again this year and was Communications Lead for WordCamp London and WordPress Translation Day 4 events in 2019. We hope to stage Translation Day 5 in 2020. You can catch up with news on the plans at @TranslateWP on Twitter or connect on Slack.

Do you know someone who also contributes to WordPress and would love to receive the Yoast Care fund? Then visit the Yoast Care fund page and nominate them now!