Yoast SEO Search Appearance settings: RSS tab
In this article, we'll discuss the RSS tab of the Search Appearance settings of Yoast SEO in your WordPress backend. You'll see a video explanation and we'll explain all the settings on the tab one by one.
Table of contents
Video: Search Appearance settings – RSS tab
Would you like to watch this video in your own language? Follow these steps to auto-translate the subtitles.
RSS
The Rich Site Summary (RSS) settings exist because, unfortunately, there are scraper sites that republish content from other sites without their permission. If they republish your content, they usually don't link back to your site. This leads to duplicate content problems in the search results. Because of this, a scraper site with a bit more authority than your blog would simply outrank you with your own content.
For that reason, the Yoast SEO plugin has the functionality to add links back to your site at the end of each blog post, which are not easy to remove automatically. This shows search engines the original source of the article, and this will make sure you will show up as the first result for your own content, just like you want to.
RSS tab
You can find the RSS tab by going to your WordPress backend, clicking "Yoast SEO" and then "Search Appearance" in the menu on the left-hand side. You'll be on the Yoast SEO Search Appearance General settings screen. On this screen, click the "RSS" tab.

For more information about the other tabs in Yoast SEO, check out the configuration guide for Yoast SEO.
RSS settings
In the RSS settings, you can edit the content you want to put in the feed before each post. Also, you can edit the content you want to put in the feed after each post. The variables that are available to use in this content as well as their descriptions are displayed under 'Available variables'.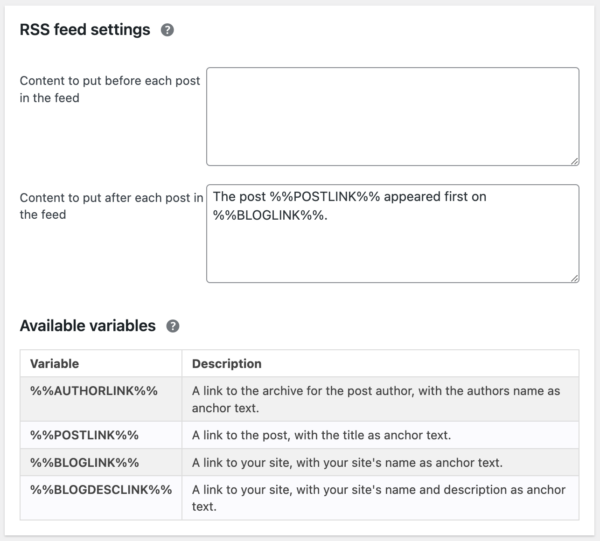 Related articles