Laura Crimmons on link building YoastCon interview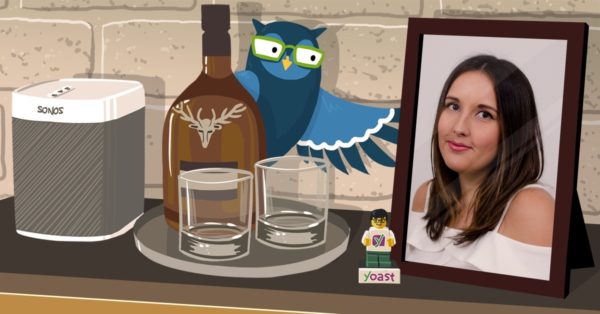 With only a few weeks left until YoastCon 2017, it's time we introduced another of our amazing speakers. Laura Crimmons is Communications Director at Branded3, an award-winning SEO and digital marketing agency in the UK. Laura herself also has an admirable amount of achievements and awards under her belt, for example being named PR Moment's Young Professional of the Year 2017. At YoastCon, she's going to talk about link building in a successful online campaign, and successfully structuring a link building campaign. We asked her a few questions about links and link building to give you a little preview!
Don't miss the opportunity to see Laura in action! Get your ticket now for YoastCon 2017!

Tell us a bit about yourself and your background. How did you end up at Branded3? And what is the accomplishment you are most proud of while working at that agency?
My background prior to joining Branded3 was in PR; I did a PR degree and had some experience in more traditional PR agencies and in-house roles but it was always digital that appealed to me, so I decided to join Branded3. I joined about a week after manual penalties and Penguin first rolled out, so it was at a time when the agency (and the SEO industry as a whole) was trying to find its feet, with how to build links now that the old ways were (rightfully in many cases) being penalized. Thankfully PR seemed to be part of that solution.
You focus a lot on link building for larger clients. Link building, of course, is a science in itself. Could you share your tactics for starting a – hopefully – successful link building project?
The starting point always has to be the audience, and plenty of research. You need to understand:
Who is my audience?
Where do they hang out online?
What are they interested in?
From here you're able to start brainstorming ideas that will engage the audience. At this point you should also have started to develop a list of sites that will be your targets for link acquisition.
Links are still incredibly important, even in this day and age. Anyone is looking for high-value links from relevant sites in their industry. What are your favorite tips for getting these kinds of quality links?
We use PR as a way to generate these kinds of links i.e. working with journalists who usually work for higher quality sites (publishers) than say bloggers who would generally have lower quality domains.
That said, there are lots of other high quality sites that you can attract links from without PR, for example by looking at any genuine resource sites in your industry that link to competitors but not you.
Every site-owner needs to gather links and local business owners would probably benefit even more for good links. Could you explain the impact of link building for local SEO?
Link building is important for local SEO in the same sense that it is for any SEO, however, when specifically looking at local SEO we place more emphasis on citations, data accuracy and proximity.
Do you see the importance of links changing anytime soon?
We all know that search engines have been trying for years to decrease their reliance on links as a ranking factor. But they haven't got there yet and I don't necessarily see that happening in the next year or so.
Even if they do manage to find a way to determine a site's authority better than links, I still think the practice of Digital PR/Content Marketing that we do now for link acquisition will remain important, as it goes beyond just acquiring links. It's about building brand awareness, affinity and ultimately does play a part in assisted conversions.
Why shouldn't people miss your talk at YoastCon?
I've spent the last five and a half years working in link acquisition and have had a lot of success over that time gaining links from some of the biggest publishers in the UK and globally. So anyone that wants to up their game or learn some tips would probably take something away from it.
Get your ticket for YoastCon 2017 now!

Read more: YoastCon 2017: Practical SEO »