YoastCon interview Marieke van de Rakt & Michiel Heijmans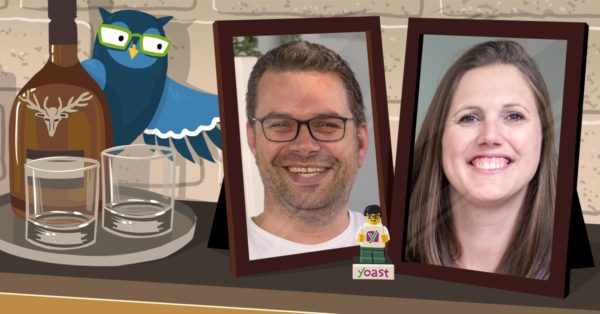 November 2, 2017. This date has been etched in the collective Yoast agenda's for some time now. If you haven't guessed, it's when the second edition of the YoastCon SEO conference takes place. This practical conference is aimed at every site owner, business manager, content editor or anyone remotely making money with a site and trying to improve their results. In this interview, you'll hear from our own Marieke van de Rakt and Michiel Heijmans – who will also MC the event – on why you should visit YoastCon.
Don't want to miss this epic SEO event? Get your ticket now for YoastCon 2017!
Why YoastCon?
The first edition of YoastCon was all about celebrating the fifth anniversary of Yoast as a company. It was a small, down to earth SEO conference focussed as much on sharing SEO knowledge as it was a meeting of new friends and a rekindling of old ones. YoastCon was put together by a small team and it resulted in a great maiden voyage for the conference.
Michiel remembers how much work it was: "We wanted to celebrate five years of Yoast and we thought a conference was the best way to do this. It was an awful lot of work, but it paid off. It was a great ride! This was such a cool experience that we wanted to do it again but on a grander scale."
Marieke concurs: "We probably won't do this every year, because of the amount of work involved. However, we do have a lot more helping hands now, so never say never. The first YoastCon was one of the best days ever, so I'm really looking forward to the second edition!"
"YoastCon offers us a brilliant opportunity to not just talk about what we mean by holistic SEO, but show it as well. In that sense, it's the perfect combination of sharing information and sharing knowledge that's immediately applicable to any site. When you get home from the conference, you can take action that really helps you to achieve success," Michiel says.
YoastCon is all about practical SEO, why exactly is that?
"People have a great need for practical insights. Something they can apply immediately. However, they find it hard to determine how to start. The Yoast SEO plugin is very practical as it helps you to improve your site by signaling when something could be improved. It's a tool that you can start using at a moment's notice. During the first YoastCon, we introduced our holistic SEO vision and now we're going to make that abstract concept practical for people to apply, " says Marieke.
What are the hot SEO issues at this event?
At a good SEO conference, you get both a taste of the now and the future. While the future of search is hard to predict, there are things site-owners can prepare for. Marieke is quick to mention the incredible power of content: "Content is the cornerstone of a good SEO strategy. Writing SEO-proof articles is a skill that takes work. Plus, these days you have to keep voice search in mind when writing content. Also, mobile and local SEO keep getting more important. All these things will be discussed at YoastCon."
Michiel mentions that SEO is no longer seen as a trick, but that it has acquired a special status in projects: "These days, SEO is seen as something that delivers results. It's accepted because it works. YoastCon is a place to learn how to use SEO to your advantage. Not just SEOs, but every site-owner, web developer, business owner or content strategist will learn something. Plus, it's an excellent opportunity to extend your network. And you get to dance with all the cool people at the party. It's going to be an awesome day!"
What are you looking forward to most?
"I'm really looking forward to MC'ing with Michiel," Marieke blurts out. "But also my SEO copywriting workshop, that is going to be epic. I'm going to let the people write so much they'll never forget the lessons learned. It's great to be able to get direct feedback from people. It's good to be reminded of how people perceive your work. We often miss that human touch since we work online all the time."
Michiel is looking forward to seeing people interact with each other and with team Yoast as well: "We don't often get this close to our audience. Now, we have to chance to share knowledge directly with a group of people that is eager to learn."
How does YoastCon differ from other SEO conferences and WordCamps?
"We're trying to combine the matter of SEO conferences with the openness and inclusiveness of WordCamps. We're not just aiming at WordPress since there will be workshops on TYPO3 and Magento 2 as well," Michiel says.
"I agree," Marieke says: "We're looking for a particular atmosphere. We don't just let you listen to talks, but you can participate in workshops and we even offer you the chance to speak your mind on the future of WordPress, for instance. The talks are pretty exclusive if I may say so. You'll get a lot of bang for your buck!"
Why should people visit the YoastCon SEO conference?
"You can't miss this event if you are really serious about achieving success with your site. There's a lot happening at the moment and this event gives you the chance to get up to speed and that may even turn out to give you the lead over your competitor. Besides that, it's going to be an amazing day!" Marieke says.
According to Michiel, the event is aimed at everyone: "You can visit YoastCon if you own the bakery around the corner or if you manage a company of 40,000 strong. You have to go to YoastCon if you want to take your site to the next level. We have developed YoastCon from a very different mindset than your everyday SEO conference. It's not just a conference, it's a party for anyone making money with their site. And it's in Nijmegen, the oldest city in The Netherlands, how cool is that! Go buy your ticket now, because they are selling like hot cakes. When they're gone, they're gone!"
Read more: YoastCon 2017: a practical SEO conference »